Popcorn seasoning recipes are so easy to make at home. You can skip all the unwanted salt and preservatives that store-bought versions have, plus save money by making your own! This post will walk you through six easy, healthy seasoning recipes made with spices from your pantry.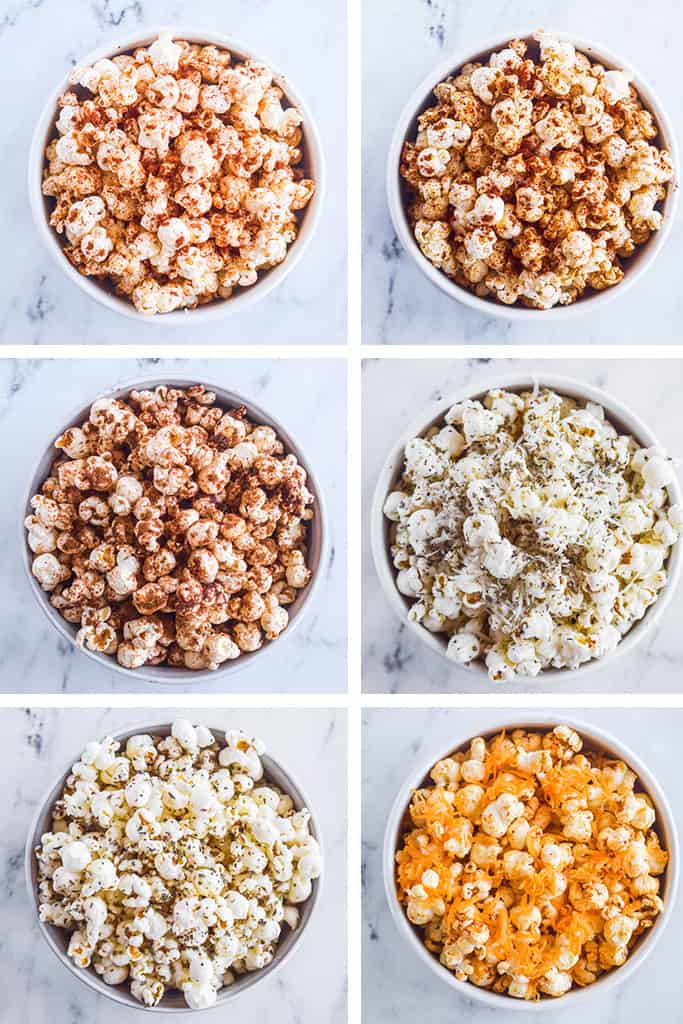 Popcorn Seasoning Recipes
If you're bored with plain popcorn, try mixing things up with these six easy popcorn seasoning recipes. These are created with simple ingredients you probably already have in your pantry. You'll need a variety of spices and butter (or oil) to help the seasonings stick to the popcorn.
What I personally love about these recipes is that they use healthier ingredients than the store-bought versions that contain a lot of preservatives and chemicals you can't even pronounce. Instead, these recipes use fresh healthy spices to flavor your popcorn.
>> Need more inspiration? Grab my Easy Healthy Meals Success Kit! Includes 12 healthy eating guides, done-for-you meal plans, and recipes.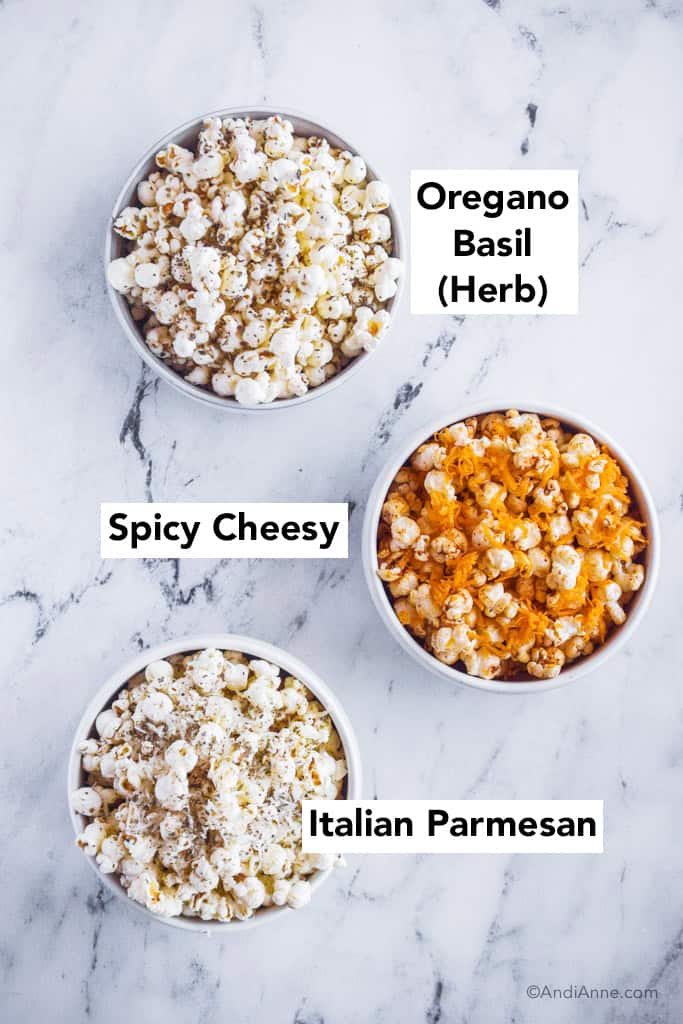 Ingredients Shopping List
Here are the ingredients you'll need to make these flavors:
Popcorn – You can use store-bought popped popcorn or pop it yourself at home with a popcorn popper, which is the most affordable option. > Buy Organic Popcorn Kernels Here.
Melted Butter – Each recipe below uses 2-3 Tbsp of melted salted butter with 4 cups popcorn.
Oil – If you'd prefer not to use butter, you can also use a cooking oil. My personal favorites are coconut oil or avocado oil. > Buy Avocado Oil Here.
Sugar – A few recipes use sugar to sweeten the popcorn. You can use coconut sugar, brown sugar or lakanto monkfruit sweetener (it's sugar-free).
Cheese – Grated cheese tastes great on popcorn! Recipes below use cheddar cheese and freshly grated parmesan.
Spices – Spices are one of the easiest and healthiest ways to create popcorn seasonings. Chili powder, garlic powder, dried herbs, cumin, cayenne powder, cinnamon, nutmeg and paprika all taste great in a variety of combinations.
SHOP MY KITCHEN FAVORITES LIST – Get my full kitchen shopping list here including how I stock my pantry, fill my fridge, and what equipment I prefer to use in the kitchen.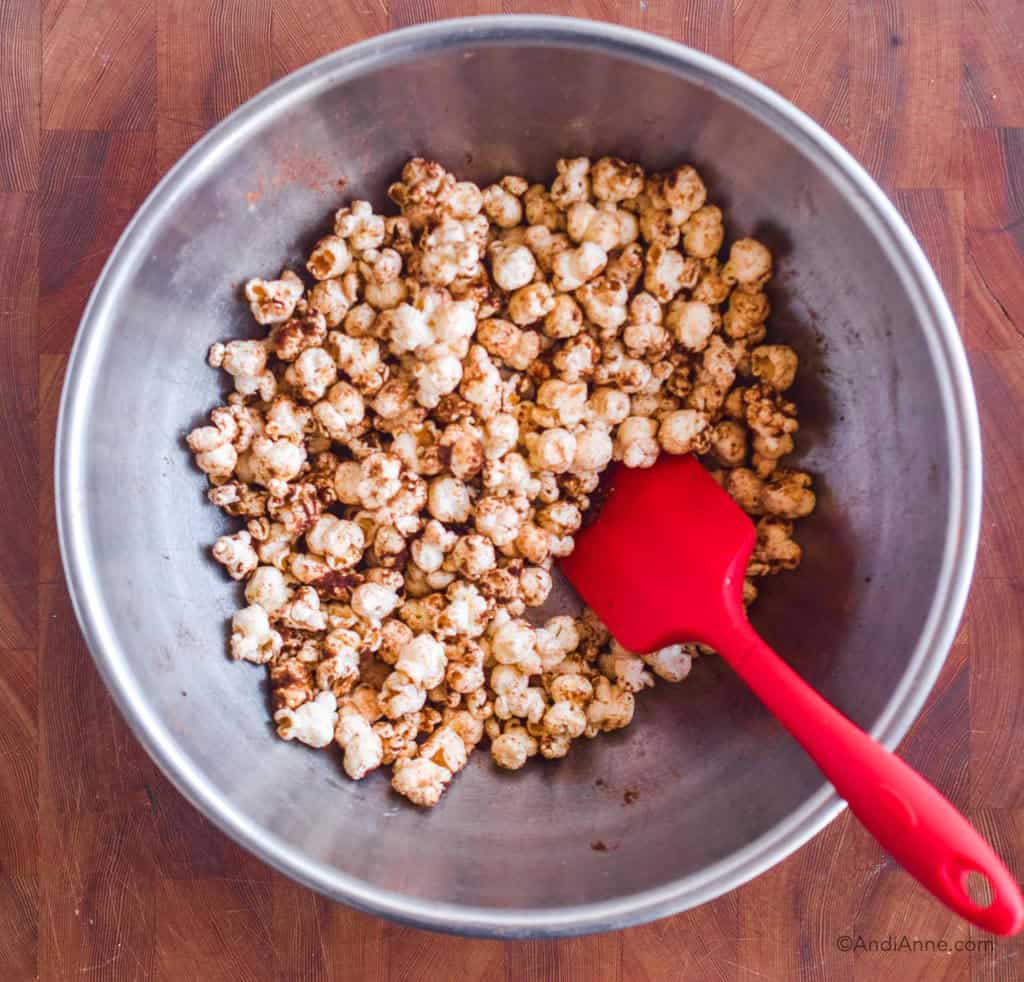 Recipe Cost = $1.50
This is a very inexpensive snack! Four cups of popcorn plus seasonings cost about $1.50 each! (prices will vary slightly depending on where you live).
Grocery Shopping Tip: If you like to save money at the store, here are my 7 ways to save money on your grocery bill and still eat healthily.
Kitchen Equipment I Used
Need more inspiration? Grab my Easy Healthy Meals Success Kit! It's filled to the brim with healthy eating resources. >> Learn More Here.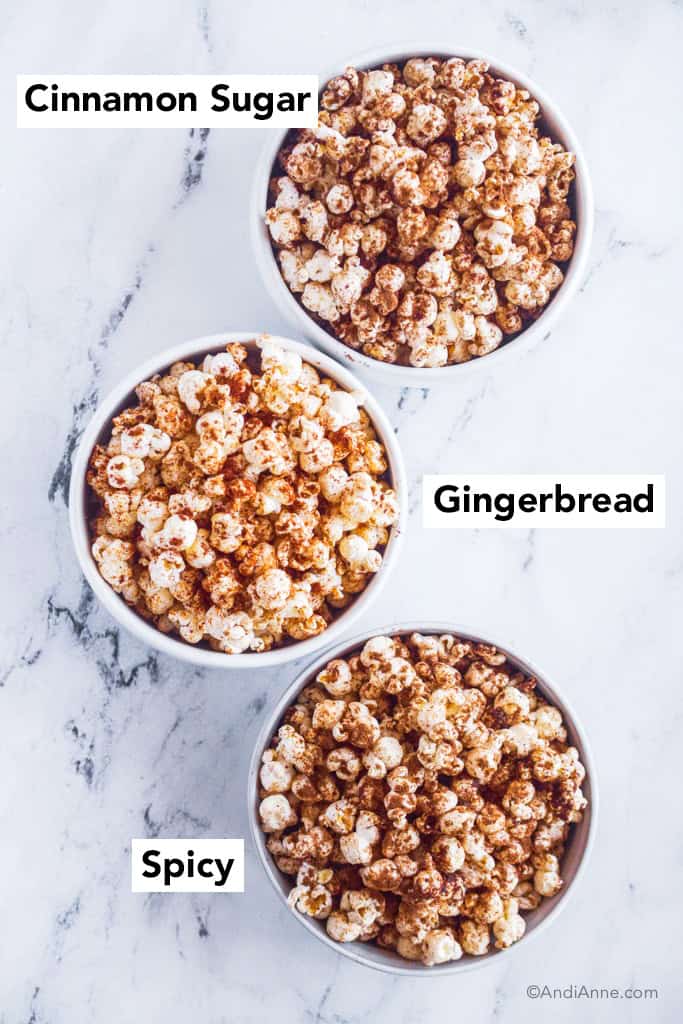 How To Make Popcorn Seasonings
Here's an overview of how to make the popcorn seasonings with the full recipe instructions at the bottom of this blog post.
Butter – Add the popcorn and melted butter to a large bowl. Toss together so popcorn is evenly coated.
Spices – Sprinkle all other ingredient flavors and toss together. Feel free to add more seasonings if needed. Serve and enjoy!
How To Store Popcorn Seasonings
Make a big batch of the spice mix and store the leftovers! You can store the popcorn seasonings in an airtight container in a cupboard. Exclude the perishable ingredients such as butter, oil and cheese and add those right before serving.
Popcorn Seasoning Recipe Variations
Popcorn Without Butter – You'll need butter or oil to help seasonings stick to the popcorn. If you don't want to use butter, you can use any cooking oil. For example, melted coconut oil, avocado oil, canola oil etc.
Popcorn Without Sugar – Some of these recipes use sugar to add sweetness. You can use a sugar-free lakanto monkfruit sweetener in replacement.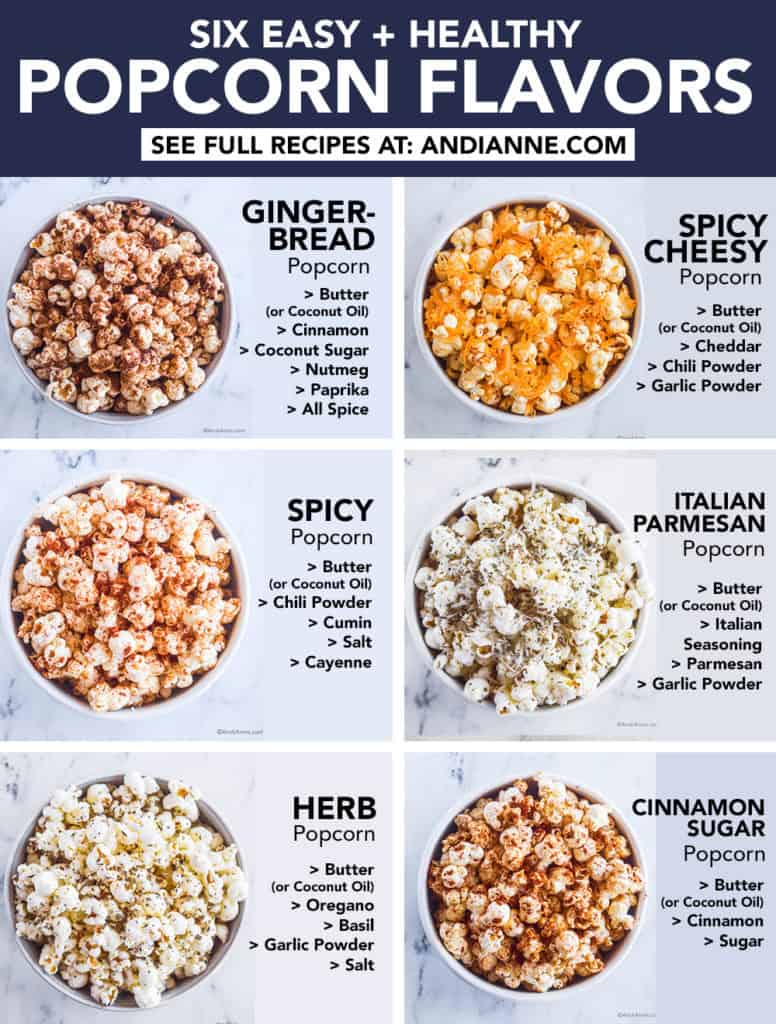 More Easy Healthy Snack Ideas
Here are some more healthy energy snacks to try:
Did you love this popcorn seasoning recipe? Be sure to leave a rating below!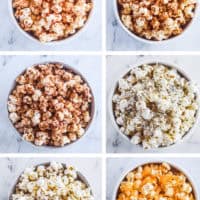 Ingredients
Instructions
Add the popcorn to a large bowl. Drizzle melted butter overtop, then add the rest of flavor ingredients and toss together.

Feel free to add more seasonings if needed for desired flavor. Serve and enjoy!
Recipe Notes:
Test the flavors to see if you want to add more seasonings. Feel free to add as much as you'd like!

Cheesy popcorn can be microwaved for a few seconds to help melt cheese (optional).
Please note these nutritional values provided above are just an estimate. Actual numbers will vary based on brands and ingredients you choose, and your preferred portion sizes.
Get The Free AndiAnne Newsletter
Subcribe To My Newsletter For New Recipes Delivered To Your Inbox Weekly.