Air fryer parmesan drumsticks are a delicious way to cook chicken that's crispy on the outside and tender on the inside. This easy recipe will also share air fryer tips and tricks. This chicken is low carb, keto and paleo.
Related Post: 10 Easy Air Fryer Recipes To Try – These air fryer recipes are some of the fastest and easiest ways to cook a variety of delicious healthy foods that get crispy crunchy results.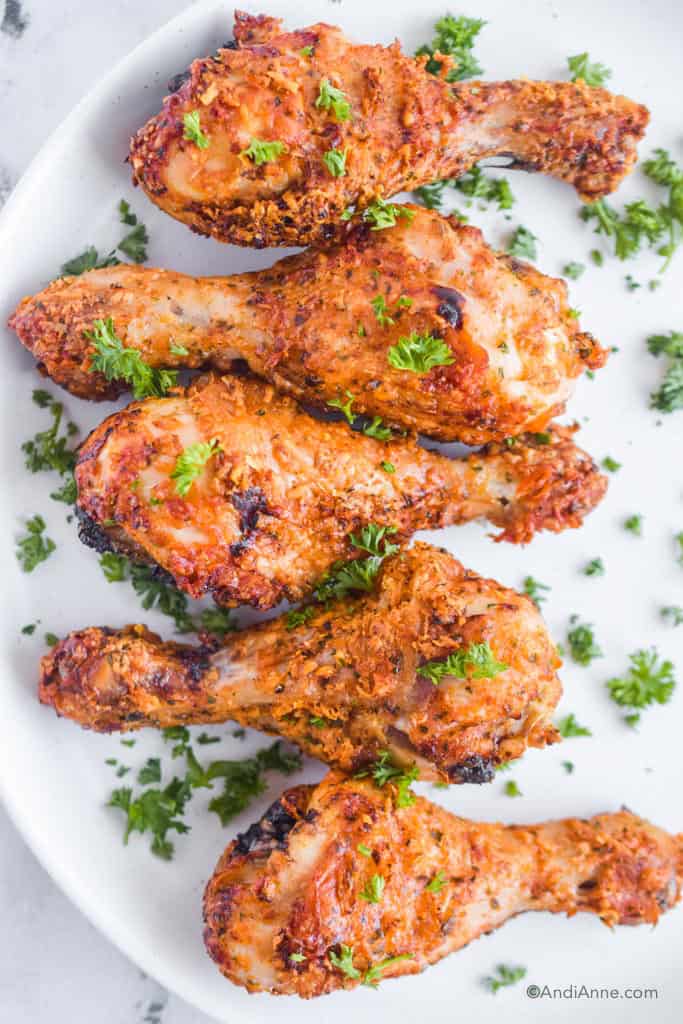 Air Fryer Parmesan Drumsticks
I love chicken drumsticks because they're cheaper than other chicken cuts, easy to cook and kids love them. These drumsticks use a few simple spices and freshly grated parmesan cheese to create a simple main dish for dinner. You can prep and cook them in under 30 minutes!
If you like this recipe, then you might also enjoy my air fryer chicken drumsticks that use a simple spice mix.
>> Need more inspiration? Grab my Easy Healthy Meals Success Kit! Includes 12 healthy eating guides, done-for-you meal plans, and recipes.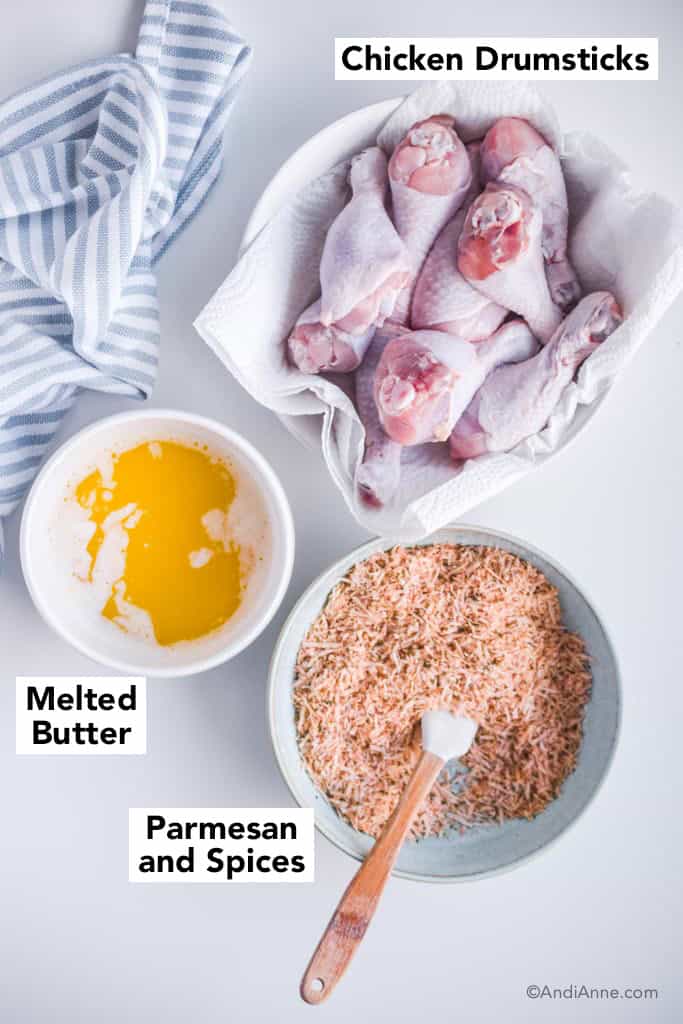 Air Fryer Parmesan Chicken Drumsticks Ingredients
Here's what you'll need to make this recipe:
8 Chicken Drumsticks – I'm using a eight chicken drumsticks for this recipe. You can cook more in your air fryer, but make sure they're in a single layer for even cooking.
1 Cup Parmesan Cheese – To get the best results, use freshly grated parmesan cheese.
½ cup Butter – You can use melted salted butter, cooking oil or even milk.
½ Tbsp Dried Oregano > Buy Dried Oregano Here.
1 ½ tsp Dried Parsely > Buy Dried Parsley Here.
1 ½ tsp Paprika > Buy Paprika Here.
¼ tsp Salt and Pepper
HEALTHY KITCHEN SHOPPING LIST – Get my full kitchen shopping list here including how to stock your pantry, fill your fridge, and what equipment to use in the kitchen.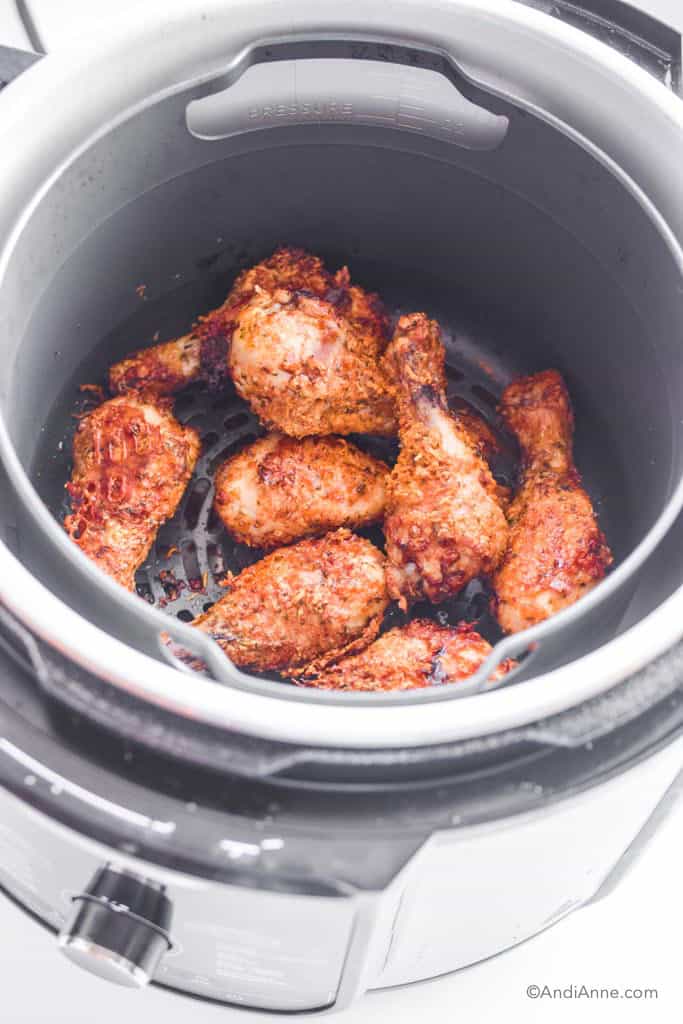 Recipe Cost = $3
I was able to find chicken drumsticks on sale for a very inexpensive price. All ingredients together cost only $3 making this a really affordable meal (prices will vary slightly depending on where you live).
Grocery Shopping Tip: If you like to save money at the store, here are my 7 ways to save money on your grocery bill and still eat healthily.
Kitchen Equipment I Used
Here's the equipment I used to make this recipe: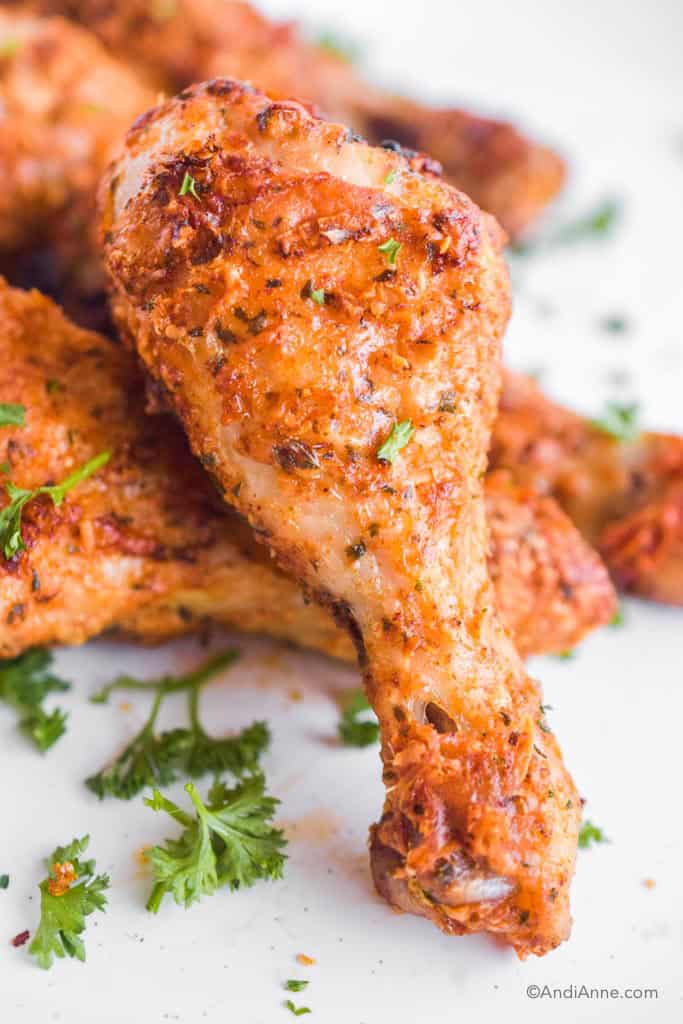 How To Make Air Fryer Parmesan Chicken Drumsticks
Crispy chicken drumsticks are so easy to make in the air fryer. Everything including prep time and cook time is all done in less than 30 minutes.
In a bowl, mix together the grated parmesan, dried oregano, dried parsley, paprika, salt and pepper. In a separate bowl, melt the butter.
Dip one drumstick at a time, first in melted butter and then toss with grated parmesan mixture until coated.
Lightly coat the air fryer with cooking spray. Add in the chicken drumsticks in a single layer (you may need to cook in two batches) and cook for 12 minutes, then flip them using a pair of tongs. Cook for another 12-15 minutes, keeping an eye on them in the last couple of minutes so that they don't burn.
Storage: Leftovers should be stored in an airtight container in the fridge for 3-4 days and reheated in the air fryer to crispen up again.
Air Fryer Chicken Tips and Tricks
Pat the drumsticks dry with a paper towel before adding to the butter bowl. This will remove any excess moisture.
Always flip the chicken halfway through cooking to get an even crispiness.
Check the chicken in the last couple of minutes to make sure they're not overcooking. Every air fryer is different so it might take a little bit of practice getting used to your temperature and how it works.
How To Tell When Chicken Is Done: The safest internal temperature for cooking poultry is 165°F. You can use a meat thermometer, which will be poked into the thickest part of the chicken to read the temperature.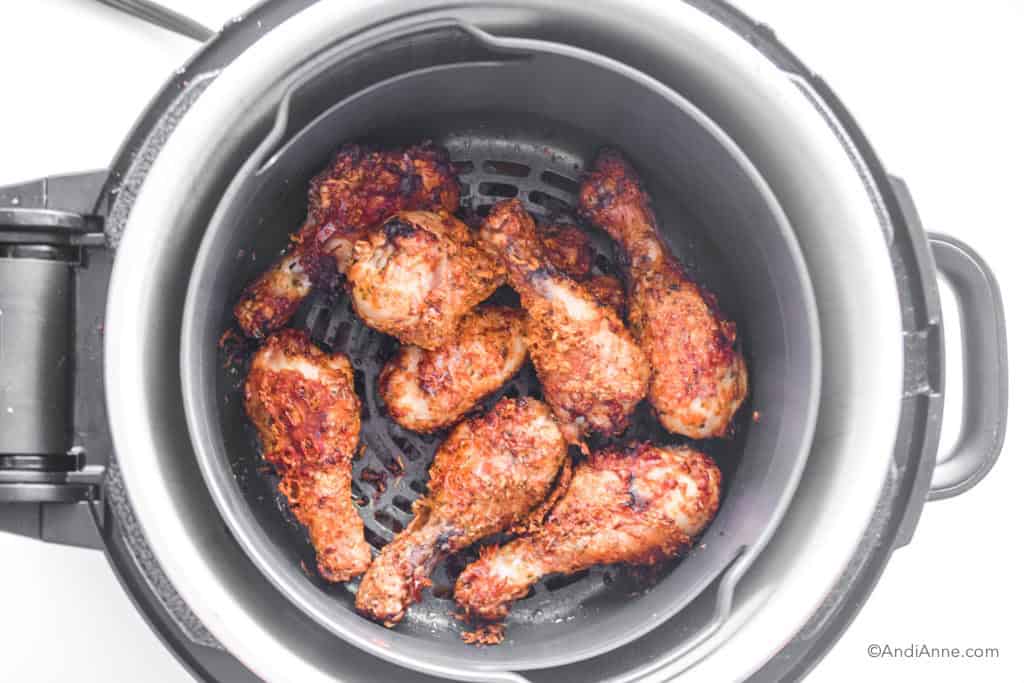 More Air Fryer Recipes
Here are some more air fryer recipes:
Did you love these parmesan chicken drumsticks? Be sure to leave a rating below!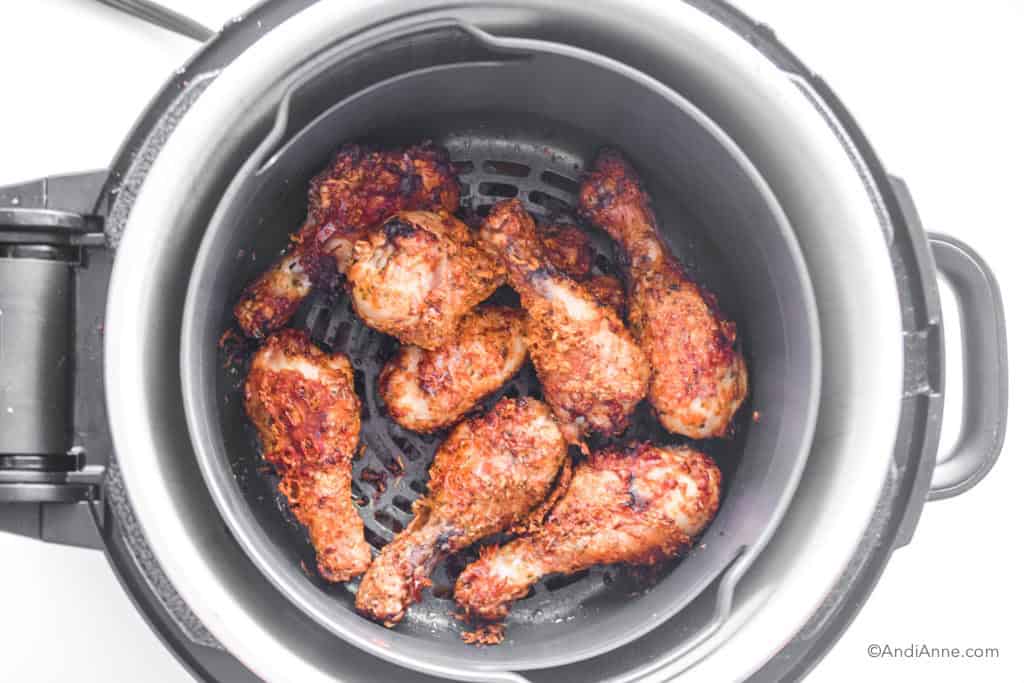 Ingredients
8

chicken drumsticks

1

cup

freshly grated parmesan cheese

½

Tbsp

dried oregano

1 ½

tsp

dried parsley

1 ½

tsp

paprika

¼

tsp

salt and pepper

-

¼ tsp salt, ¼ tsp ground pepper

½

cup

butter

-

melted
Instructions
Lightly coat the inside of the air fryer tray or basket with non stick cooking spray.

Pat the chicken drumsticks with a paper towel.

Mix together grated parmesan, dried oregano, dried parslely, paprika, salt and pepper in a bowl.

Melt ½ cup butter in a different bowl.

First, dip the chicken drumstick in the melted butter. Coat on both sides.

Next, toss with the parmesan mixture. Coat both sides. Repeat the last two steps until all chicken drumsticks are coated.

Place chicken in a single layer in air fryer – cook in two batches if needed.

Cook at 400°F for 12 minutes then flip over.

Cook an additional 12-15 minutes or until chicken reaches 165°F as an internal temperature when poked with a meat thermometer.
Nutrition
Calories:
185
kcal
|
Carbohydrates:
2
g
|
Protein:
19
g
|
Fat:
11
g
|
Sodium:
359
mg
|
Sugar:
1
g
Please note these nutritional values provided above are just an estimate. Actual numbers will vary based on brands and ingredients you choose, and your preferred portion sizes.
Get The Free AndiAnne Newsletter
Subcribe To My Newsletter For New Recipes Delivered To Your Inbox Weekly.