Bacon cheese potato slices are simple and easy, no doubt about it. Great for snacks or an appetizer on game night.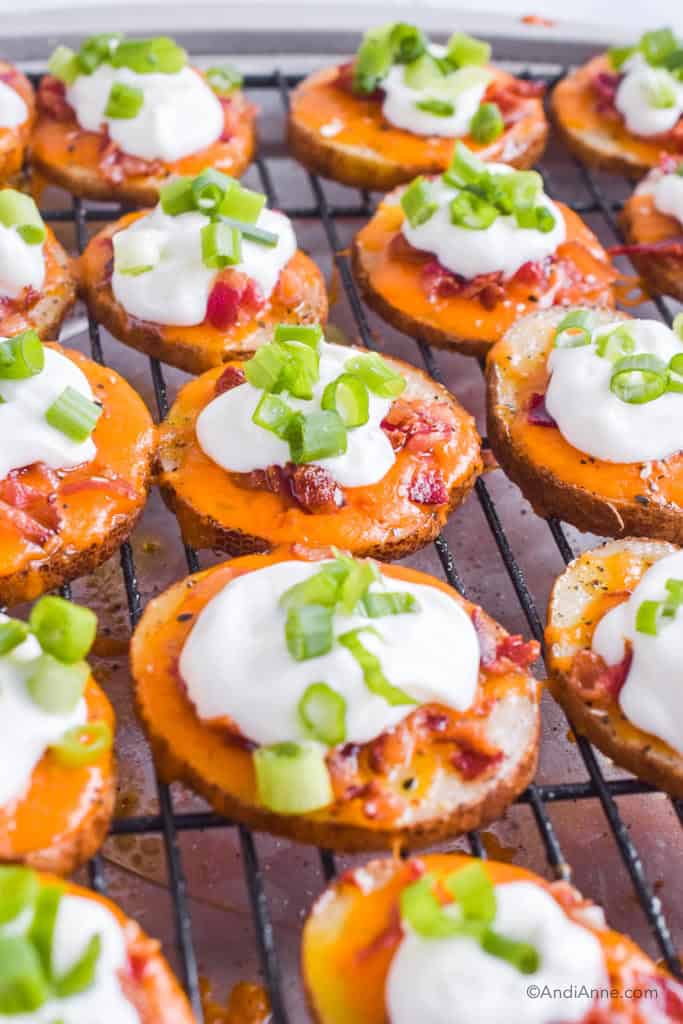 Bacon Cheese Potato Slices
These bacon cheese potato slices bring one of my favorite pub foods home! It's so easy to make these without the added oil and frying, resulting in a healthier version. All you need are a few simple ingredients.
The secret to crispy baked potatoes in the oven is with a baking rack. This allows the heat to circulate all around the potatoes at the same time. A baking rack is so useful in the kitchen for a variety of dishes including crispy chicken tenders.
>> Need more inspiration? Grab my Easy Healthy Meals Success Kit! Includes 12 healthy eating guides, done-for-you meal plans, and recipes.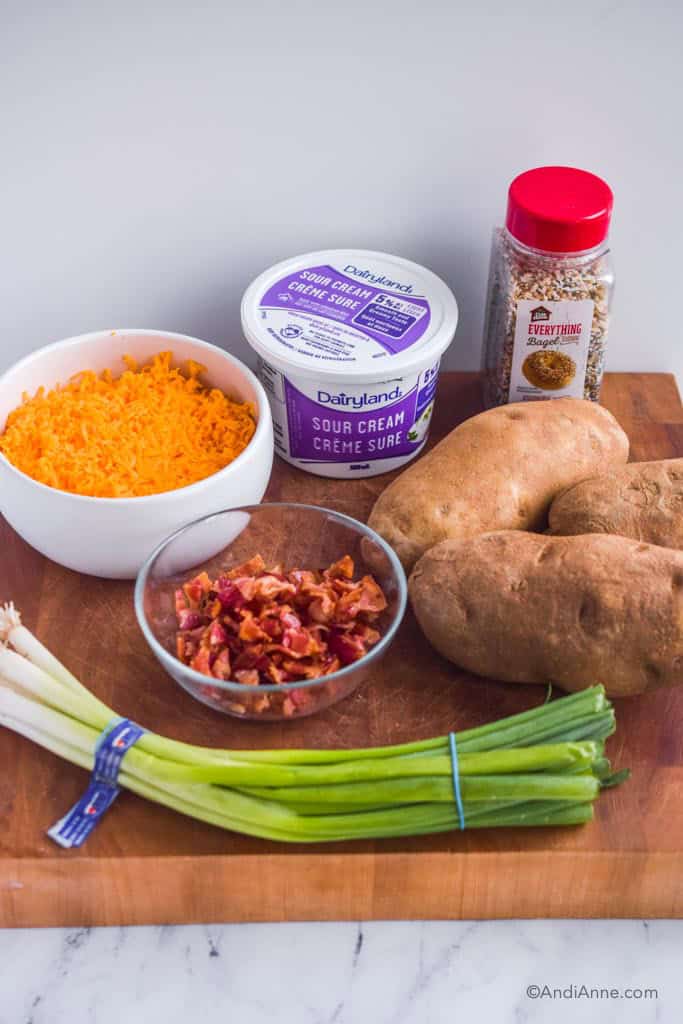 Bacon Cheese Potato Slices Ingredients
Here's what you'll need to make this recipe:
2 Large Russet Potatoes – Look for ones without any sprouts or bruised spots. Scrub the potatoes well before using as the slices have the skin on when you eat them.
2½ cups Grated Cheddar Cheese – Feel free to use any kind of cheese here. I used cheddar cheese which is often used at restaurants for potato skins.
6 Bacon Slices – These will need to be cooked and crumbled beforehand. They add wonderful flavor to the potatoes and are definitely worth the extra step!
3 Green Onions – Sprinkled on top of the potato slices after they've baked.
½ cup Sour Cream – You can use regular sour cream or plain greek yogurt.
Salt and Pepper – Use regular salt and pepper to season your potatoes, or sprinkle everything bagel seasoning – this adds great flavor!
Avocado Oil Spray – Avocado oil spray is my personal favorite for cooking at high smoke points (recipes cooked in the oven and in frying pan). You can also use any other cooking spray or drizzle with cooking oil instead. > Buy Avocado Oil Spray Here.
GET MY KITCHEN FAVORITES LIST – Get my full kitchen shopping list here including how I stock my pantry, fill my fridge, and what equipment I prefer to use in the kitchen.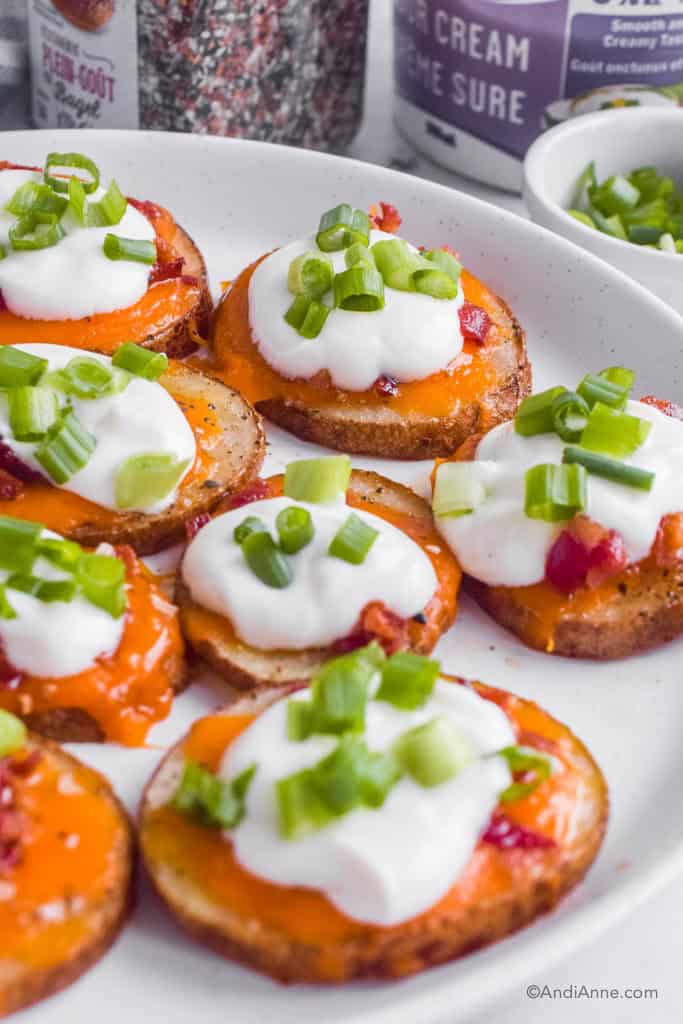 Recipe Cost = $6
These baked potato slices cost about $6 in total to make. The most expensive part of the recipe is half a package of bacon, which equals $3. (these prices will vary slightly depending on where you live).
>> Grocery Shopping Tip: If you like to save money at the store, here are my 7 ways to save money on your grocery bill and still eat healthy.
Kitchen Equipment I Used
Here's the equipment I used to make this recipe:
>> Need more inspiration? Grab my Easy Healthy Meals Success Kit! A highly successful meal system filled to the brim with healthy eating resources that will teach you how to make easy healthy meals throughout the week, plan your breakfasts, lunches, dinners, and so much more!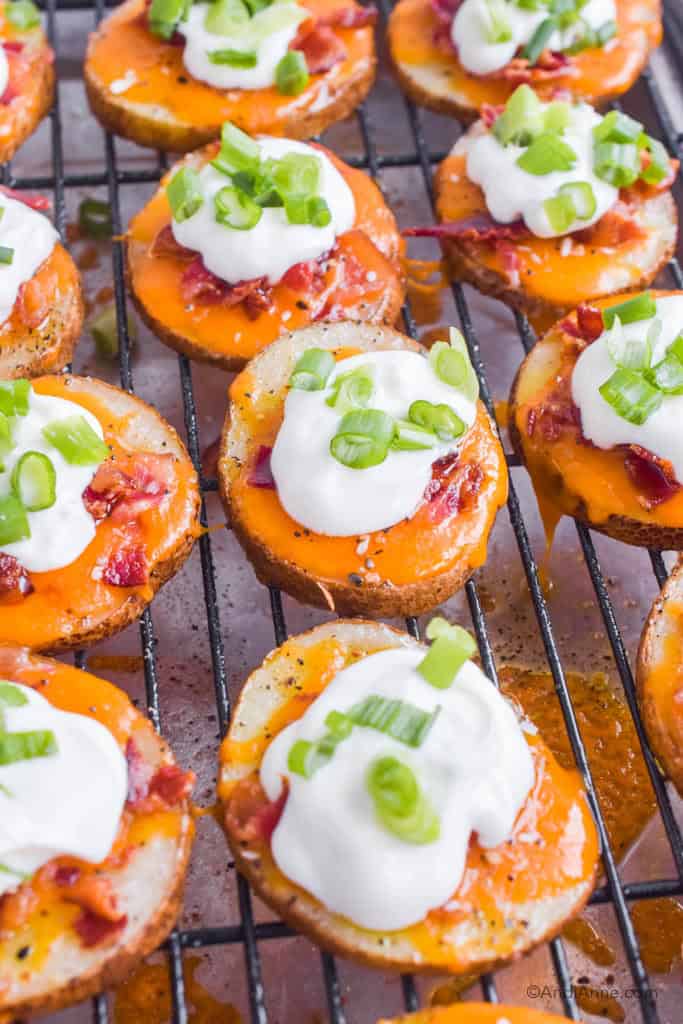 How To Make Bacon Cheese Potato Slices
Cook Bacon – Cook the bacon slices in advance, then crumble them into small pieces.
Prep Potatoes – Wash and scrub the potatoes then cut them into 1″ slices. Place in a bowl and cover with hot water. Let them soak for 10 minutes before draining and patting them dry.
Bake – Add potatoes in a single layer on the baking rack (or baking sheet), spray with cooking spray and season with salt and pepper. Bake at 375°F for 40-50 minutes or until edges are crispy golden brown.
Add Toppings – Remove from oven and add cheese and bacon on top. Bake 2-3 more minutes then remove and add sour cream and green onions.
These potato skins taste best when served right away. Leftovers just don't taste the same the next day.
How To Get Crispier Potatoes
The best way to get crispy potatoes is by first soaking the potatoes in hot water, then patting them dry. This helps to release the starch.
Then, cook the potato slices on a baking rack which will circulate the hot air all around and resulting in crispier potato slices.
If you're using a baking sheet without a rack you can flip the slices halfway through cooking to help create more even crispiness.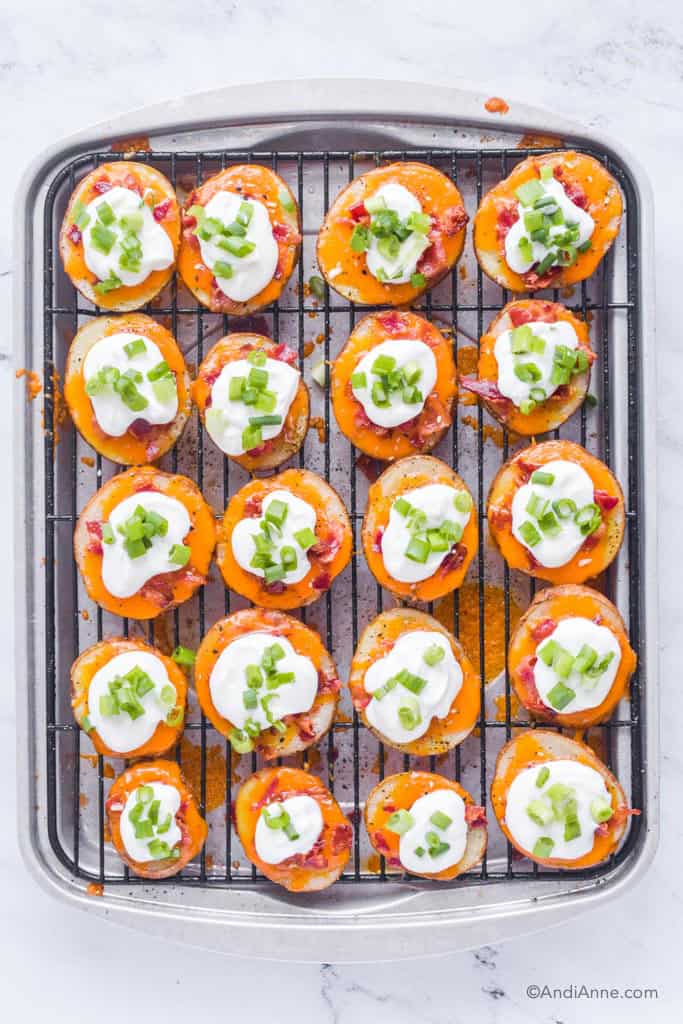 More Recipes
Here are some more easy potato recipes.
Did you love these bacon cheese potato slices? Be sure to leave a rating below!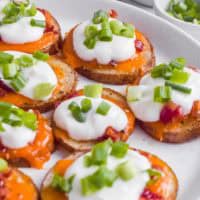 Bacon Cheese Potato Slices
Bacon cheese potato slices are simple and easy, no doubt about it. Great for snacks or an appetizer on game night.
Print
Pin Recipe
Ingredients
2

large russet potatoes

avocado oil spray

-

or other cooking oil spray

salt and pepper

-

to taste

2½

cups

grated cheddar cheese

6

bacon slices

-

cooked and crumbled

3

green onions

-

diced

½

cup

sour cream
Instructions
Cook 6 bacon slices in advance in the oven or in a frying pan. Lay on a paper towel to absorb excess grease, then use kitchen scissors to chop and crumble small.

Wash and scrub the russet potatoes. Cut into 1" slices.

Place the potato slices in a large bowl. Fill and cover them with enough hot water (I used a kettle to boil water). Let soak for 10 minutes.

Drain the potatoes then wrap in a clean kitchen towel to dry off. Make sure each potato has been individually dried. Less water = crispier potatoes!

Preheat the oven to 375°F.

Place each slice on a baking rack or baking sheet in a single layer so that they're not touching eachother. Spray the tops with cookign oil spray. Season with salt and pepper.

Bake for 40-50 minutes or until potatoes are soft on inside and outsides are cripsy golden brown.

While potatoes are baking, prepare the toppings: grated cheddar cheese, crumbled bacon, diced green onions, and sour cream.

Remove slices from oven and check for doneness by poking with a fork.

Sprinkle the tops with cheese and bacon. Bake an additional 2-3 minutes.

Remove from oven and top with sour cream and green onion. Serve while still warm.
Nutrition
Calories:
452
kcal
|
Carbohydrates:
18
g
|
Protein:
20
g
|
Fat:
34
g
|
Sodium:
549
mg
|
Sugar:
2
g
Please note these nutritional values provided above are just an estimate. Actual numbers will vary based on brands and ingredients you choose, and your preferred portion sizes.
Get The Free AndiAnne Newsletter
Subcribe To My Newsletter For New Recipes Delivered To Your Inbox Weekly.