Balsamic glazed chicken wings are an incredibly delicious chicken recipe with an ooey-gooey lick-your-fingers sauce. They're an easy dinner idea to serve with rice, quinoa, pasta or cauliflower rice.
Made with balsamic vinegar, brown sugar, and Italian seasoning, this recipe is simple and flavorful. To save you time, the same sauce doubles as a marinade and sticky glaze!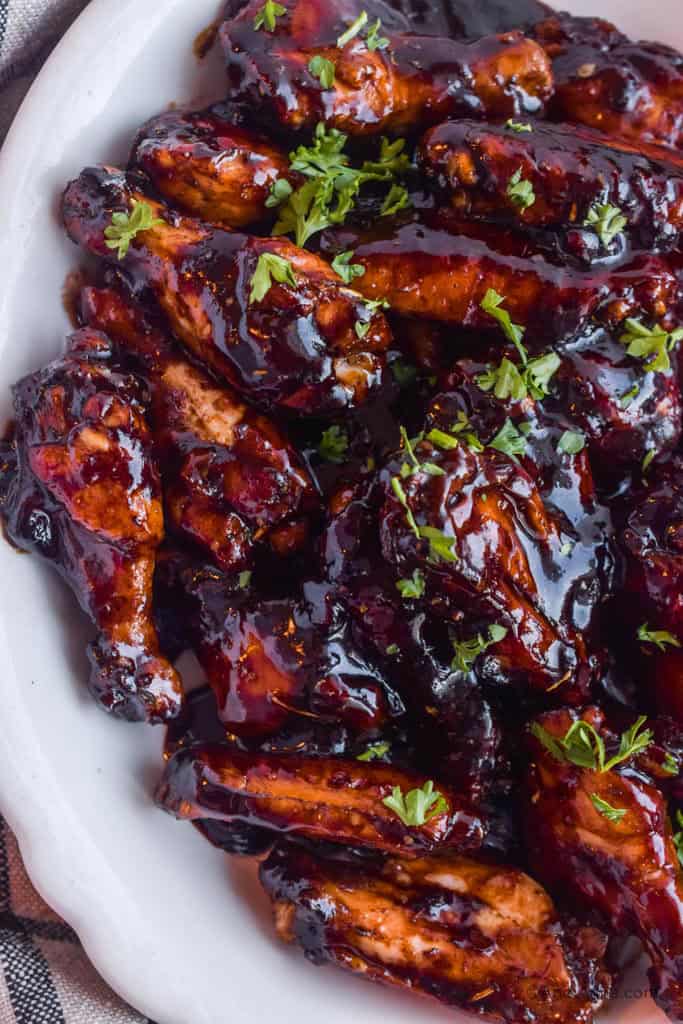 Saucy Chicken Wings
Only 6 ingredients are needed to make this deliciously sweet and tangy glaze. No need to discard marinade as it's baked with the chicken!
Make it a wing night with different flavors. Try other flavors like our lemon garlic and baked parmesan wings, or easy slow cooker barbecue wings.
Serve with a side of veggies and ranch dipping sauce for the perfect game night recipe!
Making wings at home is budget-friendly and more flavorful by using fresh ingredients.
If you like marinated chicken, check out our six healthy chicken marinade recipes. I share six versatile marinades you can use to flavor any kind of chicken.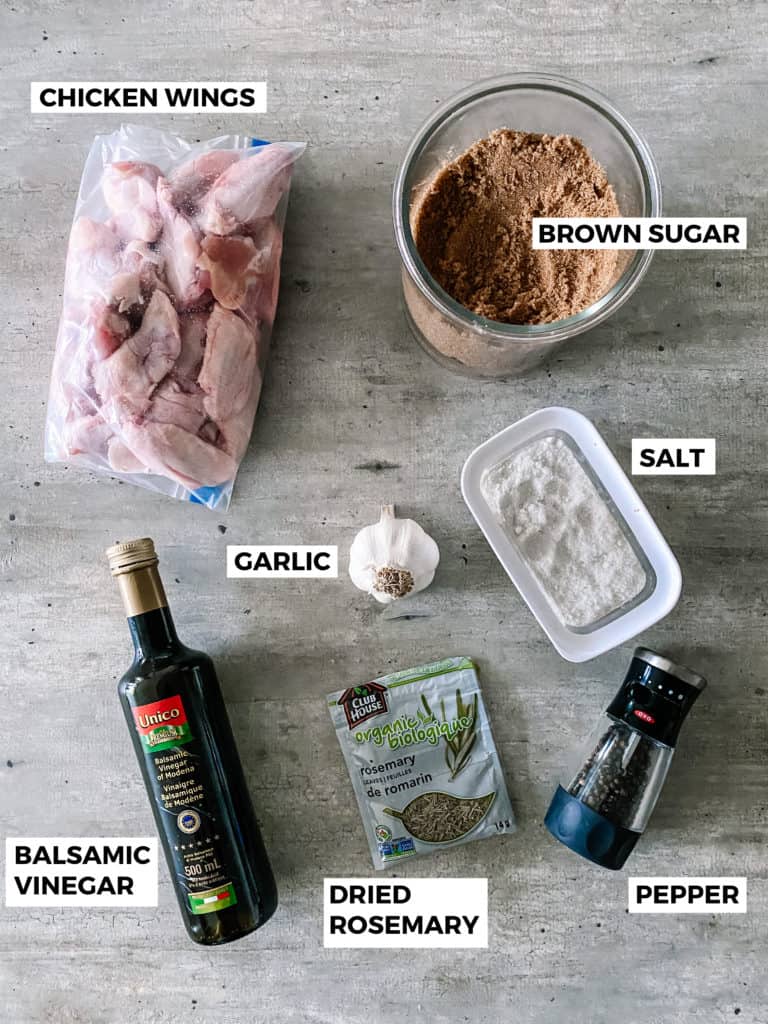 Recipe Ingredients
CHICKEN WINGS: The recipe uses 1 lb of chicken wings. You could also double the recipe and use 2 lbs.
SAUCE: Balsamic vinegar adds tanginess to the sauce. Brown sugar adds the perfect sweetness. As a base, you'll need cooking oil. Any will do (I used avocado oil). Garlic, Italian seasoning, salt and pepper are used for added flavor.
CORNSTARCH: This is the easiest way to thicken the sauce. Arrowroot flour is a cornstarch substitute that can also be used in a 2:1 ratio.
VARIATIONS: For added flavor try a bit of lemon zest, fresh ginger, or red pepper flakes. Sprinkle fresh rosemary around the wings before cooking in the oven.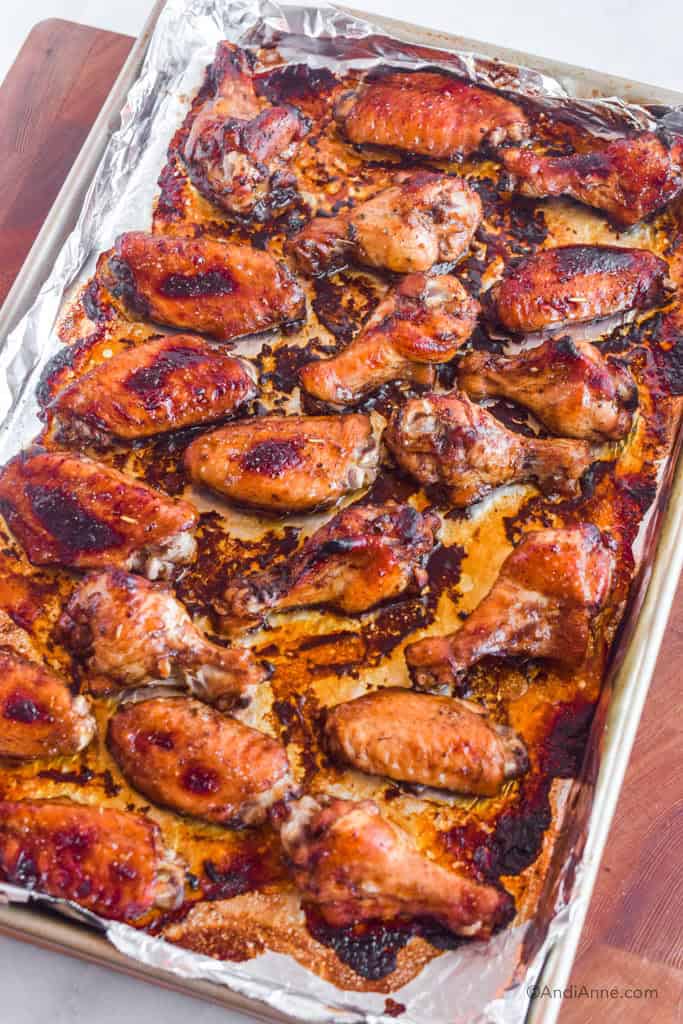 How To Make Balsamic Glazed Chicken Wings
Make the marinade sauce in a large bowl.
Add half of sauce to a container with chicken wings to marinate 1 hour minimum.
Bake chicken in the oven and make the glaze in a saucepan according to the recipe instructions below.
Add chicken to the serving dish and drizzle glaze on top. Serve and enjoy!
These wings have great flavor and can be eaten on their own or dipped in homemade ranch dressing. You can serve with rice, roasted vegetables or a side salad.
Leftover chicken wings can be stored in an airtight container in the fridge up to 3-4 days. These can be reheated in the microwave or in oven.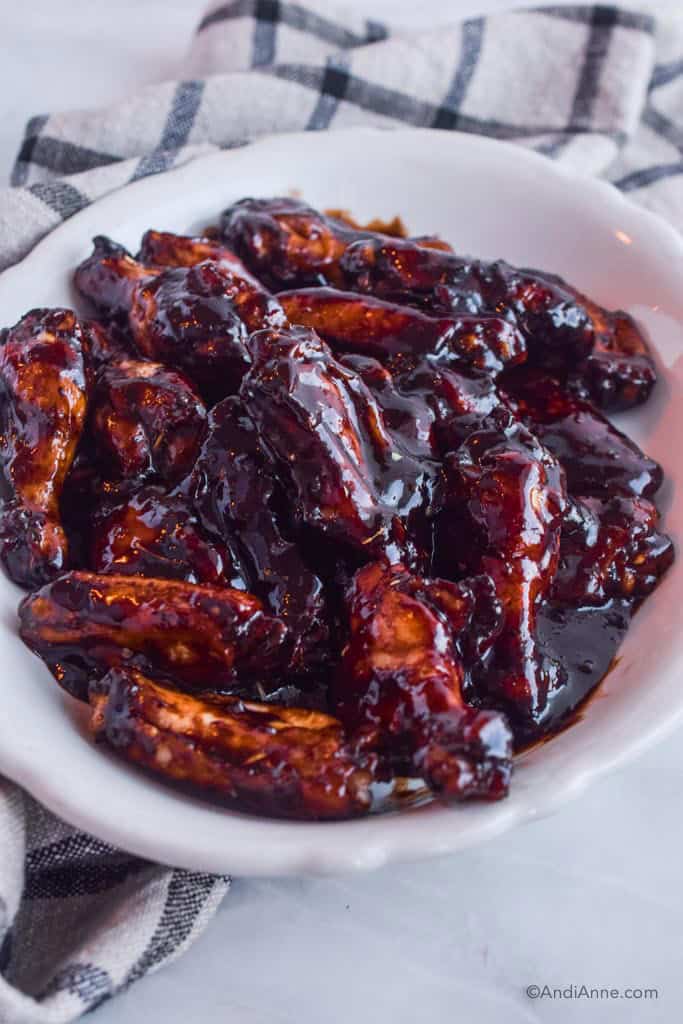 Recipe Tips
STIR SAUCE: This sauce uses brown sugar which can sometimes burn while cooking on the stove. I like to stir often while the balsamic glaze is thickening.
SILICONE WHISK: When you're thickening the sauce, use a silicone whisk. Using a metal whisk can scratch the surface of your frying pan, causing it to wear faster. Use a silicone whisk instead to keep the surface safe and clean.
GLUTEN-FREE: Although cornstarch is naturally gluten-free, many cornstarch brands are manufactured in a facility that processes other ingredients with gluten. If you're avoiding gluten, you can replace it with arrowroot flour. This is an easy substitute for any recipes you make requiring cornstarch.
How To Tell When Chicken Is Cooked
According to the USDA-recommended cooking temperatures, the safest internal temperature for cooking all types of poultry products is 165°F. This is the interior temperature that the chicken will read at once removed from the heat source.
You can use a meat thermometer which will be poked into the thickest part of the chicken to read the temperature. The chicken will also no longer be pink inside and juices will run clear.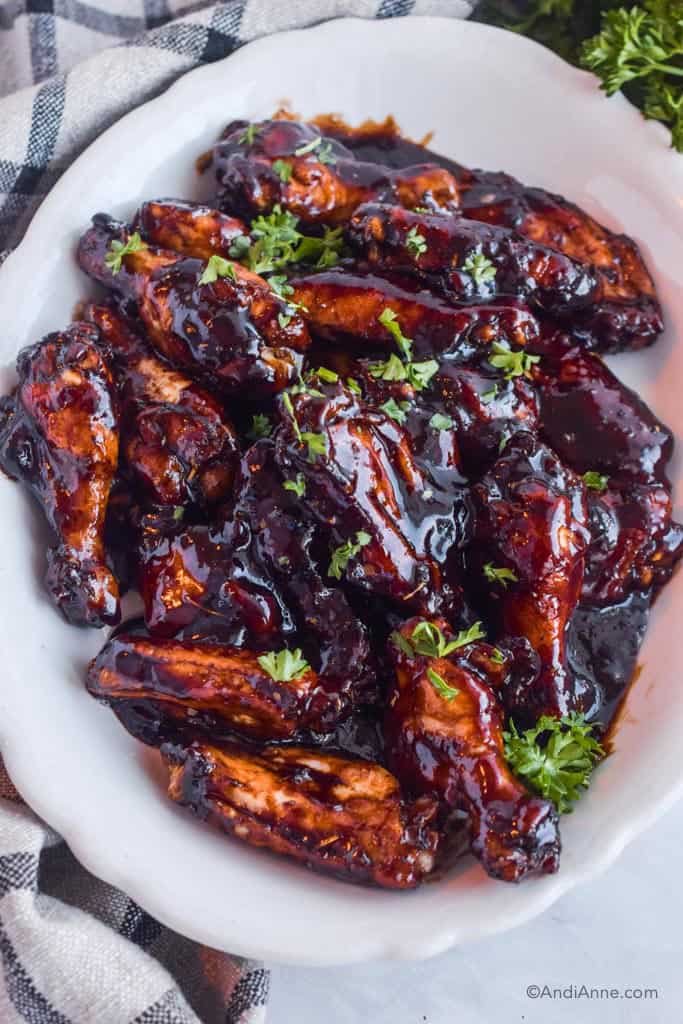 More Chicken Recipes
Did you love this chicken recipe? Be sure to leave a rating below!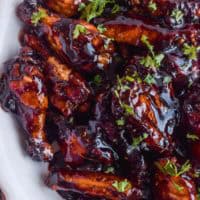 Balsamic Glazed Chicken Wings
These flavorful balsamic glazed chicken wings are an easy weeknight dinner. With a homemade balsamic vinegar marinade and glaze, this dish is delicious and satisfying.
Print
Pin Recipe
Instructions
In a small bowl, whisk together balsamic vinegar, cooking oil, minced garlic, Italian seasoning, brown sugar, salt and pepper.

Add chicken wings to a large resealable plastic bag and pour in 1/2 cup of the sauce mixture. Seal bag tightly and mix around so the chicken gets fully coated. Place bag flat in the fridge for 1-hour minimum, or overnight.

Preheat oven to 375°F. Line a baking sheet with aluminum foil or parchment paper. Place chicken wings and sauce in bag in a single layer on baking sheet. Bake chicken wings for 40-50 mins or until the chicken is fully cooked.

While the chicken is baking, add the remaining marinade to a small saucepan. Stir in the flour. Bring to a boil, then let simmer over low heat until it starts to thicken. Stir frequently so it doesn't burn.

Place cooked chicken wings in a serving bowl and drizzle the balsamic glaze overtop. Sprinkle with chopped green onion and sesame seeds if desired. Serve with rice, quinoa or roasted vegetables and enjoy!
Recipe Notes:
This sauce uses brown sugar which can sometimes burn while cooking on the stove. I like to stir often while the balsamic glaze is thickening.
Leftovers can be stored in an airtight container for up to 3-4 days. These can be reheated in the microwave or oven.
Nutrition
Calories:
490
kcal
|
Carbohydrates:
26
g
|
Protein:
12
g
|
Fat:
37
g
|
Saturated Fat:
6
g
|
Polyunsaturated Fat:
5
g
|
Monounsaturated Fat:
24
g
|
Trans Fat:
1
g
|
Cholesterol:
47
mg
|
Sodium:
210
mg
|
Potassium:
207
mg
|
Fiber:
1
g
|
Sugar:
23
g
|
Vitamin A:
111
IU
|
Vitamin C:
1
mg
|
Calcium:
59
mg
|
Iron:
2
mg
Please note these nutritional values provided above are just an estimate. Actual numbers will vary based on brands and ingredients you choose, and your preferred portion sizes.
Join Our FREE MEMBERS LIBRARY!!
Get exclusive access to all our FREE PDF recipe guides!! Must sign up on our website to gain free access – Join Free Members Library Here.