Banana cream popsicles are healthier than the store-bought ice pops and made with just four ingredients. These popsicles are dairy-free and have no refined sugar. They take less than 5 minutes to make and the result is the perfect easy summer treat for you and your kids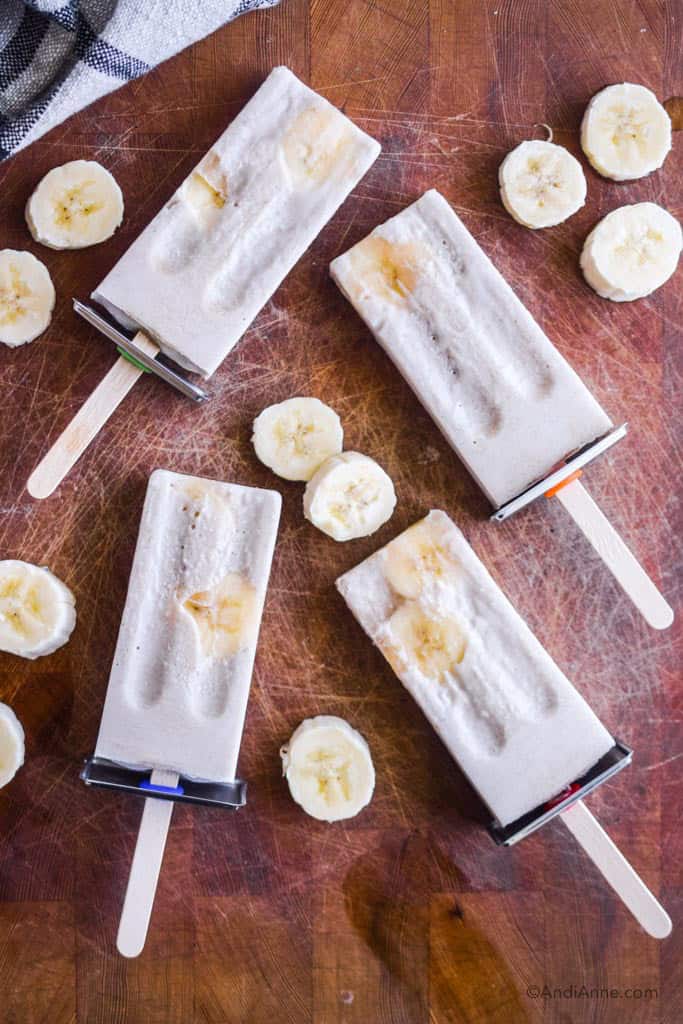 Banana Cream Popsicles
These popsicles are very creamy, all thanks to the delicious coconut cream. If you haven't had coconut cream before, you might be hooked after this. It's like the most decadent treat that you won't feel guilty eating because it's actually healthy. Coconut cream is a great source of healthy fats, protein, antioxidants, magnesium, folate and choline. Healthy fats and protein will provide your body with longer, more sustainable energy.
I make whipped coconut cream and strawberry parfaits with coconut cream all the time. And recently I whipped up these homemade fudgesicles which were a total hit! Basically, we are a family obsessed with coconut cream.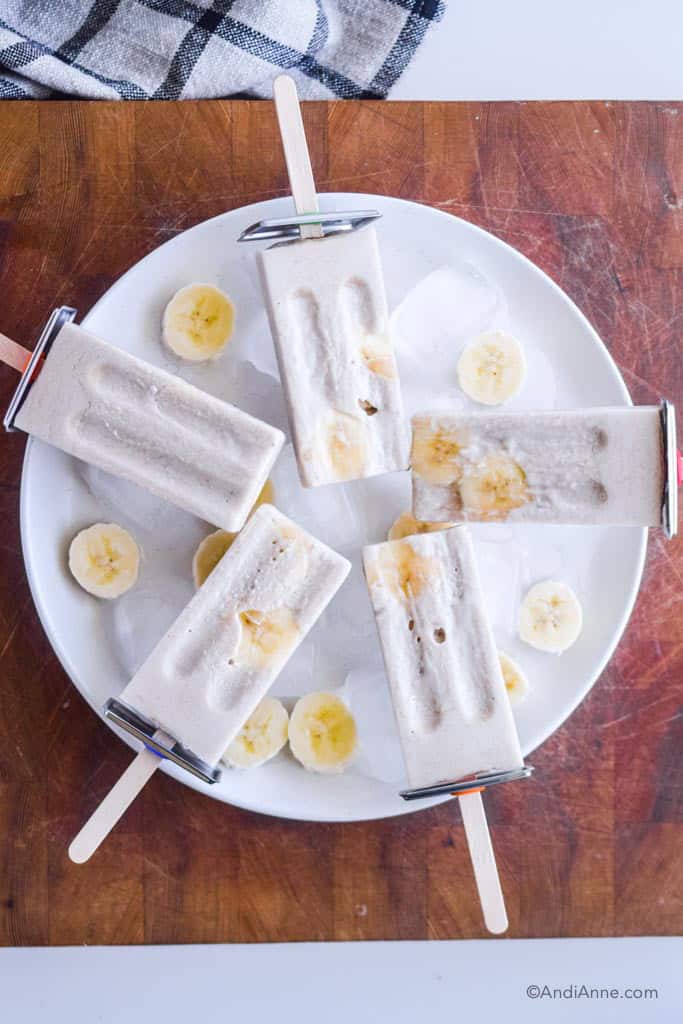 Banana Cream Popsicle Ingredients
You only need four ingredients to make these delicious popsicles.
Coconut Cream – To make these popsicles extra creamy, use coconut cream (not coconut milk). You might have to try a few brands before you find one you like. I've found that the coconut cream from Native Forest and Let's Do Organic are both good!
Bananas – You'll need two bananas, one whole and one sliced into thin pieces.
Maple Syrup – For sweeteners, I like to use maple syrup in my recipes. You can also use honey or Lakanto Sugar Free Maple Syrup.
Vanilla Extract – This one is optional, but I like to add a bit of good quality pure vanilla extract.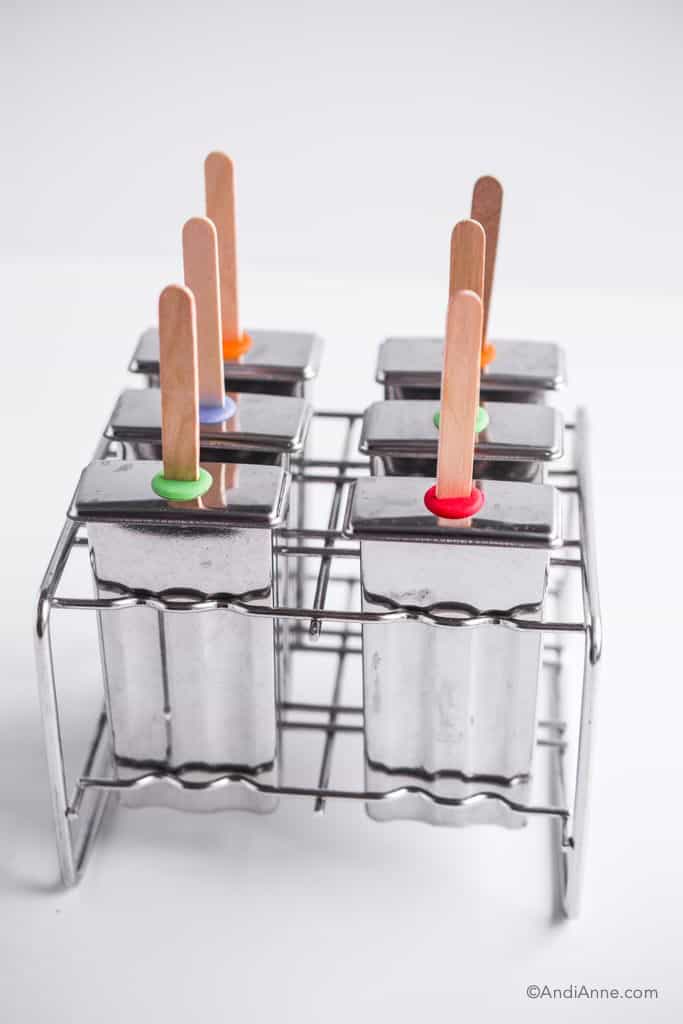 Stainless Steel Popsicle Molds
Can I just take a quick second to share my new purchase!? I love it so much and I got mine from here. These popsicle molds are seriously the best!! They are stainless steel and will last forever. Each popsicle mold can be removed from the container to easily pour ingredients into. I've been eyeing this stainless steel version for a while now as it will last us forever. I'm slowly trying to move away from plastic and purchase longer-lasting kitchen tools instead.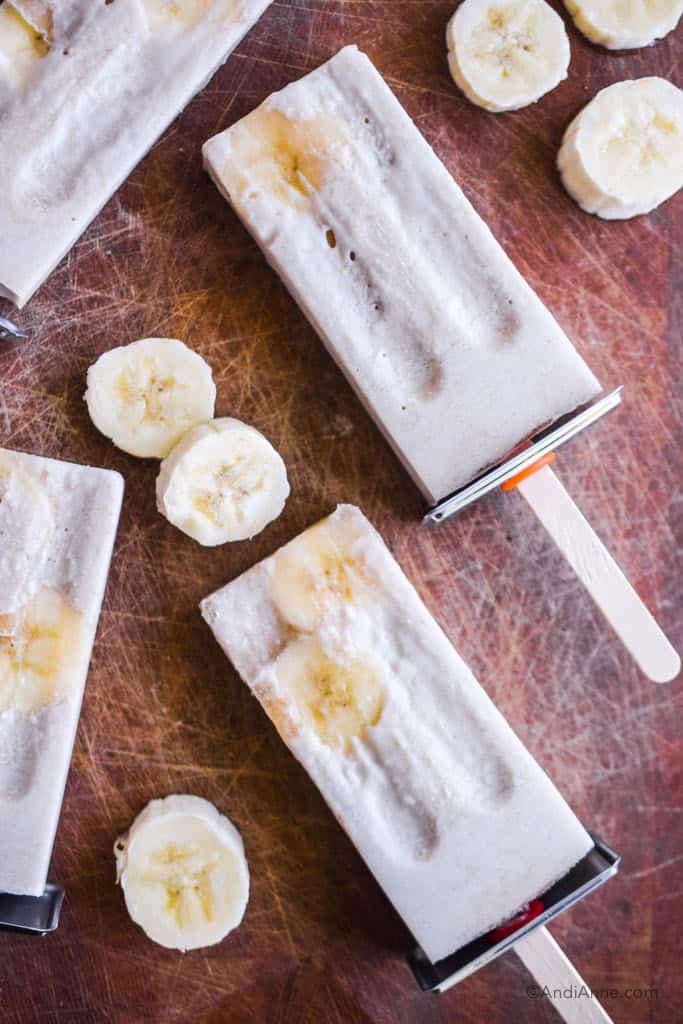 How To Make Banana Cream Popsicles
These are so easy to make!
Add all ingredients to a blender or bowl with an electric mixer and mix until smooth and creamy.
Add 2-3 slices of bananas into each popsicle mold. Pour the liquid on top and add the popsicle sticks.
You'll need to freeze for a minimum of 4-6 hours but I prefer to do it overnight.
When you're ready to eat, run the popsicle mold under cold water for 10 seconds and gently pull on the popsicle stick to release them.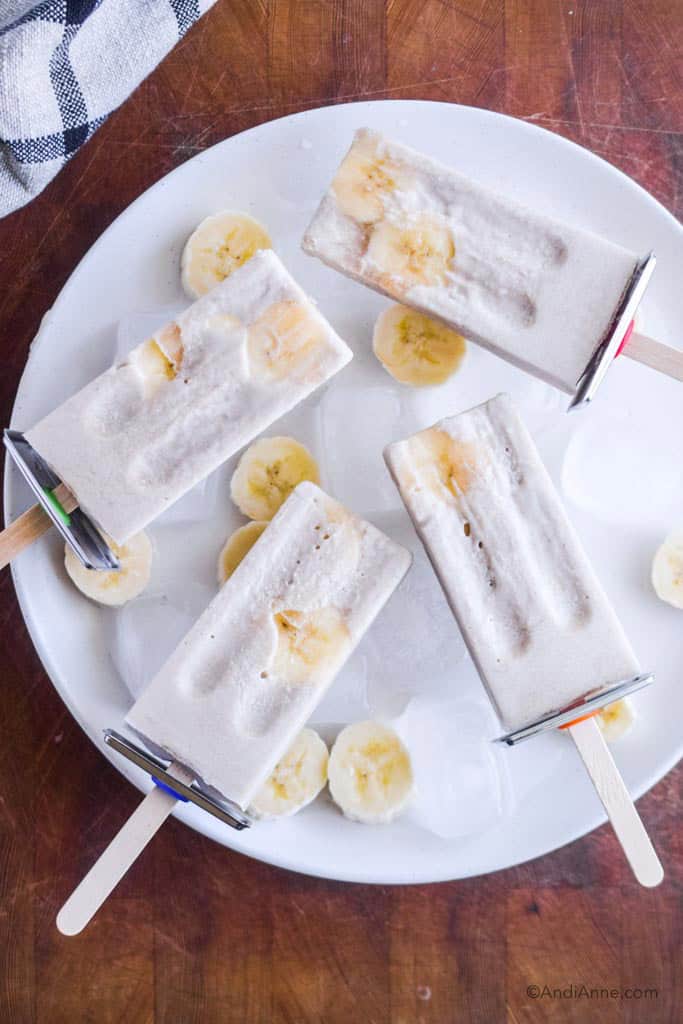 More Healthy Dessert Recipes
These healthy recipes are so easy to make. The perfect way to curb your sweet tooth cravings.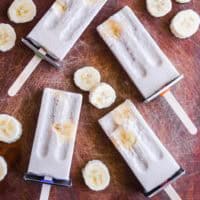 Banana Cream Popsicles
Banana cream popsicles are healthier than the store-bought ice pops and made with just four ingredients. These popsicles are dairy-free and have no refined sugar. They're the perfect summer treat!
Print
Pin Recipe
Instructions
Add the coconut cream (or coconut milk), maple syrup, vanilla extract and 1 whole banana to the blender. Blend until smooth and and creamy.

Add 2-3 banana slices into each popsicle mold.

Pour the banana coconut liquid into each mold leaving a small amount of space at the top.

Add popsicle sticks to each one. Freeze for a minimum of 4-6 hours, but preferably overnight.

When ready to serve, run the popsicle mold under water for a few seconds. Gently pull on the popsicle stick and this should release the popsicle.
Nutrition
Please note these nutritional values provided above are just an estimate. Actual numbers will vary based on brands and ingredients you choose, and your preferred portion sizes.
Join Our FREE MEMBERS LIBRARY!!
Get exclusive access to all our FREE PDF recipe guides!! Must sign up on our website to gain free access – Join Free Members Library Here.