These banana oatmeal muffins are the best healthy breakfast muffin filled with delicious gluten-free rolled oats and sweetened with maple syrup and ripe bananas. They're delicious without a lot of fuss.
These healthy banana oat muffins are nut-free, gluten-free, dairy optional, and oil-free. So they're perfect for anyone with these food allergies. They make a great school snack for kids.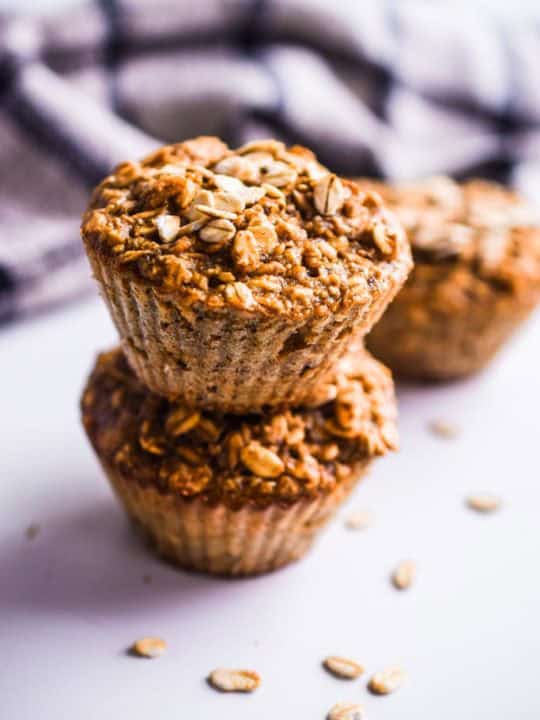 Banana Oatmeal Muffins
Let's face it, some mornings are hectic. It's not always easy to get the kids ready for school. And sometimes you just need a convenient breakfast to grab on the go. Well, these healthy banana oatmeal muffins are the perfect breakfast for those busy days.
Sadly, not all muffins are created equal. The store-bought versions are usually full of ingredients like refined flours, refined sugar, and preservatives. These ingredients aren't the best thing to eat first thing in the morning because they'll just lead to a mid-morning blood sugar crash around 10am.
They're made with whole oats, instead of traditional flour. Using oats in your baking is a more affordable option and making oat flour is super easy.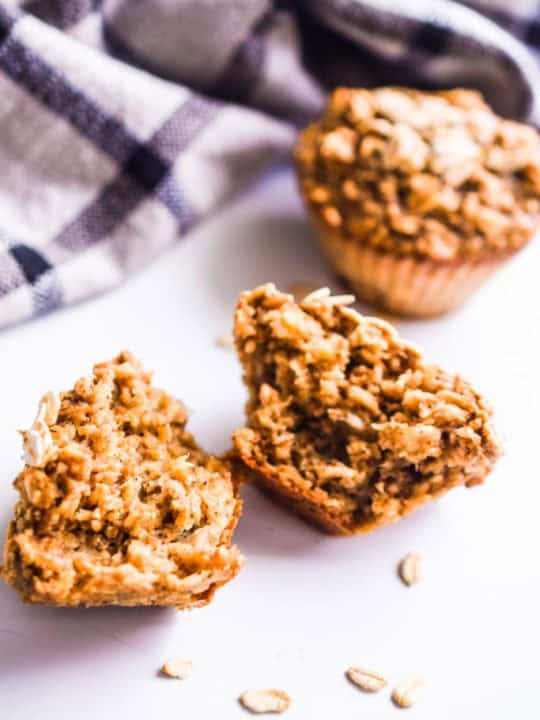 What You Need To Make These Banana Oatmeal Muffins
The great thing about homemade baking is that you can control the ingredients you put into your food. Things like good quality flours and sweeteners really do make a big difference in the quality of taste and nutrition that your family receives.
You're looking at a beautiful, wholesome muffin made with:
Old Fashioned Rolled Oats – I use these sprouted oats that are gluten-free and just love 'em! (they're also made in a peanut-free facility for anyone with nut allergies)
Mashed Banana – This will add sweetness and moisture to the muffins. It's delicious so don't skip it. For best results use ripe bananas with lots of brown spots.
Eggs – Two beaten eggs are used for this recipe.
Maple Syrup – For sweetness, I used maple syrup. You can also use honey or Lakanto sugar-free maple flavored syrup.
Milk – I used regular milk. But you can use dairy-free milk here too: oat milk, almond milk, soy milk, etc.
Plus These – You'll also need baking soda, baking powder, salt, cinnamon, and vanilla extract.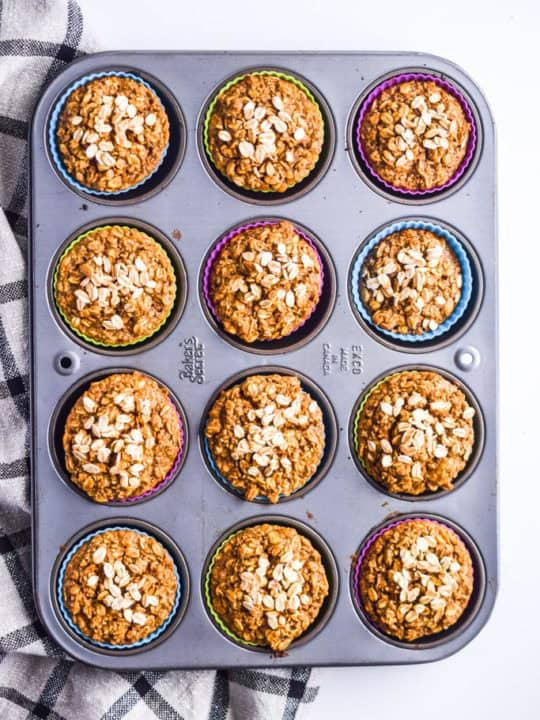 Banana Oatmeal Muffins Instructions
Everything is easily put together to make these beautiful banana oatmeal muffins. I don't think the process could be any easier!
First, you'll need to blend 1 ½ cups of rolled oats in a food processor or blender. This will turn it into oat flour. (see my instructions on how to make oat flour here) I used my food processor and it took about 2 minutes to turn into the right consistency. You can also buy oat flour if you don't have a food processor or blender. It can be expensive, so if you have a local bulk food store, check there first to help save money. I prefer to make my own because it's the most cost-effective option.
Add the oat flour and the rolled oats to a bowl along with the other dry ingredients: cinnamon, baking powder, baking soda, and salt. Mix them all up!
Now you need to mash the banana. Make sure that you're using ripe bananas with lots of brown spots. This will create more sweetness and will also be easier to mash. I just do this on a plate with a fork. Add the mashed banana to the bowl of oats.
Beat the two eggs in a small bowl and add those to the oats bowl along with the rest of the wet ingredients: maple syrup, milk, and vanilla extract. Mix everything together.
Now here's the key step: Let the batter sit for 15-20 minutes. This will let the oats absorb some of the moisture and create more moist and fluffy muffins.
Next, add about ¼ cup of batter to each of the muffin cups. I like to sprinkle some oats on top but this part is optional. Add to the oven and bake for 25-30 minutes or until a toothpick comes out clean. Let cool for 10 minutes, then add to a baking rack to cool completely.
How To Store Banana Oatmeal Muffins
Storing In The Fridge: These muffins store best when in the fridge. I find that they can get a bit mushy when stored on the counter because of the added moisture. Store them in an airtight container in the fridge for up to one week.
Freezing Instructions: These muffins also store great in the freezer. After you bake, let them cool completely on the counter. Then wrap each one in parchment paper or plastic wrap and store them all in a freezer bag. When you're ready to eat, grab one from the freezer and discard the outer wrapping. Place the muffin on a paper towel and microwave for 30-60 seconds to defrost.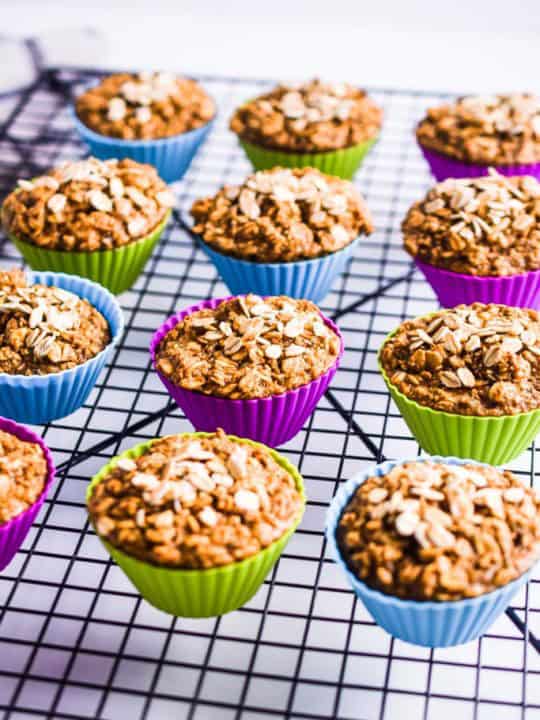 Reusable Silicone Muffin Cups
I really like using silicone muffin cups in my baking because they're reusable and easy to clean. They also add a fun pop of color to baking that kids usually love. These cups are also great to add to kid's lunches to help divide snacks and keep them from getting mushy.
Banana Oatmeal Frequently Asked Questions
Is Oatmeal and Banana Healthy?
Yes! These are a great source of fiber from the sprouted rolled oats. There's no refined sugar or preservatives used that you would normally get from store-bought muffins. If you want to make these muffins even healthier, you can reduce the maple syrup in half. Or substitute it for a sugar-free version like Lakanto sugar-free maple flavored syrup.
How Do You Make Muffins Moist?
Two things are going to help make these muffins moist and fluffy. First is the ripe bananas – make sure to use bananas with brown spots and not green ones. These will be sweeter and add to the moisture. The second is letting the oats have time to soak up wet ingredients before baking. This is why I let the batter sit for 15-20 minutes before adding it to the muffin pan.
Can I Add Other Ingredients? (ex. chocolate chips, blueberries, etc.)
Yes! If you're adding one extra ingredient (ex. blueberries) you can add 1 cup. If you're adding multiples, add 1/4 cup or 1/2 cup of each (ex, nuts or seeds). I've had people use this recipe with both berries and chocolate chips and have said they taste great.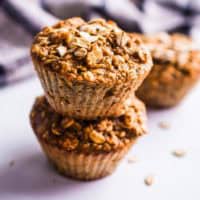 Banana Oatmeal Muffins
Healthy Banana Oatmeal Muffins are a convenient breakfast that the whole family will love. Made no flour, no refined sugar, and no nuts. They're gluten-free and great for school snacks!
Print
Pin Recipe
Instructions
Preheat your oven to 350°F degrees. Line a muffin pan with cupcake liners and set aside.

Add the oat flour to a medium bowl, along with another 1.5 cups of whole oats (you'll have half oats flour, half whole oats). Add the baking soda, baking powder, salt and cinnamon. Mix everything together.

Add the ripe bananas to a plate and mash them thoroughly with a fork. Scoop them into the oat mixture.

Beat the eggs in a small bowl, then add them to the oat mixture. Also add the maple syrup, milk, and vanilla. Mix everything together, then let sit for 10-20 mintues to let oats soak up the wet ingredients.

Spoon about ¼ cup of batter into each muffin cup. Sprinkle a small amount of whole oats on top of each muffin (optional).

Place in oven for 25-30 minutes, or until a toothpick comes out clean from the muffin. Let cool for 10 minutes, then remove muffins and place on a cooling rack.

Store muffins in an airtight container in the fridge for up to 1 week.
Video
Recipe Notes:
I find that these muffins store best when chilled in the fridge versus on the counter.

These muffins also freeze well – just wrap individually for freezing and then pull one out for breakfast in the morning and pop in the microwave for 30-60 seconds.

This recipe is easy to customize. Feel free to add chocolate chips, berries, seeds or nuts if you'd like.
Nutrition
Calories:
154
kcal
|
Carbohydrates:
29
g
|
Protein:
4
g
|
Fat:
3
g
|
Saturated Fat:
1
g
|
Trans Fat:
1
g
|
Cholesterol:
29
mg
|
Sodium:
233
mg
|
Potassium:
207
mg
|
Fiber:
3
g
|
Sugar:
12
g
|
Vitamin A:
78
IU
|
Vitamin C:
2
mg
|
Calcium:
90
mg
|
Iron:
1
mg
Please note these nutritional values provided above are just an estimate. Actual numbers will vary based on brands and ingredients you choose, and your preferred portion sizes.
Join Our FREE MEMBERS LIBRARY!!
Get exclusive access to all our FREE PDF recipe guides!! Must sign up on our website to gain free access – Join Free Members Library Here.
More Muffin Recipes: