Chocolate dipped heart strawberries are so simple and special. With just 3 ingredients, these treats are put together fast and will delight anyone you share them with. Some homemade candies can feel complicated but not these! All you have to do is cut the strawberries in half and slice a small piece from the top, then dip them in delicious dark chocolate.
These chocolates are homemade and special. And to keep them as healthy as possible I'm using 70% dark chocolate chips which have less sugar. A bit of coconut oil is added to the melted chocolate to make dipping easy. I recommend storing these in the fridge until you're ready to serve. They look so cute poked with wooden skewers and laying on a plate.
You can serve these chocolates on special occasions like birthday parties, barbecues, or whenever you feel like being a little creative in the kitchen.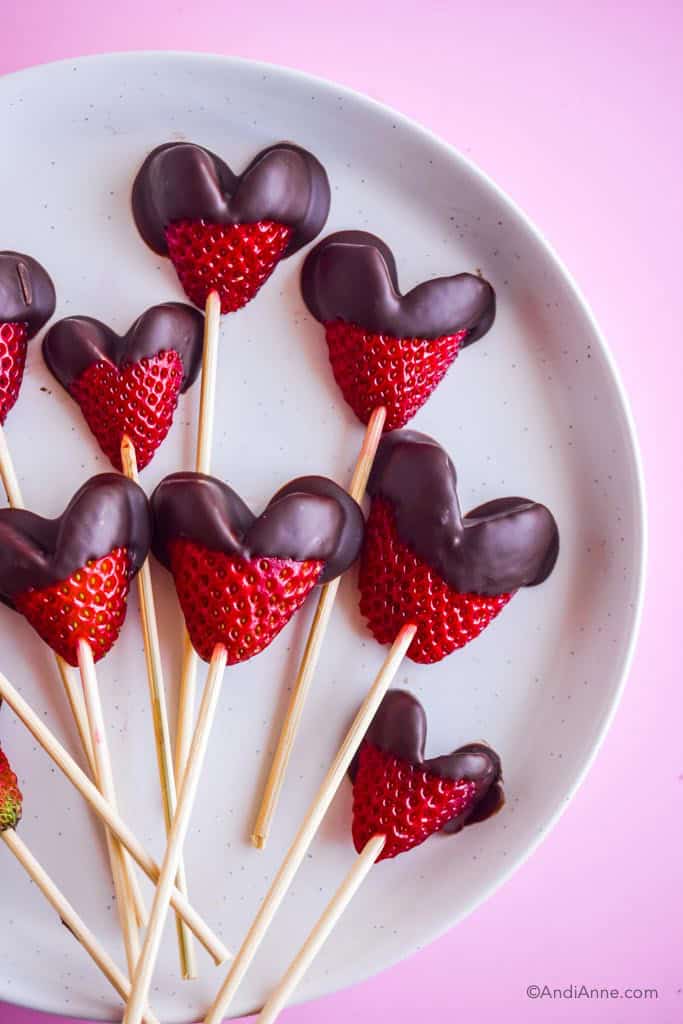 Chocolate Dipped Heart Strawberries Ingredients
You only need three ingredients to make these delightfully simple treats
Strawberries – Look for fresh ripe strawberries so that you'll get the most flavor out of them. Each strawberry will make two chocolate dipped hearts, so you don't need many.
Dark Chocolate Chips – I always use at least 70% dark chocolate in my baking because there is less refined sugar and they taste just as great, if not better.
Coconut Oil – One tsp of coconut oil is used to help make the chocolate a little runnier (easier for dipping) and add a bit of healthy fats to these treats. This part is optional though.
Wooden Skewers – I used wooden skewers to poke through the strawberries. I cut each one in half with heavy duty scissors. If you have small kids eating these then you might want to snip of the sharp point as well.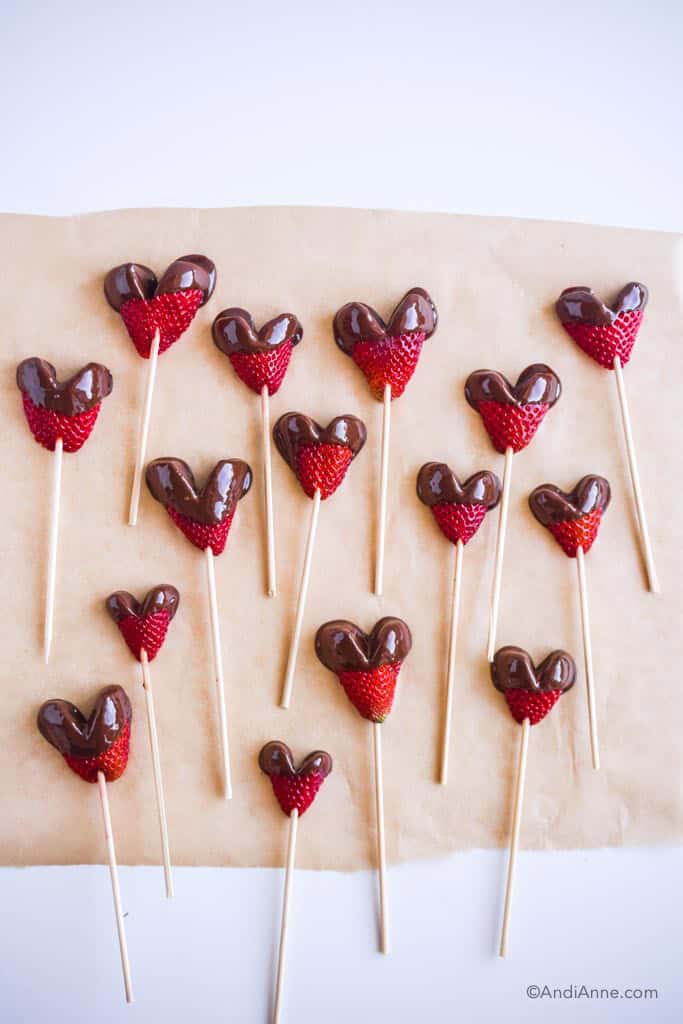 How To Make Chocolate Dipped Heart Strawberries
Wash the strawberries. Slice the green tops off of each one, then slice the strawberries in half.
Remove a small triangle off of the top of the strawberry slice to create a heart shape.
Poke a wooden skewer through the bottom of each strawberry. Give the skewer a slight twist as you're going to help it poke through.
Heat the chocolate chips in the microwave for 30-60 seconds or until the chocolate has melted. Add the coconut oil and mix it together.
Dip the top of each strawberry into the chocolate. Add to a plate or parchment paper. Place in the fridge to cool for 10 minutes, then serve.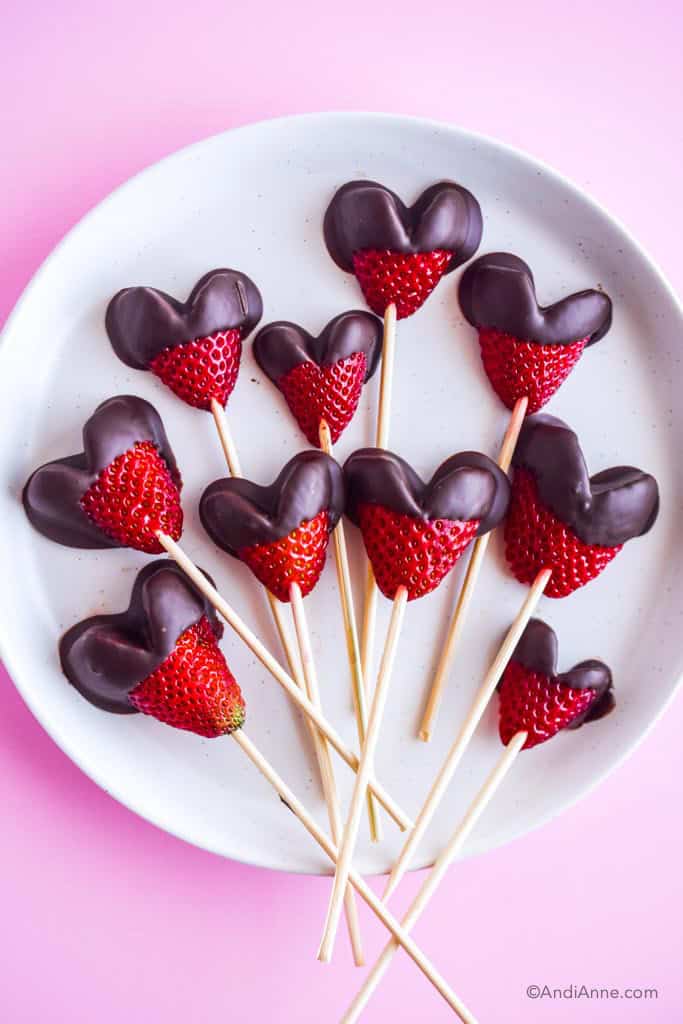 More Healthy Treat Recipes
Chocolate Dipped Heart Strawberries
With just 3 ingredients, these treats are put together fast and will delight anyone you share them with.
Print
Pin Recipe
Instructions
Wash the strawberries and pat dry with a paper towel.

Slice the top of the strawberry, then slice it in half

Cut a small triangle from the top of each strawberry slice.

Cut wooden skewers in half or use toothpicks. Poke the stick through the bottom of the strawberry. You might have to give it a slight twist to help it go through.

Melt dark chocolate chips in the microwave for 30 second increments until melted. Add in 1 tsp of coconut oil (optional). This will help to make the chocolate a bit runnier and easier to dip.

Dip in the strawberries then lay on a plate to cool. Chill in the fridge for 10 minutes before serving.
Nutrition
Calories:
136
kcal
|
Sugar:
9
g
Please note these nutritional values provided above are just an estimate. Actual numbers will vary based on brands and ingredients you choose, and your preferred portion sizes.
Join Our FREE MEMBERS LIBRARY!!
Get exclusive access to all our FREE PDF recipe guides!! Must sign up on our website to gain free access – Join Free Members Library Here.