Chocolate puffed rice squares are healthy and made with just five ingredients. These are no-bake and can be whipped up easily. Great for kid's parties, school events, picnics, or as a healthy afternoon treat.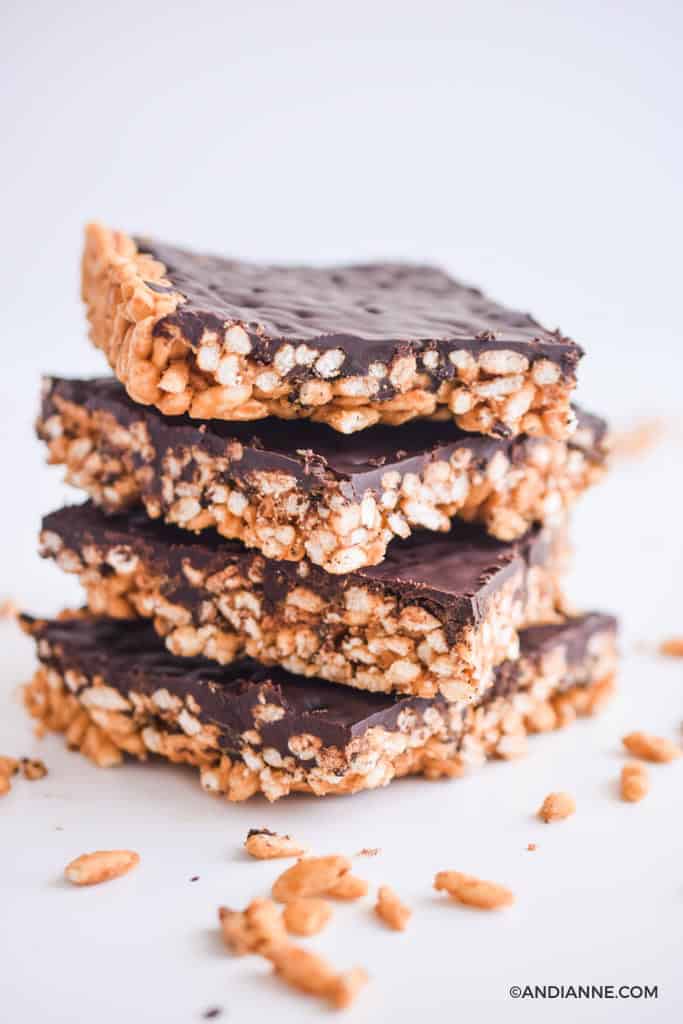 Chocolate puffed rice squares are a healthier alternative to traditional rice crispy squares. They're made with puffed rice, not rice krispies (which have a high sugar content). Puffed rice has no additional ingredients… just rice! And instead of using marshmallows to hold the bars together, we're using nut butter (high in protein) and coconut oil (high in healthy fats).
These are a great snack for kids and adults alike. They're easy for you to make and budget friendly. My daughter is a big fan of these and really enjoys eating the puffed rice pieces.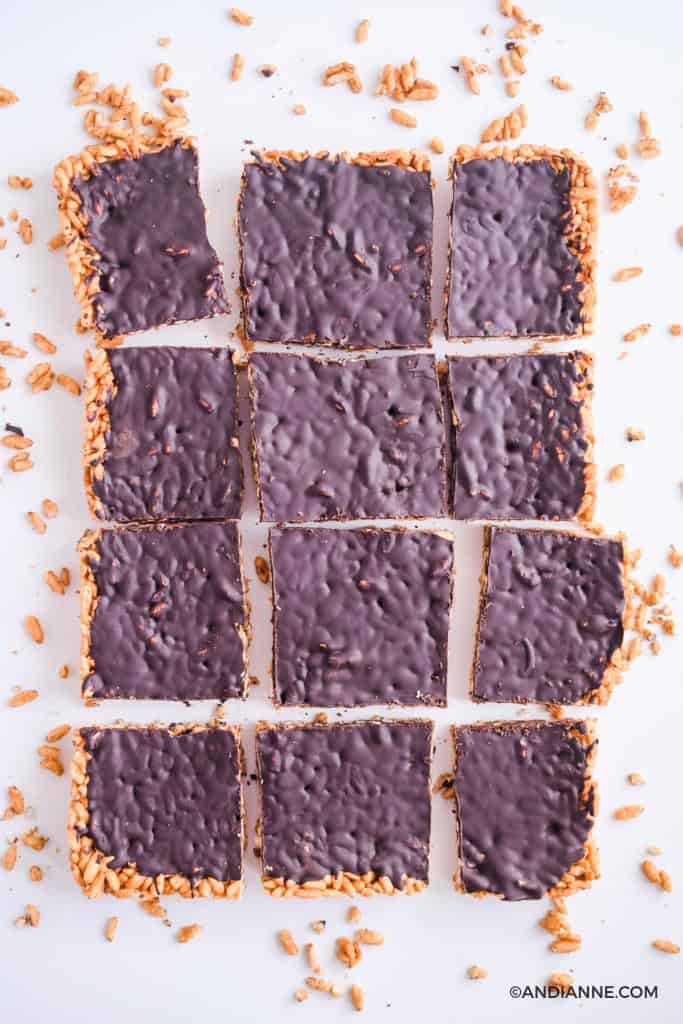 Chocolate Puffed Rice Squares Ingredients
PUFFED RICE – Puffed rice can be found in the cereal section of the grocery store, or it can be purchased online. Alternatively you can use puffed wheat, puffed quinoa or rice krispies.
NUT BUTTER – Nut butter helps to hold the puffed rice together for the snack. You can use almond butter, cashew butter, peanut butter, etc. If you have a nut allergy, sunbutter, wowbutter or tahini will also work. You could also use homemade pumkin seed butter.
COCONUT OIL – Coconut oil is a great source of healthy fats. Choose a neutral flavor coconut oil. Alternatively, you can use coconut manna, or cacao butter – both have a thicker consistency and will help to hold the puffed rice together even better.
HONEY – Honey is sticky and acts as glue for this recipe. You can also use maple syrup. The squares may crumble a bit more but it will still work.
DARK CHOCOLATE CHIPS – I like to use at least 60% dark chocolate chips because they have less added sugar and are a healthier choice. If you have a nut or dairy allergy then try this chocolate chip brand.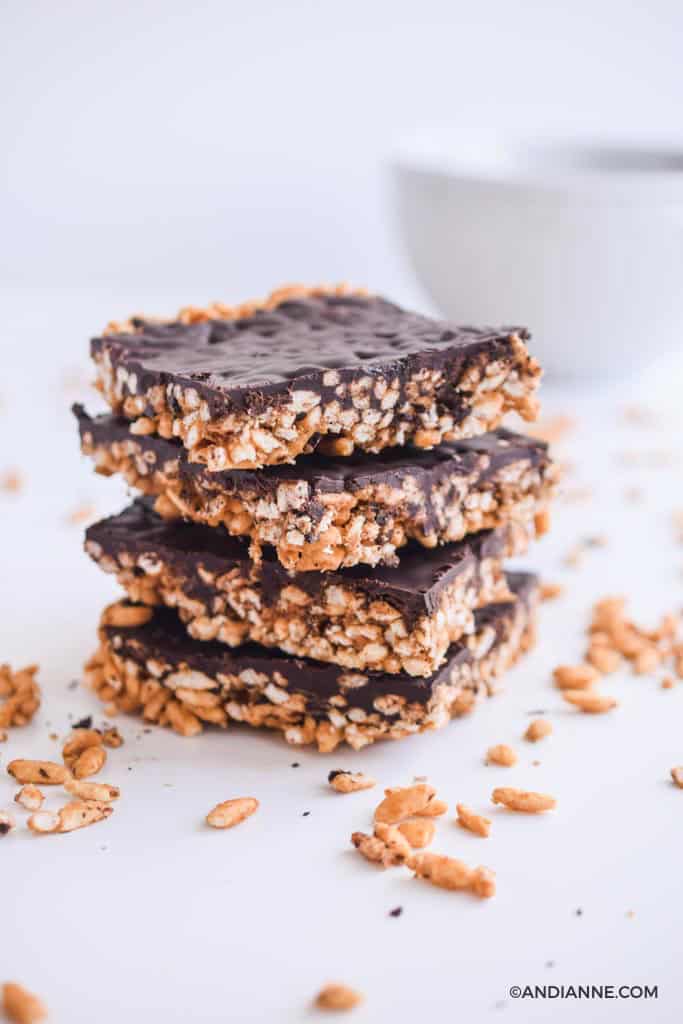 Puffed Rice Squares Instructions
These chocolate puffed rice squares are no-bake. The process is pretty similar to making rice crispy squares, but healthier…
Melt nut butter, coconut butter, and honey in a saucepan. Remove from heat and stir in vanilla extract.
Add puffed rice to a large bowl. Pour sauce over top and mix everything together.
Pour into a baking pan lined with parchment paper. Press down firmly.
Melt chocolate chips using the double boiler method. Pour over puffed rice and smooth out with a spatula.
Refrigerate for two hours then slice into squares and serve.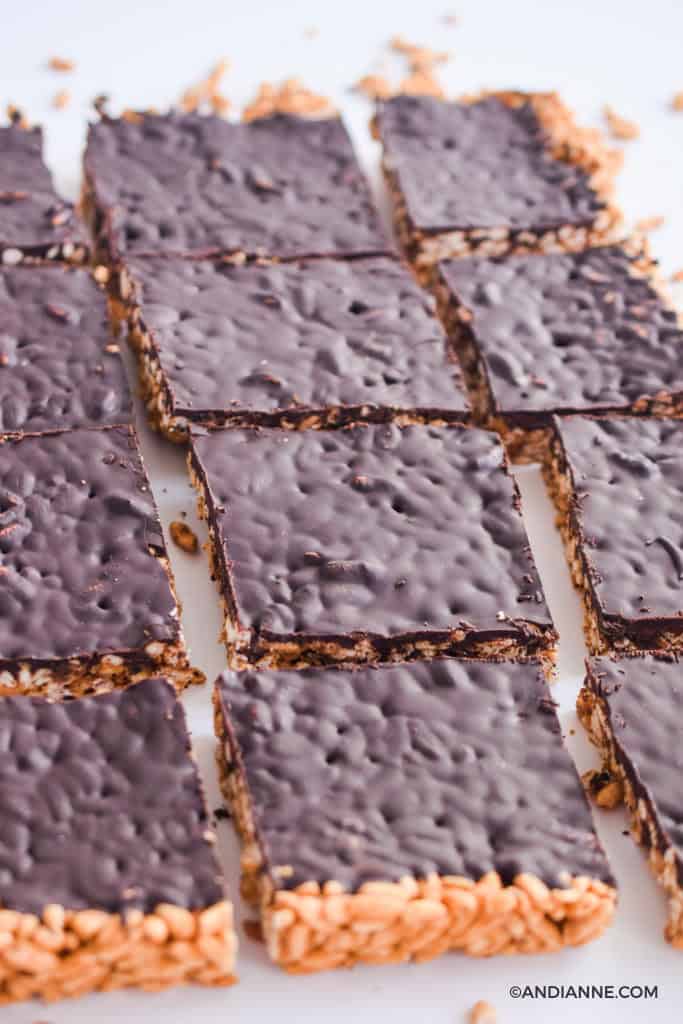 What Is Puffed Rice?
Puffed rice is a great alternative to using the classic rice krispies because it only contains one ingredient. I like the Nature's Path Puffed Rice – they're made with brown rice. This brand is sugar free, and made with whole grains. It's a great option for cereal too. You can usually find it in the cereal section of the healthier foods aisle in your grocery store.
Freezing Instructions
Chocolate puffed rice squares can easily be frozen. I like to do this for my daughters treats because it's easy to just grab one from the freezer when needed.
After cutting into squares, add them to a freezer bag and seal tightly removing excess air. These can be stored in the freezer for 2-3 months.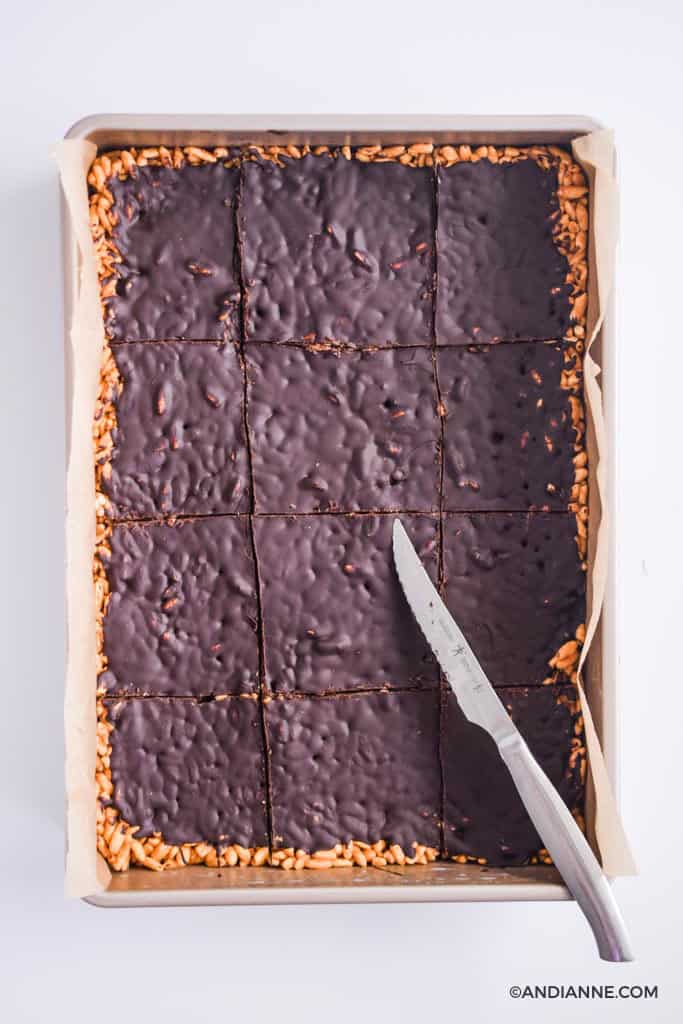 More Healthy Snack Recipes:
Want to incorporate more healthy snacks into your life? Try some of these recipes using healthier ingredients including no refined sugar or refined flours: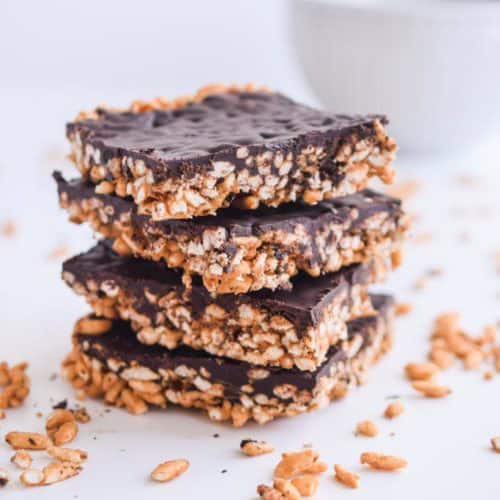 Healthy Chocolate Puffed Rice Squares
Chocolate puffed rice bars are healthy and made with just five ingredients. These are no-bake and can be whipped up easily.
Print
Pin Recipe
Instructions
Add puffed rice to a large bowl. Set aside.

Line a baking sheet or pan with parchment paper. Set aside.

In a saucepan over medium-high heat, add coconut butter and nut butter. Stir gently until everything melts together – approx. 2-4 minutes.

Remove saucepan from heat and stir in honey (or maple syrup) and vanilla extract.

Pour sauce into puffed rice bowl. Mix everything together thoroughly.

Pour puffed rice mixture into baking pan. Spread out evenly then press down firmly with a spatula or spoon.

Using the double boiler method, melt chocolate. Once melted, use a spatula to scoop overtop of puffed rice. Smooth out evenly. Place in the fridge and let chill for 2 hours.

Remove from fridge, let sit 10 minutes then use a knife to slice into squares. Lift out of pan with parchment paper. Store the squares in the fridge or freezer in an air tight container.
Nutrition
Please note these nutritional values provided above are just an estimate. Actual numbers will vary based on brands and ingredients you choose, and your preferred portion sizes.
Join Our FREE MEMBERS LIBRARY!!
Get exclusive access to all our FREE PDF recipe guides!! Must sign up on our website to gain free access – Join Free Members Library Here.