Cranberry sauce with orange zest will take your Thanksgiving dinner to the next level. All you need is four ingredients and 20 minutes to make a sauce that pairs incredibly with turkey and chicken. This recipe can be made sugar-free as well. I've included some sweetener substitutions below.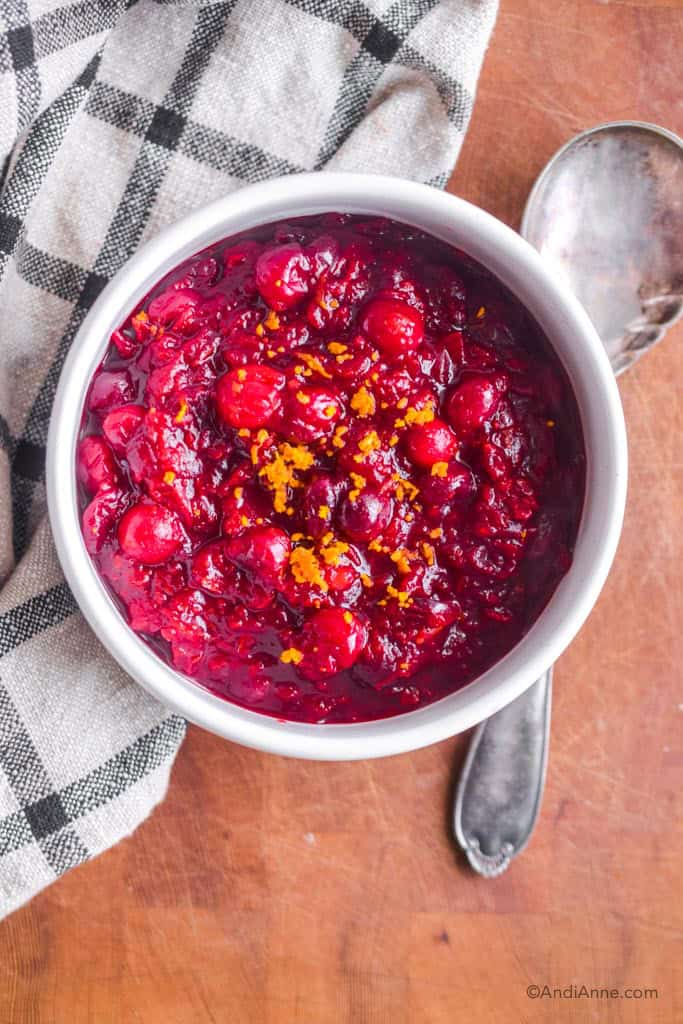 Cranberry Sauce with Orange Zest
It's time to ditch the canned cranberry sauce because this homemade version is so much better!
The process to make it is simple: all you need is a saucepan and four ingredients to make cranberry sauce full of fresh beautiful flavors.
If you've never made homemade cranberry sauce before, I'm about to convert you! I promise it's sooo much better than the canned stuff. This sauce is sweet and tart with a hint of orange.
I've been making this recipe for a few years now. I've used it at our own Thanksgiving dinner and brought it over to other Family dinners. It's an easy, yet thoughtful side dish to bring as a guest. I always get compliments on it.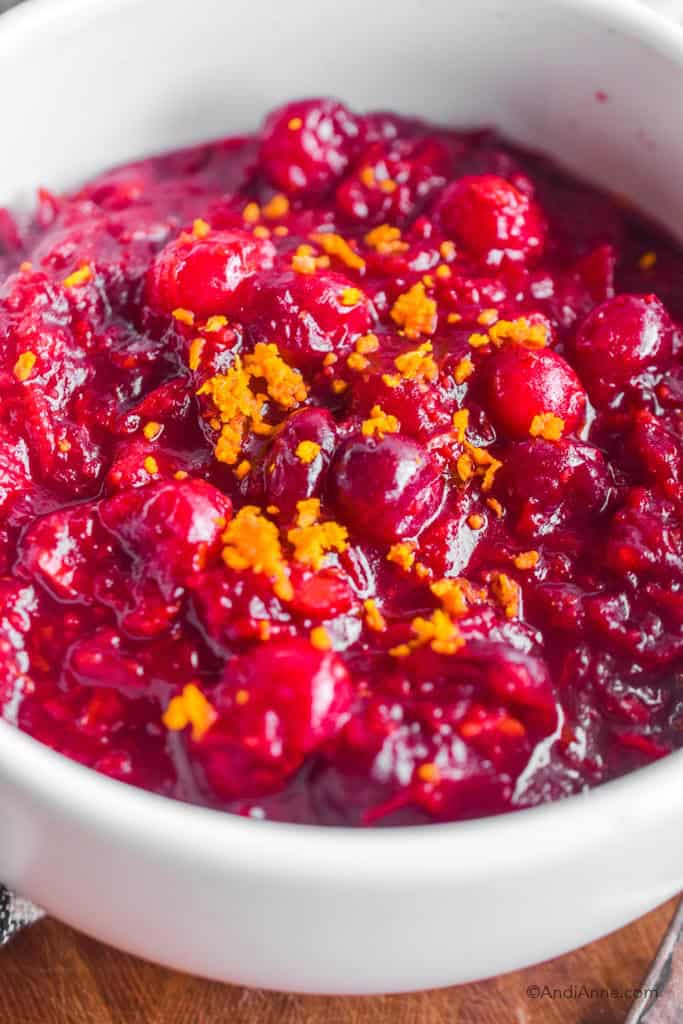 Cranberry Sauce With Orange Zest Ingredients
You only need four ingredients to make this delicious sauce:
Fresh Cranberries – You'll need one bag (12 oz) of fresh cranberries, or about 1½ cups.
Sweetener – I used coconut sugar. You can also use lakanto monkfruit sweetener, erythritol, etc.
Cinnamon – You'll need ½ tsp ground cinnamon.
Two Navel Oranges – Two large navel oranges are used for this recipe. The peel is used to create orange zest and the flesh can be squeezed to create the orange juice. I always use organic oranges for this part because we are adding the peels to the dish, but you can use whatever works for you.
~ Scroll down to the bottom of this post to see the full recipe.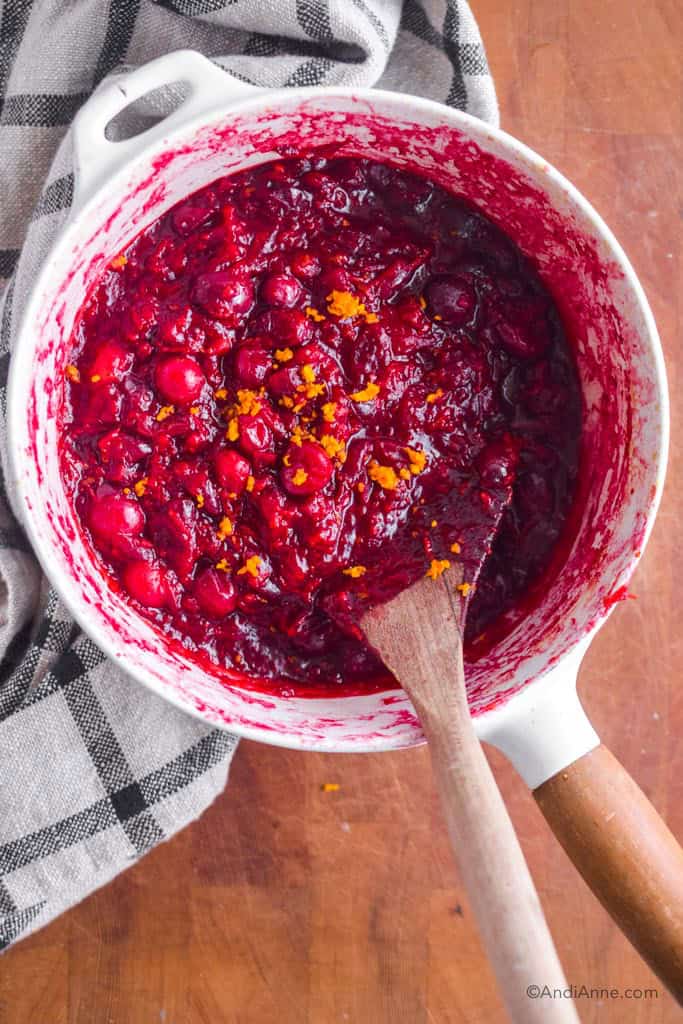 Cranberry Sauce Tips
Here are a few quick tips to make the best cranberry sauce:
Make A Double Batch – We love this recipe so much that I usually make a double batch and save some for leftovers. A single batch is usually gone after Thanksgiving dinner.
Control The Sugar – You can control how much sweeteness you want. You can add more or less sugar. Cranberries are naturally tart and adding sugar really helps to balance that out. I like to add 1/2 cup of coconut sugar. You can also use Lakanto monkfruit sweetener (sugar-free) or erythritol (also sugar-free).
Avoid Liquid Sugar – I don't recommend using a liquid sugar like maple syrup or honey because it tends to burn easier while you're simmering the cranberries. I speak from experience – last year I burnt a double batch of cranberry sauce using fresh cranberries from the farmers market. I was so disappointed!
Stir Frequently – I highly recommend sticking close to the stove while you're making this recipe. The sugar can burn if you let the sauce sit too long. Stirring often is important to avoid that.
Make In Advance – You can make this sauce 1-2 days before dinner, especially if you're preparing other recipes on Thanksgiving day. Cranberry sauce stores well in the fridge and tastes better cold. It will make life easier if you prep in advance and cross it off your list.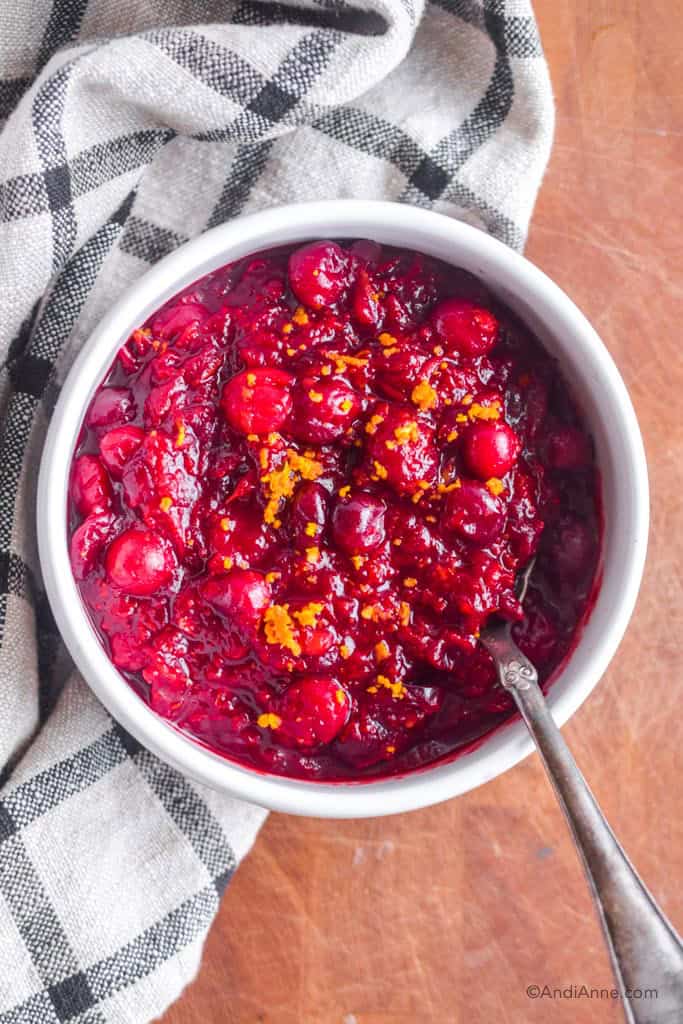 More Thanksgiving Recipes
FOLLOW ALONG: Subscribe to my newsletter and follow along on Youtube and Facebook and Instagram for the latest updates, recipes and content! If you love this recipe, give it a star rating ★ below.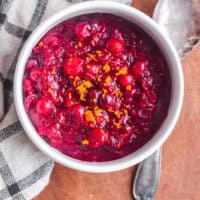 Cranberry Sauce with Orange Zest
Orange zest takes this homemade cranberry sauce to the next level. All you need is 4 ingredients and 20 minutes to make this sauce that pairs incredibly with turkey and chicken. This recipe can also be made sugar-free.
Print
Pin Recipe
Ingredients
12

oz

fresh cranberries

½

cup

sweetener

-

coconut sugar, lakanto monkfruit sweetener, erythritol etc.

½

tsp

cinnamon

½

cup

freshly squeezed orange juice

-

approx. two oranges

¾

cup

orange zest

-

zest from two oranges
Instructions
Wash and scrub the two large navel oranges, then use a cheese grater to create zest from the entire orange peel.

Slice each orange in half and use a juice squeezer to squeeze the juice from the two oranges.

Add the orange zest, orange juice, sweetener, and cinnamon to a saucepan over medium-high heat. Stir frequently to prevent the sugar from burning. Once the sauce starts to bubble, reduce the heat to let simmer.

Now add the cranberries. Let simmer for 10-15 minutes, or until cranberries break down and the sauce thickens.

The cranberries will start to "pop" as they break open. You can help the process along by gently squishing them while you're stirring.

Note: Because there is sugar in the saucepan you want to stir frequently to prevent it from burning.

Once the sauce is thick and cranberries broken down, remove from heat and let cool at least 1 hour. Add to an airtight glass container and store in the fridge for a minimum 3-4 hours before serving, but preferably overnight.

Optional: Add a small amount of fresh orange zest to the top of the cranberry sauce just before serving.
Nutrition
Sodium:
1
mg
|
Calcium:
21
mg
|
Vitamin C:
26
mg
|
Vitamin A:
95
IU
|
Sugar:
3
g
|
Fiber:
3
g
|
Potassium:
87
mg
|
Calories:
36
kcal
|
Monounsaturated Fat:
1
g
|
Polyunsaturated Fat:
1
g
|
Saturated Fat:
1
g
|
Fat:
1
g
|
Protein:
1
g
|
Carbohydrates:
21
g
|
Iron:
1
mg
Please note these nutritional values provided above are just an estimate. Actual numbers will vary based on brands and ingredients you choose, and your preferred portion sizes.
Get The Free AndiAnne Newsletter
Subcribe To My Newsletter For New Recipes Delivered To Your Inbox Weekly.