Ground turkey zucchini chickpea skillet is easy to make and perfect for busy weeknights. Everything is cooked in one frying pan, making clean-up easier. Serve on its own, with rice, or quinoa for a healthy family dinner.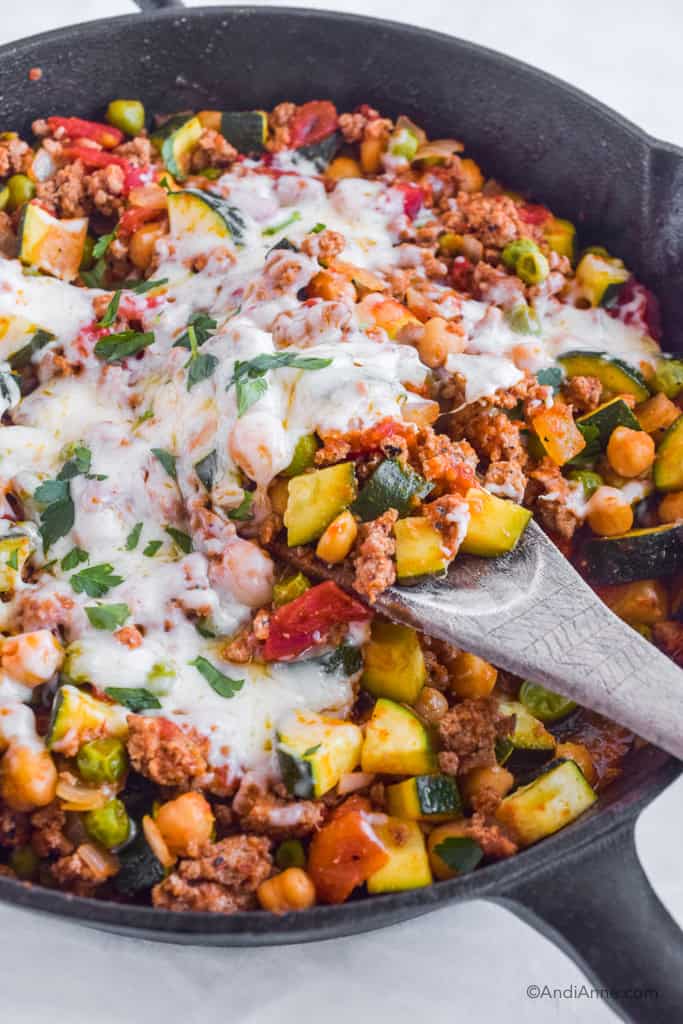 Ground Turkey Chickpea Zucchini Skillet
I'm a big fan of one-pot meals that save me time and money! This easy recipe checks all the boxes and is something you can repeat throughought the month. Made with simple ingredients including ground turkey, zucchini, chickpeas, frozen peas, and spices. It's topped with mozzarella cheese. You'll have dinner ready in under 30 minutes – what could be better!?
>> Need more inspiration? Grab my Easy Healthy Meals Success Kit! Includes 12 healthy eating guides, done-for-you meal plans, and recipes.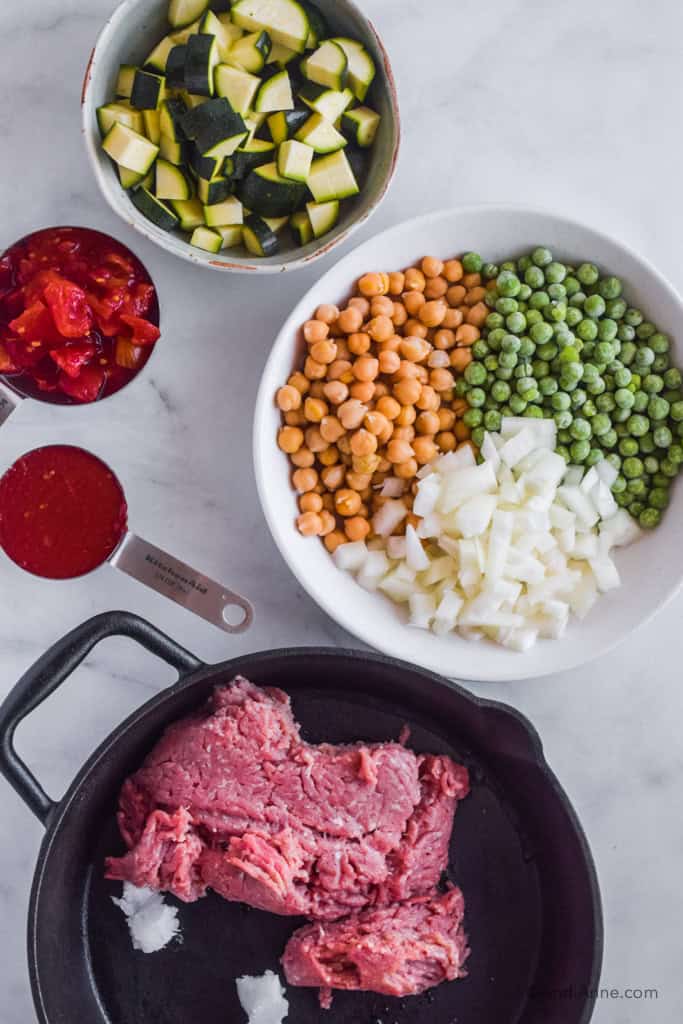 Ground Turkey Zucchini Chickpea Skillet Ingredients
Here are the main ingredients you'll need for this recipe.
Ground Turkey – You'll need 1 lb of ground turkey for this recipe. You can also use lean ground beef or ground chicken.
Zucchini – Fresh zucchini is chopped into bite-size pieces. You'll need 1 ½ cups.
Chickpeas – Drained and rinsed chickpeas.
Peas – You can use frozen peas or canned peas.
Onion – Half of a yellow onion is cooked in the skillet first. When cooking for my family, I like to chop my onion small so that my daughter doesn't really notice it in the recipe.
Tomatoes – You'll need 1 cup of diced tomatoes and ¼ cup tomato paste.
Spices – This recipe uses onion powder, garlic powder, chili powder, paprika, salt and pepper.
Mozzarella Cheese – Once the skillet recipe is cooked, sprinkle mozzarella cheese on top. You can also use cheddar cheese, marble cheese, monterey jack cheese, parmesan or feta.
Related: I have a delicious ground turkey sweet potato skillet recipe on my blog that you might also enjoy – it's simple and family-friendly!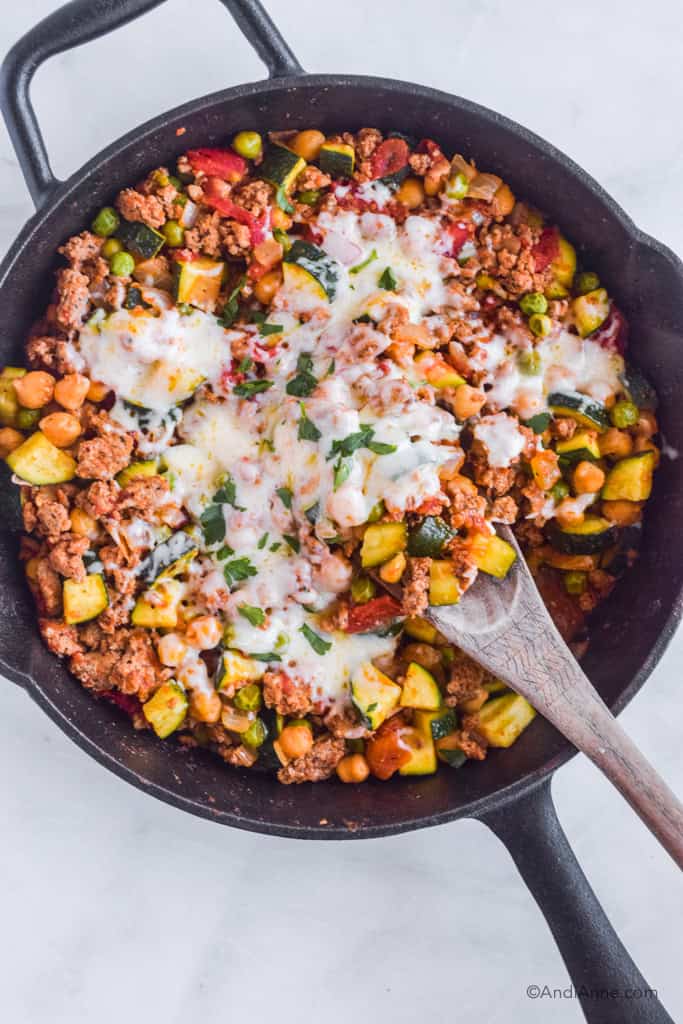 How To Make Ground Turkey Skillet
From start to finish, this recipe can be on your family's plates in under 30 minutes. The full detailed instructions can be found at the bottom of this post in the recipe card.
Prep The Vegetables: I like to wash and prep all my vegetables first. For this recipe, you'll need to wash and chop the zucchini into small cubes. Dice 1 cup of an onion, and mince 3 cloves of garlic, drain and rinse the chickpeas. It's also easier to measure out all the spices in advance and dump them in all at once during the cooking process.
Cook The Ground Turkey: Add a little bit of cooking oil into a skillet and heat over medium-high heat. Add the ground turkey and break it into small pieces. Let cook until it starts to brown.
Add Onion, Sweet Potato and Spices To The Skillet: Move the ground turkey to one side, then add the onion and cook until it turns translucent (about 1-2 minutes). Add in the zucchini, chickpeas, frozen peas, diced tomatoes, tomato paste and spices. Mix everything together and cook until the zucchini turns crisp tender, about 4-5 minutes. Stir and mix occasionally during the process.
Add Mozzarella: Remove from the heat. Grate some mozzarella cheese and sprinkle on top. Cover with a lid for 1-2 minutes to help it melt. Dish up and enjoy with your family.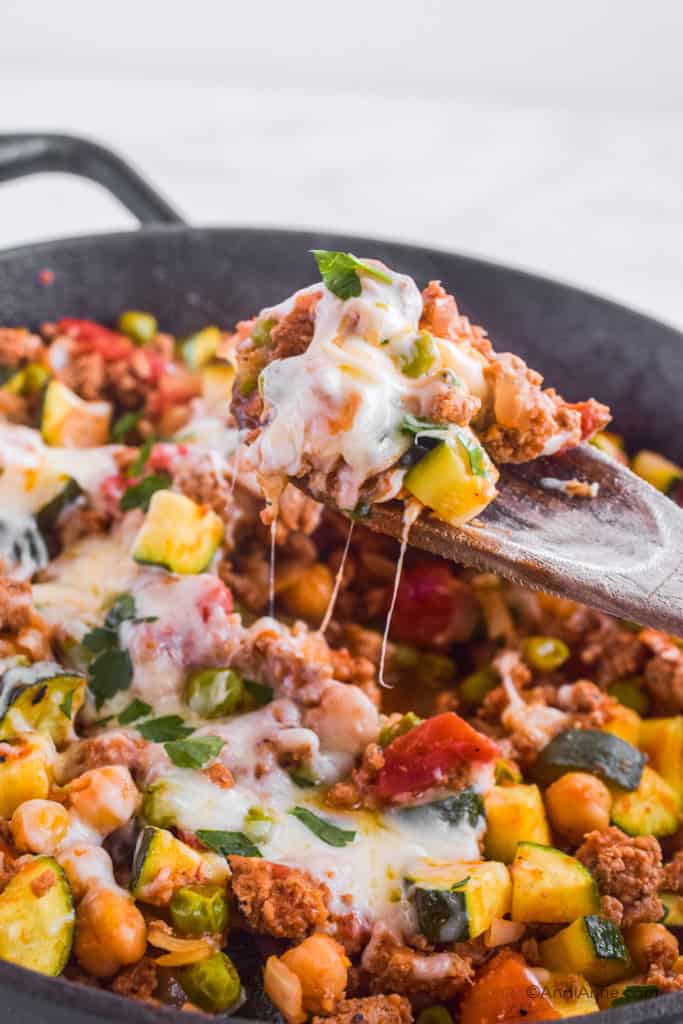 Recipe Tips
Prep the ingredients in advance. This makes the cooking process easier. I like to measure all spices together into a small bowl, wash and chop all vegetables, open cans and strain liquid, and grate the mozzarella cheese.
Excess grease might happen from the ground turkey. You can drain it before adding in the onion, or let it cook down as you cook the other ingredients.
You can use a frying pan or large pot to make this recipe. It doesn't have to be a cast iron skillet. Any large pot or pan that you normally cook on the stove with will work.
Substitute mozzarella cheese for old cheddar, marble, monterey jack, parmesan or feta – they'll all taste great!
Use a wood or silicone spatula to stir and mix ingredients – that way you won't be scratching the surface of the pan.
Your cheese might not melt easily – If needed, just add a lid or plate to the top of the frying pan (removed from heat) for 1-2 minutes. It should easily melt then.
Zucchini should be "crisp tender" when ready to serve. That means it can easily be poked with a fork, but isn't too mushy. The longer you cook, the musher it can get.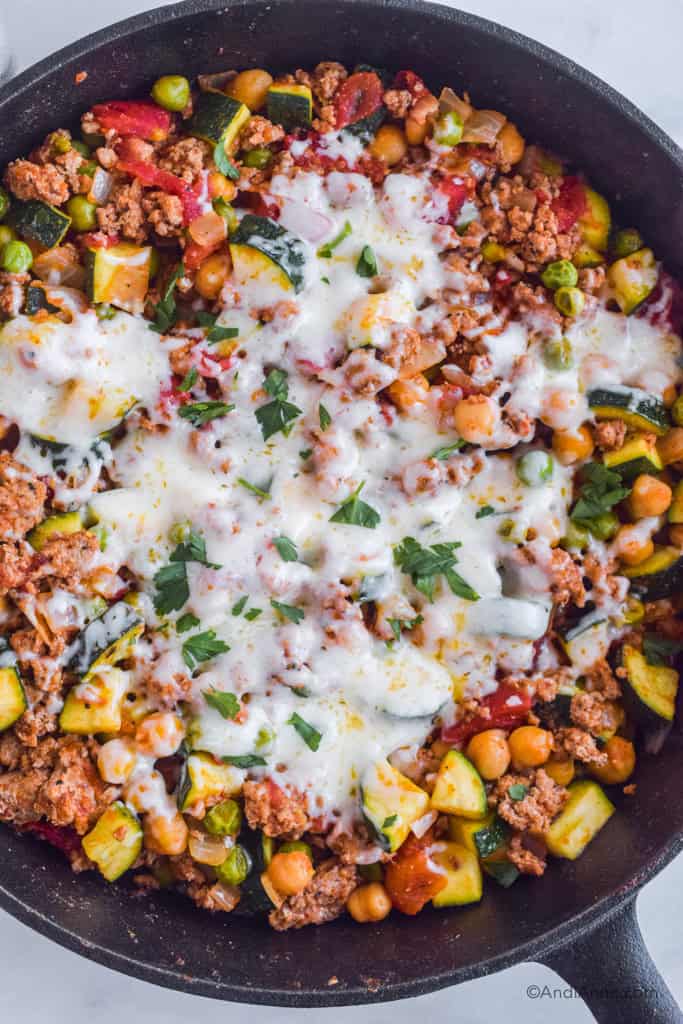 More Recipes
Here are some more easy one-pot meal recipes:
Did you love this ground turkey zucchini chickpea skillet? Be sure to leave a rating below!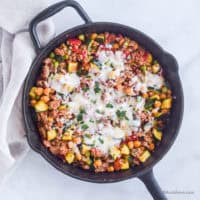 Instructions
Cook the ground turkey with a bit of oil over medium high heat, breaking it apart as you go. Remove any excess grease from pan.

Move the turkey to the side and add the minced garlic and chopped onion. Cook until onion turns translucent, about 1-2 minutes.

Add in the chopped zucchini, chickpeas, peas, diced tomatoes, chickpeas, tomato paste and spices (onion powder, garlic powder, chili powder, paprika, salt and pepper)

Mix everything together and cook on low for 4-5 minutes, or until zucchini is crisp tender.

Remove from heat and sprinkle mozzarella cheese on top. Cover with a lid or plate for 1-2 minutes to help cheese melt. Dish on to plates and enjoy!
Nutrition
Calories:
269
kcal
|
Carbohydrates:
19
g
|
Protein:
27
g
|
Fat:
10
g
|
Sodium:
351
mg
|
Sugar:
7
g
|
Calcium:
199
mg
Please note these nutritional values provided above are just an estimate. Actual numbers will vary based on brands and ingredients you choose, and your preferred portion sizes.
Get The Free AndiAnne Newsletter
Subcribe To My Newsletter For New Recipes Delivered To Your Inbox Weekly.