These homemade pizza pockets are super easy to make with just 4 ingredients! This is one of my daughter's favorite ways to enjoy our pizza nights.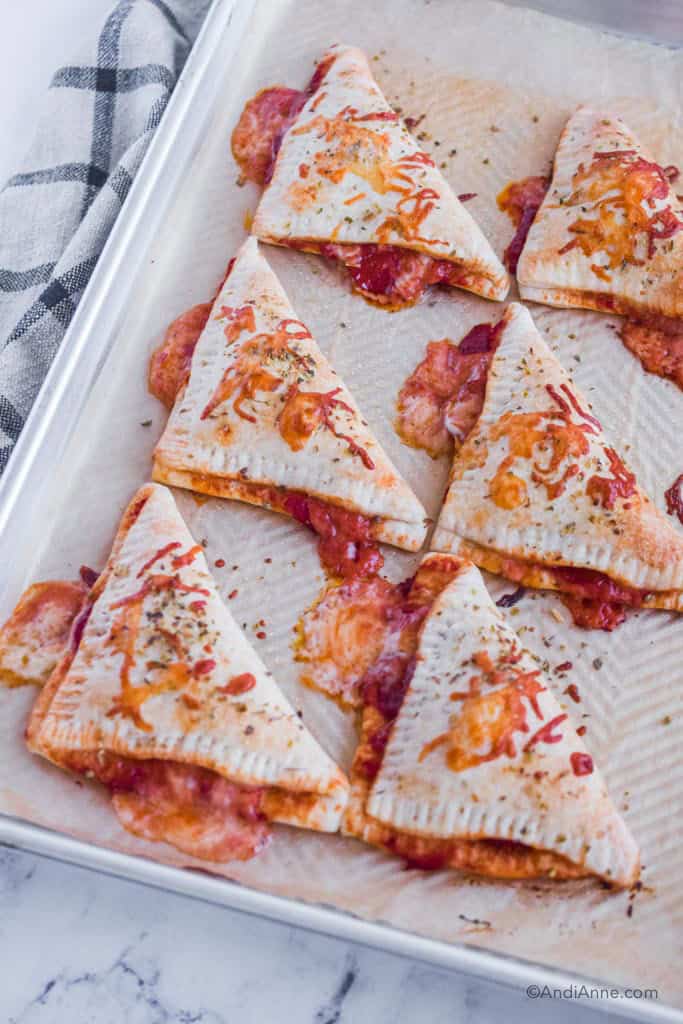 Homemade Pizza Pockets
Homemade pizza pockets are a fun way to enjoy pizza at home! You only need four ingredients and 15 minutes to create this delicious recipe.
Whether you're making these for lunches or a pizza dinner night, your family will love how fun and simple they are. We like to serve ours with extra pizza sauce for dipping.
>> Need more inspiration? Grab my Easy Healthy Meals Success Kit! Includes 12 healthy eating guides, done-for-you meal plans, and recipes.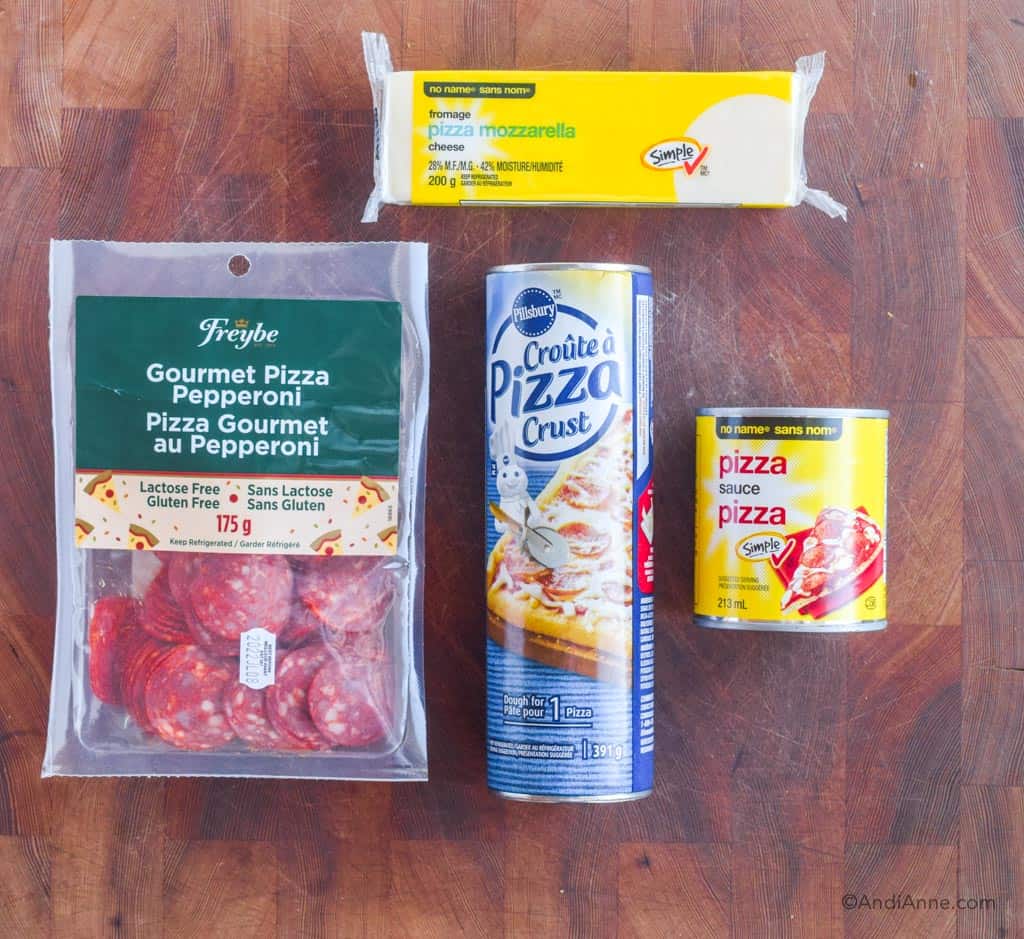 Pizza Pocket Ingredients
Here's what you'll need to make this recipe:
Refrigerated Pizza Crust – You can use any store-bought refrigerated pizza crust for this recipe.
1/2 cup Pizza Sauce – Pizza sauce or pasta sauce will work.
¾ cup Grated Mozzarella – Pizza mozzarella works best, but feel free to substitute with your favorite cheese.
18 Mini Pepperoni Slices – I used smaller sized pepperoni slices. If you're using larger ones you can slice them in half.
1 tsp Dried Oregano – Sprinkled on top of each pizza pocket.
Avocado Oil Spray – My favorite non-stick cooking spray for recipes. Used to spray tops of pizza pockets before cooking.
GET MY KITCHEN FAVORITES LIST – Get my full kitchen shopping list here including how I stock my pantry, fill my fridge, and what equipment I prefer to use in the kitchen.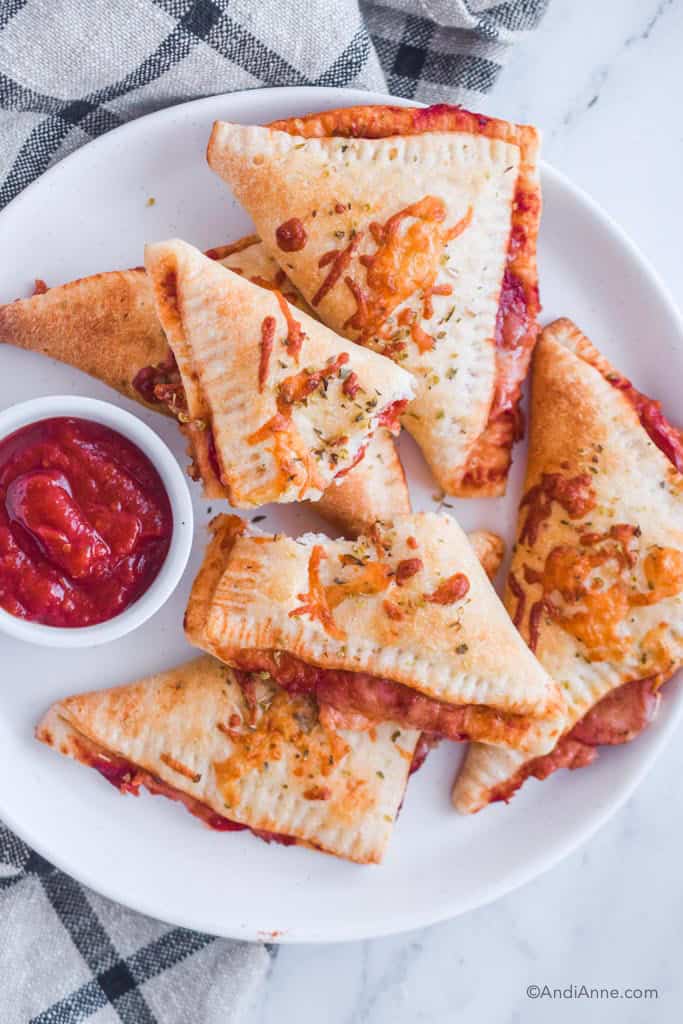 Recipe Cost = $8
The pizza crust cost me $6, pepperoni was $1, cheese and sauce were about $1 (prices will vary slightly depending on where you live).
Grocery Shopping Tip: If you like to save money at the store, here are my 7 ways to save money on your grocery bill and still eat healthily.
Kitchen Equipment I Used
Here's the equipment I used to make this recipe:
Large Baking Sheet – I love my Nordic Ware large baking sheet. It allows me to bake more at once!
Pizza Cutter – One of my favorite tools for the kitchen. I use it to cut pizzas and slice granola bars.
Cheese Grater – Used to grate the parmesan cheese.
Parchment Paper: Placed on the baking sheet for easier cleanup. I love to use this unbleached biodegradable parchmemt paper.
>> Grab my Easy Healthy Meals Success Kit! A highly successful meal system filled to the brim with healthy eating resources that will teach you how to make easy healthy meals throughout the week, plan your breakfasts, lunches, dinners, and so much more!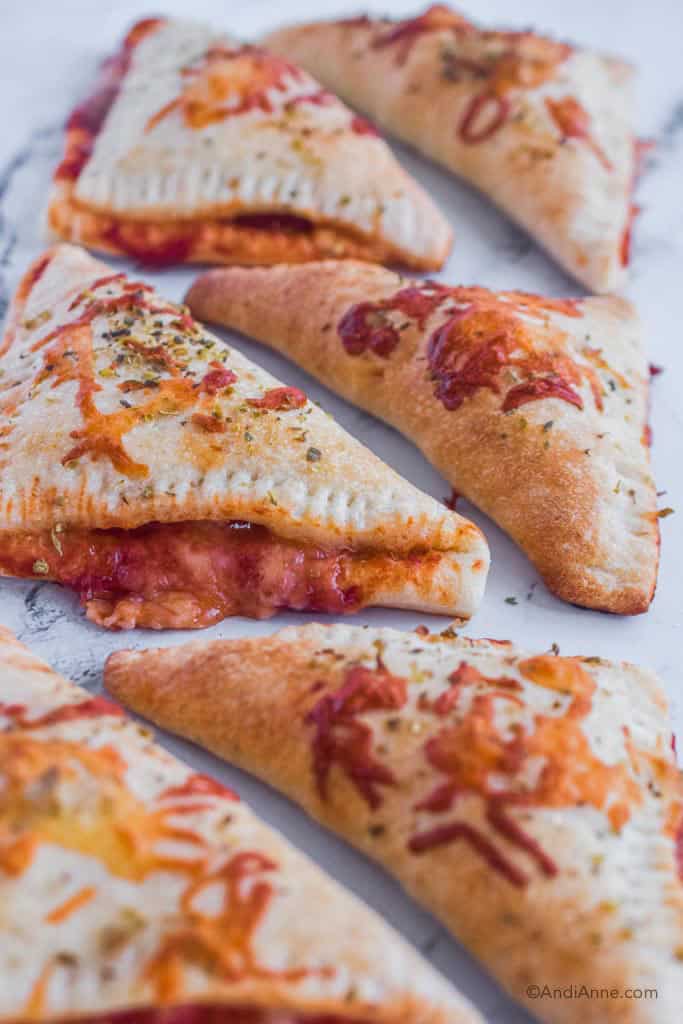 How To Make Homemade Pizza Pockets
Here's an overview of how to make it with the full recipe instructions at the bottom of this blog post.
Dough – Roll out the dough, cut into an even rectangle shape. Use pizza cutter to slice into six squares.
Assemble – Add 1 Tbsp pizza sauce, 2 Tbsp mozzarella cheese and 3 pepperoni slices to the inside of each pizza pocket. Gently fold over and press the edges together with a fork. Spray the top of pizza pockets with cooking spray, sprinkle with dried oregano and mozzarella cheese.
Bake – Bake at 425°F for 10-13 minutes. Crust will start to golden and cheese and sauce will ooze out edges a bit.
Serve – Serve while still warm with more pizza sauce.
Storage: Leftovers should be stored in an airtight container in the fridge for 3-4 days and reheated in the oven to crispen up again. These can also be frozen.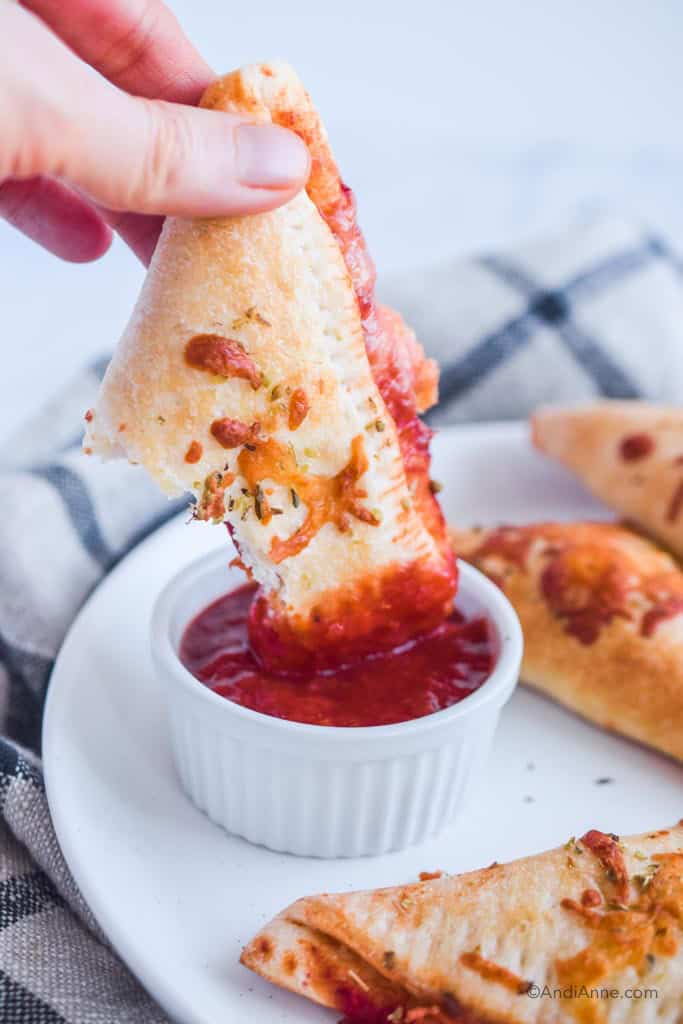 More Pizza Recipes
Did you love these homemade pizza pockets? Be sure to leave a rating below!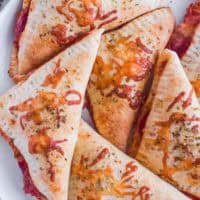 Ingredients
1

refrigerated pizza crust tube

6

Tbsp

pizza sauce

¾

cup

grated mozzarella cheese

18

mini pepperoni slices

1

tsp

dried oregano
Instructions
Preheat the oven to 425°F. Remove the pizza dough from tube, then roll out over parchment paper. Use a rolling pin to roll thinner if desired.

Cut into six even squares.

Add 1 Tbsp of pizza sauce to each square and spread with a spatula.

Sprinkle 2 Tbsp shredded mozzarella on top.

Add 3 mini pepperoni slices.

Fold over to create a triangle. Seal the edges by pressing together with a fork.

Lightly spray the tops with cooking oil spray. Sprinkle ⅛ tsp dried oregano. Sprinkle 1 tsp mozzarella on each.

Bake for 10-13 minutes or until outside turns golden brown.

Serve while warm with pizza sauce.
Nutrition
Calories:
230
kcal
|
Carbohydrates:
33
g
|
Protein:
10
g
|
Fat:
7
g
|
Saturated Fat:
3
g
|
Polyunsaturated Fat:
1
g
|
Monounsaturated Fat:
2
g
|
Trans Fat:
1
g
|
Cholesterol:
15
mg
|
Sodium:
742
mg
|
Potassium:
82
mg
|
Fiber:
1
g
|
Sugar:
5
g
|
Vitamin A:
138
IU
|
Vitamin C:
1
mg
|
Calcium:
118
mg
|
Iron:
2
mg
Please note these nutritional values provided above are just an estimate. Actual numbers will vary based on brands and ingredients you choose, and your preferred portion sizes.
Get The Free AndiAnne Newsletter
Subcribe To My Newsletter For New Recipes Delivered To Your Inbox Weekly.