Mango turmeric ginger smoothie is made with frozen mango, banana, fresh ginger and turmeric powder. You'll love how refreshing this delicious smoothie is for a breakfast or mid-afternoon snack. Perfect for kids and adults!
This recipe is really healthy and is free from any added sugar. The sweetness from banana and mango will keep you and your kids happy.
The ginger definitely adds a bit of kick to the smoothie. So you might want to add more or less depending on what your kids will enjoy. My daughter happens to love it and calls this smoothie "spicy".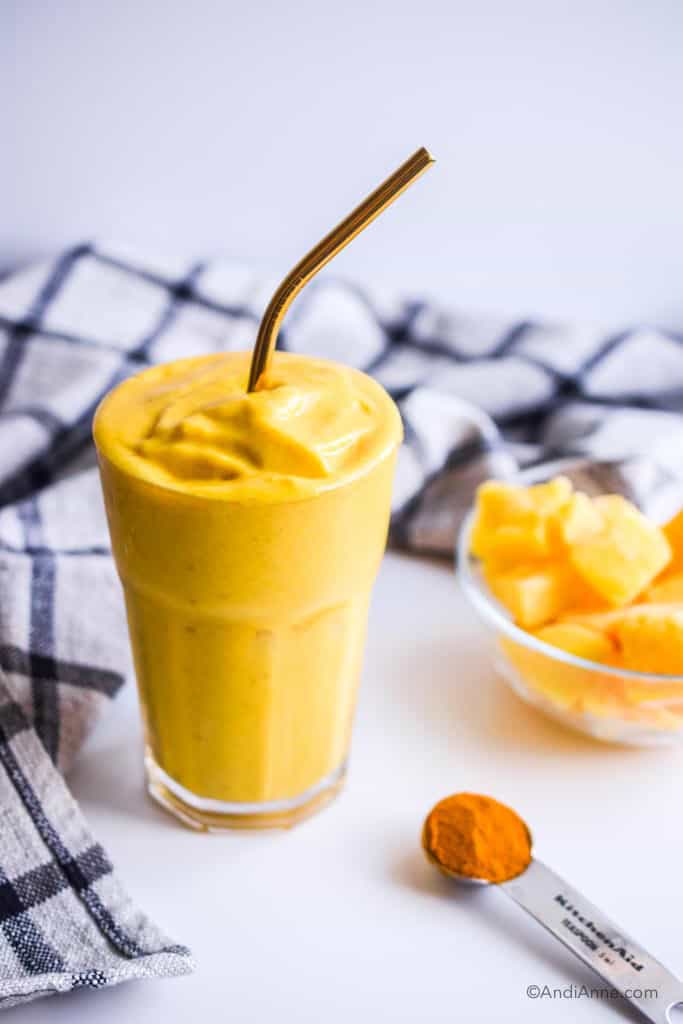 Mango Turmeric Ginger Smoothie
My daughter is going through a phase where she won't drink anything green. This makes it tough because every morning, my husband and I enjoy a green spinach smoothie.
So in my struggle to come up with something simple and green-free, I created this mango turmeric ginger smoothie. And she loved it! I wanted to share it here with you guys in case you might like to try it. It's super easy and really tasty! I'm always playing around with simple easy snack ideas for kids, and this mango turmeric smoothie is a great one to try. Do you have any smoothie recipes that your kids really like? let me know!
Can I Put Turmeric In My Smoothie?
Yes! I like to add 1 tsp of turmeric to this smoothie. Also, the turmeric isn't overpowering by any means. It has a nice pleasant taste. Feel free to add 1 tsp more if you'd like!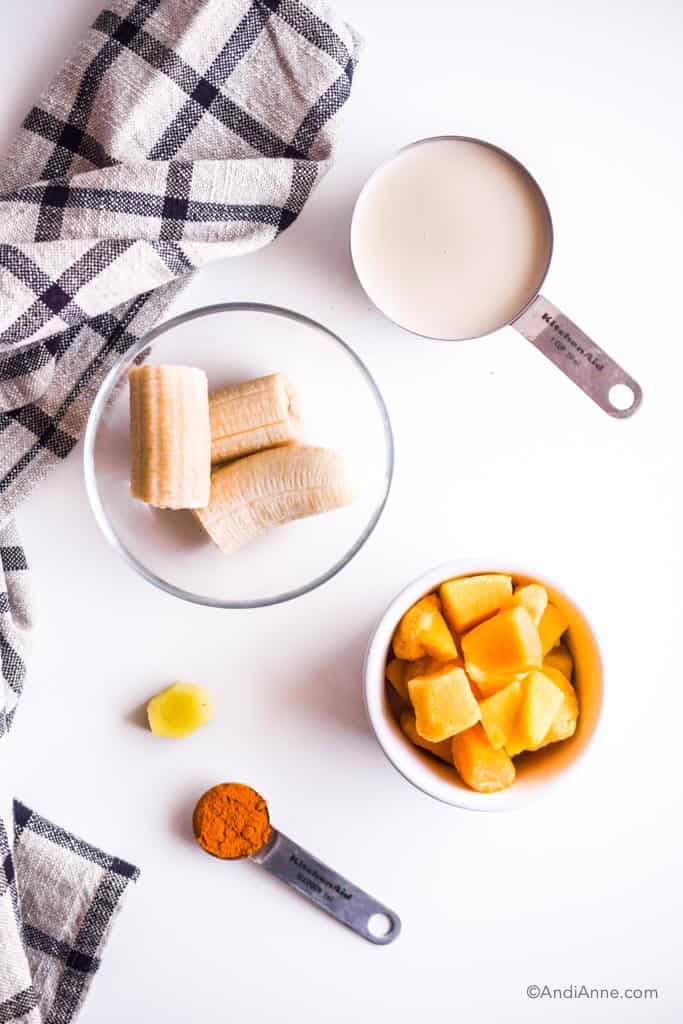 Mango Turmeric Ginger Smoothie Ingredients
Here are the ingredients you'll need for the mango turmeric ginger smoothie.
Milk – You can use regular dairy milk, non-dairy milk (almond, oat, etc) or water for this smoothie recipe.
Banana – Freeze the banana the night before making this smoothie. It helps to make the smoothie more creamy.
Mango – You'll need a bag of frozen mango to make this recipe.
Fresh Ginger – I used 1-inch of peeled fresh ginger. This adds a nice kick to the recipe, but if you don't like ginger you can skip this part.
Turmeric Powder – You'll need 1 tsp of turmeric powder. This tastes lovely with the mango!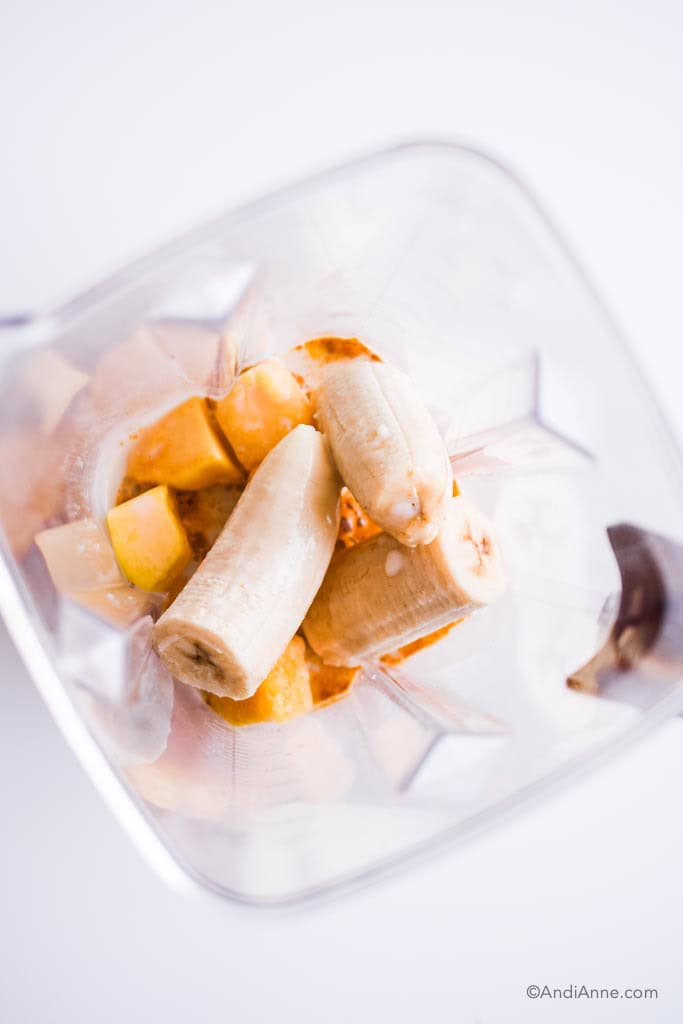 How To Make A Mango Tumeric Ginger Smoothie
Making this smoothie couldn't be easier. First, make sure to chop and freeze the banana and mango overnight if you're using fresh ones.
Then in the morning or afternoon when you're ready for this delicious treat, just add all the ingredients to the blender and blend until you see a smooth and creamy consistency.
This recipe makes 2 small servings or 1 large serving. Pour into glasses, add a straw and serve!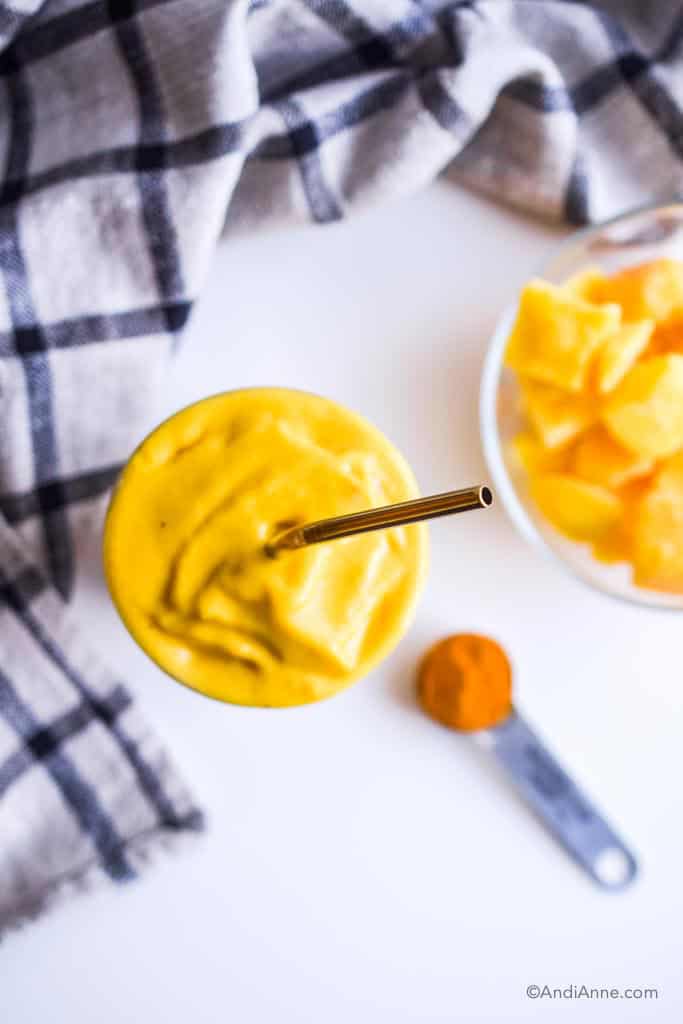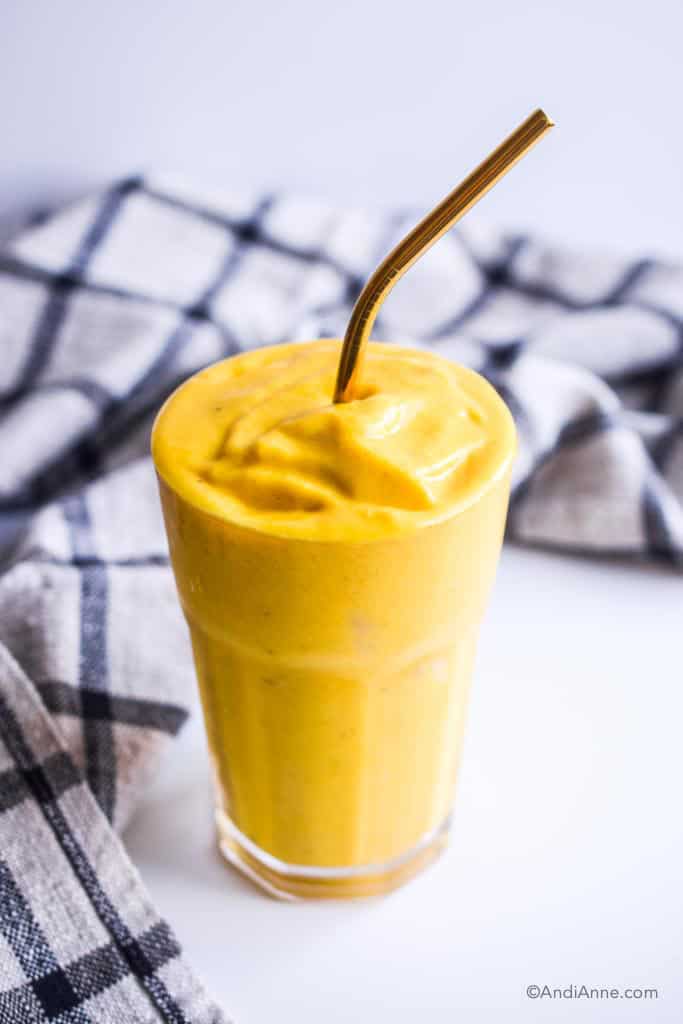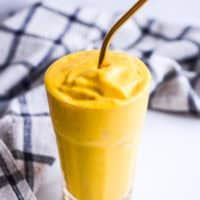 Mango Turmeric Smoothie
You'll love how refreshing this delicious smoothie is for a breakfast or mid-afternoon snack. Perfect for kids and adults!
Print
Pin Recipe
Ingredients
1

cup

milk -

dairy, non-dairy, or water

1

frozen banana

-

sliced into three pieces

1

cup

frozen mango chunks

1

inch

fresh ginger

-

peeled

1

tsp

turmeric powder
Instructions
Add all ingredients to a blender and blend until smooth. Pour into a glasses, serve and enjoy!
Recipe Notes:
You can use regular milk, dairy-free milk (almond, cashew, hemp, oat etc), or just use water. All of these will work!
If you're using fresh mango, you'll need to chop and freeze it overnight before blending.
Frozen banana tastes better in this smoothie than fresh banana. I recommend chopping it into 3 pieces, then freezing overnight.
If you don't like ginger, you can skip this part.
Nutrition
Calories:
183
kcal
|
Protein:
5
g
|
Fat:
5
g
|
Fiber:
3
g
|
Vitamin C:
36
mg
|
Calcium:
152
mg
Please note these nutritional values provided above are just an estimate. Actual numbers will vary based on brands and ingredients you choose, and your preferred portion sizes.
Get The Free AndiAnne Newsletter
Subcribe To My Newsletter For New Recipes Delivered To Your Inbox Weekly.