These mushroom beef burgers are so easy! They're budget-friendly too. Add your favorite toppings to create the perfect burger to your tastes.
These burgers go great with almost any side dish. I like to serve them with air fryer brussels sprouts, classic potato salad, or my honey dijon quinoa salad.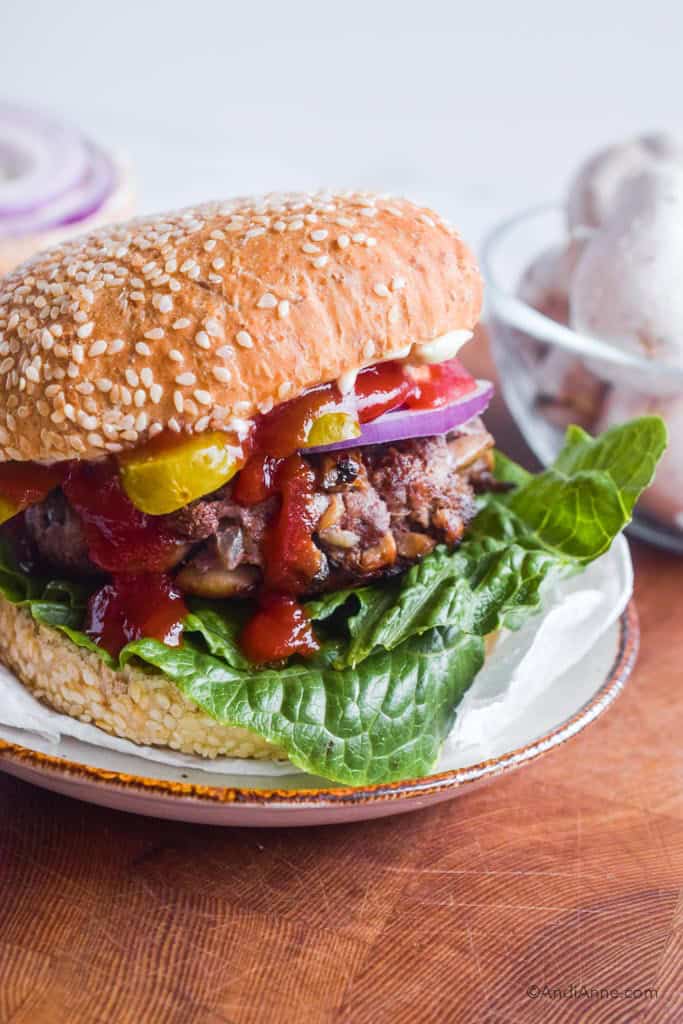 Mushroom Beef Burgers
I love to cut down on meat costs by adding beans and vegetables to my meals. This recipe uses ground beef with chopped onion and mushrooms to create a delicious healthy beef patty.
These burgers taste great with any toppings. I served mine with gluten-free hamburger buns, romaine lettuce, mayonnaise and ketchup, sliced red onion and pickles. My husband made his into a lettuce wrap!
>> Need more inspiration? Grab my Easy Healthy Meals Success Kit! Includes 12 healthy eating guides, done-for-you meal plans, and recipes.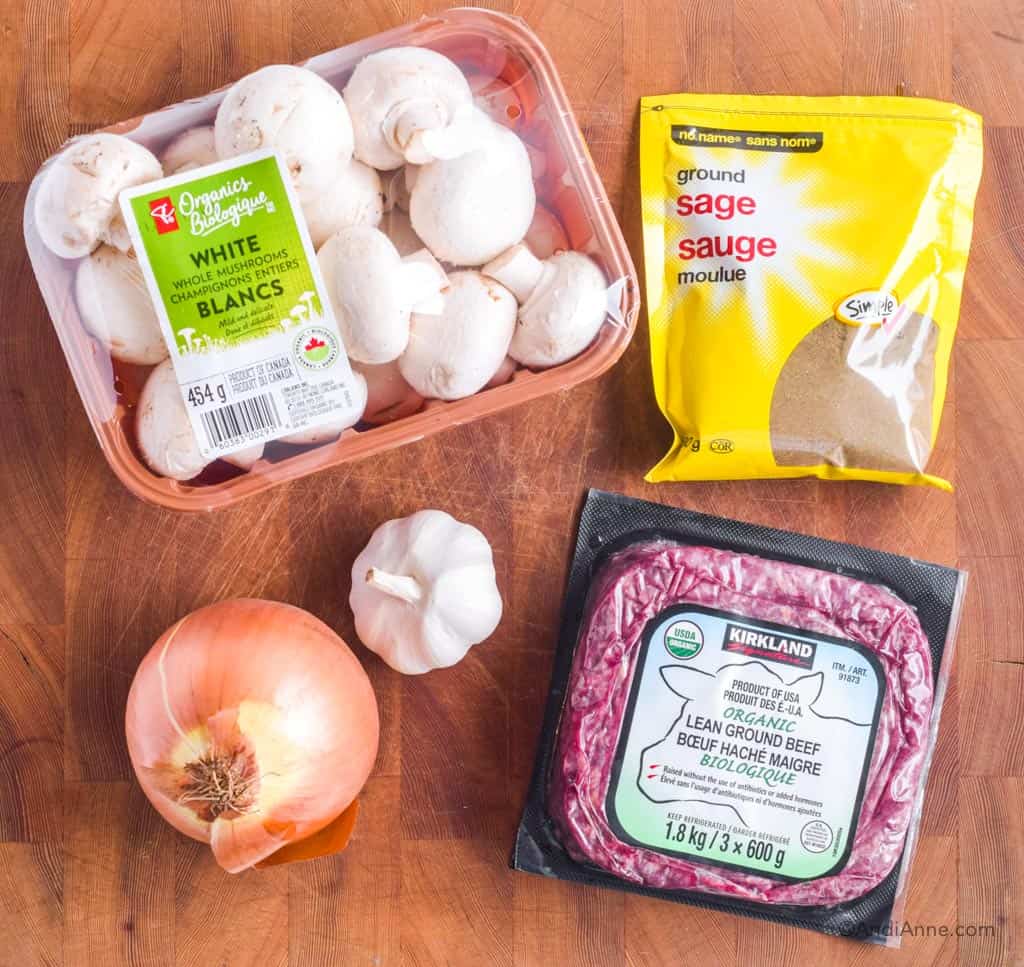 Mushroom Beef Burger Ingredients
Here's what you'll need to make the burger patties:
Ground Beef – This recipe uses 1 ½ lbs of lean ground beef.
Mushrooms – You'll need ½ lb of mushrooms. They can be white or brown.
Onion – You can use a white onion, yellow onion or purple onion. Slices of raw purple onion also taste great as a hamburger topping!
Garlic – The recipe uses 2 minced garlic cloves.
Spices – For spices you'll need dried sage, salt and pepper.
Related: I have a delicious black bean burger recipe on my blog for anyone that would like to try a meatless burger!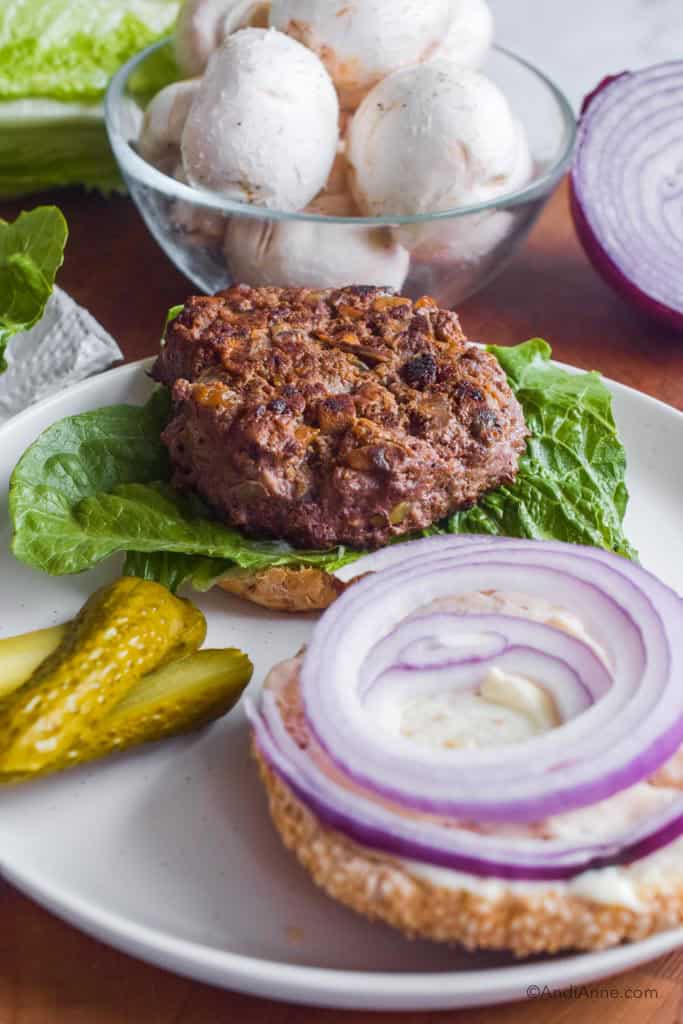 How To Make Mushroom Beef Burgers
These burgers are pretty straightforward to make. Here's a quick overview to give you an idea. The full detailed instructions can be found at the bottom of this post in the recipe card.
Prep – Chop the mushrooms, dice the onion and mince the garlic.
Sautee – Add onions and garlic to a frying pan with a bit of garlic. Sautee until onion turns translucent. Add in the mushrooms and fry until they shrink in size and begin to slightly crispen.
Make – Add ground beef, mushroom onion mixture, and spices to a steel bowl. Break apart with a flat spatula and mix everything together.
Assemble – Measure ½ cup of mixture. Form into a patty with your hands and gently flatten.
Cook – Pan fry or barbecue the patties for 3-4 minutes on each side. Cooked burgers can be brown or pale pink (not red – that's raw) and reaches 155°F with a meat thermometer.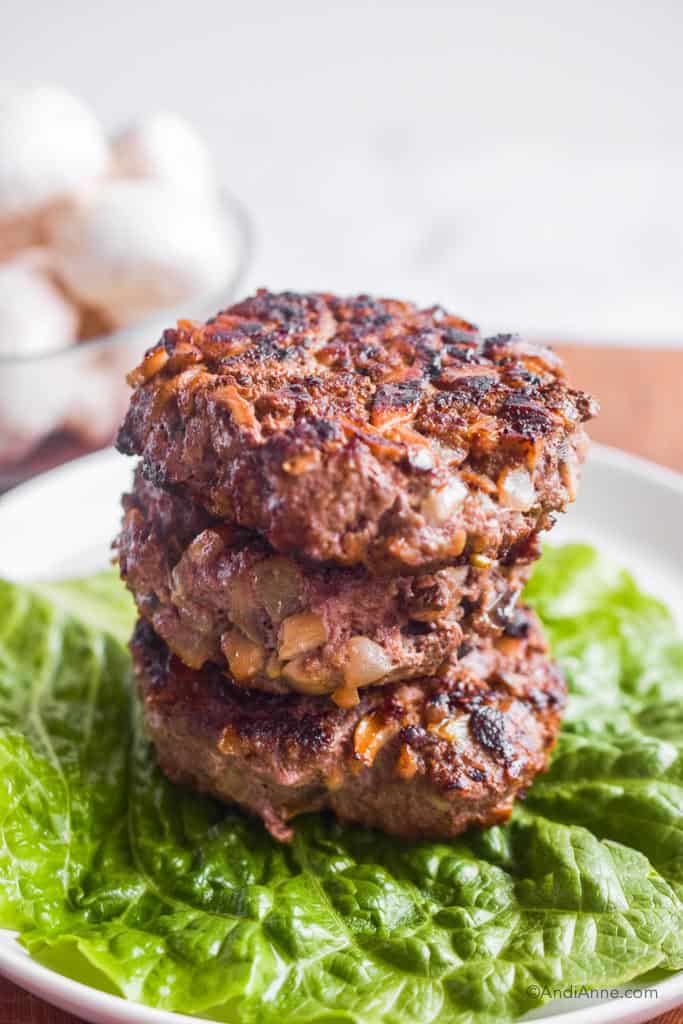 Burger Tips
An easy way to divide the ground beef is to use a measuring cup. I like to use ½ cup for each patty and gently flatten it between my hands.
Flip slow and gently to avoid the burger breaking. Homemade burgers (especially ones without egg and breadcrumbs) are more delicate and can easily break apart.
Make a lettuce wrap for a low carb version. This is my husband's favorite way to eat burgers (he's gluten-free). You can use a large romain lettuce leaf to wrap around the burger patty with your favorite toppings.
Burger Topping Ideas
You can serve the burgers any way you'd like. Here are a few topping ideas to help get you started:
Greens – romaine lettuce, spinach, kale, arugula, mixed greens.
mashed avocado or hummus
Cheese – cheddar, marble, mozzarella, monterey jack.
Veggies – sliced tomatoes, thin strips of purple onion, pickles, sprouts, cucumber and radishes.
Sauce – ketchup, barbecue sauce, hot sauce, relish, mustard, and mayonnaise.
What To Serve Burgers With
Here are a few delicious salad recipes that would go great with these burgers: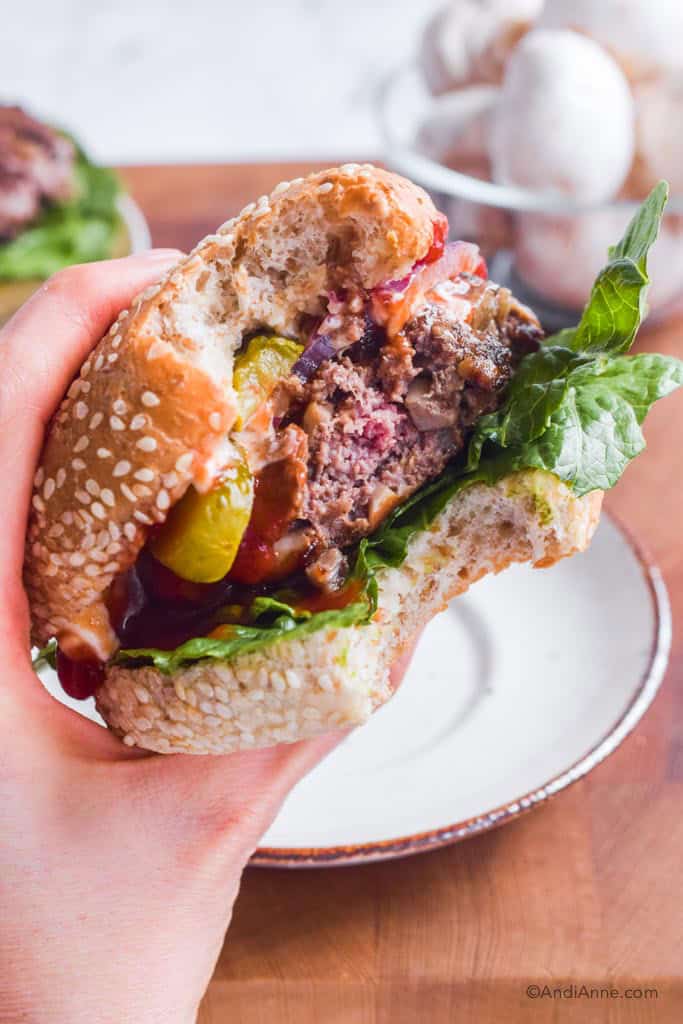 More Recipes
Here are some more ground beef and burger recipes to try:
Did you love these mushroom beef burgers? Be sure to leave a rating below!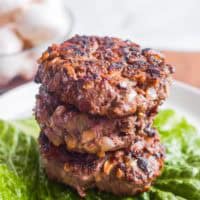 Ingredients
2

Tbsp

cooking oil

1

cup

yellow onion

-

chopped small

2

garlic cloves

-

minced

½

lb

mushrooms

-

chopped small

1 ½

lbs

lean ground beef

½

tsp

dried sage

¼

tsp

salt and pepper
Instructions
Prep ingredients: chop the mushrooms and dice the onion. Both should be small pieces.

Add a bit of cooking oil to a frying pan over medium high heat. Cook the onion and garlic until it turns translucent, about 1-2 minutes.

Cook until they reduce in size and slightly crispen. About 3-4 minutes.

Add the cooked mushroom mixture, ground beef, dried sage, salt and pepper to a large bowl.

Mix together evenly. Break apart the ground beef using the side of a spatula or wide spoon.

Measure ½ cup of the ground beef mixture and form it into patties. I was able to make six burgers.

Heat a frying pan with a bit of cooking oil over medium high heat. Add the burgers and cook 3-4 minutes on each side.

Gently flip using a sturdy spatula – these burgers will break apart if you flip too fast.

Once cooked, add to paper towel to absorb any excess moisture.

Serve on burger buns with romaine lettuce, sliced tomatoes, sliced red onion, pickles and your favorite sauce. I used mayonnaise and ketchup. Enjoy!
Recipe Notes:
Cooked burgers can be brown or pale pink in the center (not red – that's raw) and should reach 155°F with a meat thermometer.
Nutrition
Calories:
216
kcal
|
Carbohydrates:
4
g
|
Protein:
26
g
|
Fat:
10
g
|
Saturated Fat:
7
g
|
Polyunsaturated Fat:
1
g
|
Monounsaturated Fat:
3
g
|
Trans Fat:
1
g
|
Cholesterol:
70
mg
|
Sodium:
175
mg
|
Potassium:
556
mg
|
Fiber:
1
g
|
Sugar:
2
g
|
Vitamin A:
1
IU
|
Vitamin C:
3
mg
|
Calcium:
19
mg
|
Iron:
3
mg
Please note these nutritional values provided above are just an estimate. Actual numbers will vary based on brands and ingredients you choose, and your preferred portion sizes.
Get The Free AndiAnne Newsletter
Subcribe To My Newsletter For New Recipes Delivered To Your Inbox Weekly.