One pan chicken burrito bowl is a fast and easy meal filled with flavorful chicken, rice and beans. All cooked in one pan without a lot of fuss.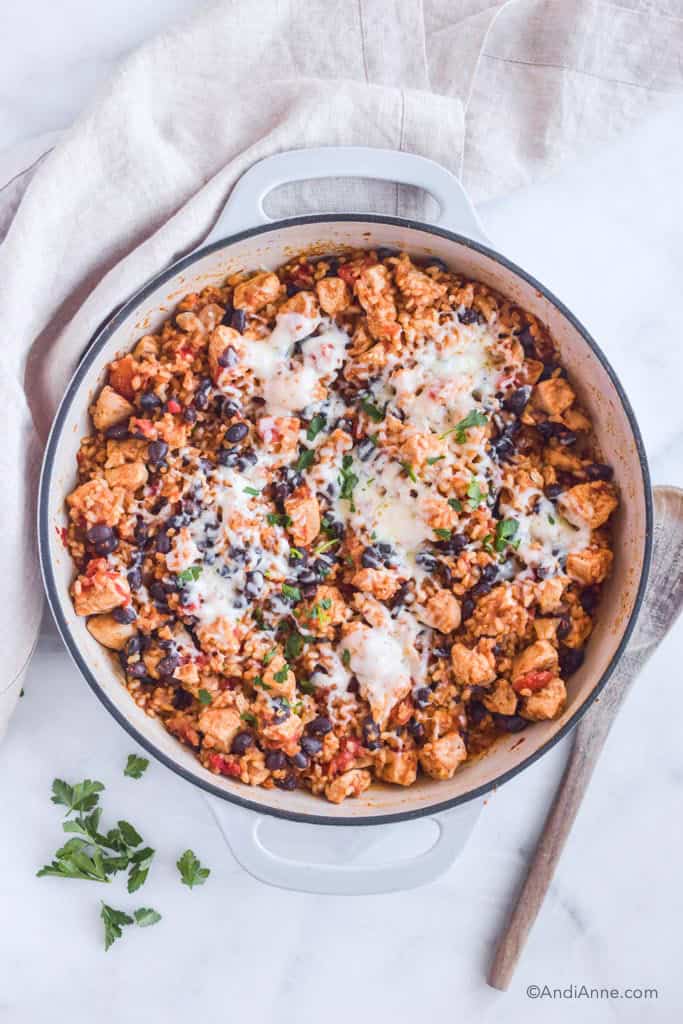 One Pan Chicken Burrito Bowls
This chicken burrito bowl is easy to make – everything is cooked in one pan making an easy meal for the entire family to love. It's loaded with chunks of chicken. Like, LOADED! Plus black beans, tomatoes, rice and cheese.
The cheese really completes the recipe – it's so simple but takes this meal from an 8 to a 10. There's something about adding a bit of cheese that just makes things more delicious, don't you think?
More 30 Minute Dinner Ideas
One pan dinners are life savers! If you want to cut back on time and effort in the kitchen, here are some more recipes:
>> Need more inspiration? Grab my Easy Healthy Meals Success Kit! Includes 12 healthy eating guides, done-for-you meal plans, and recipes.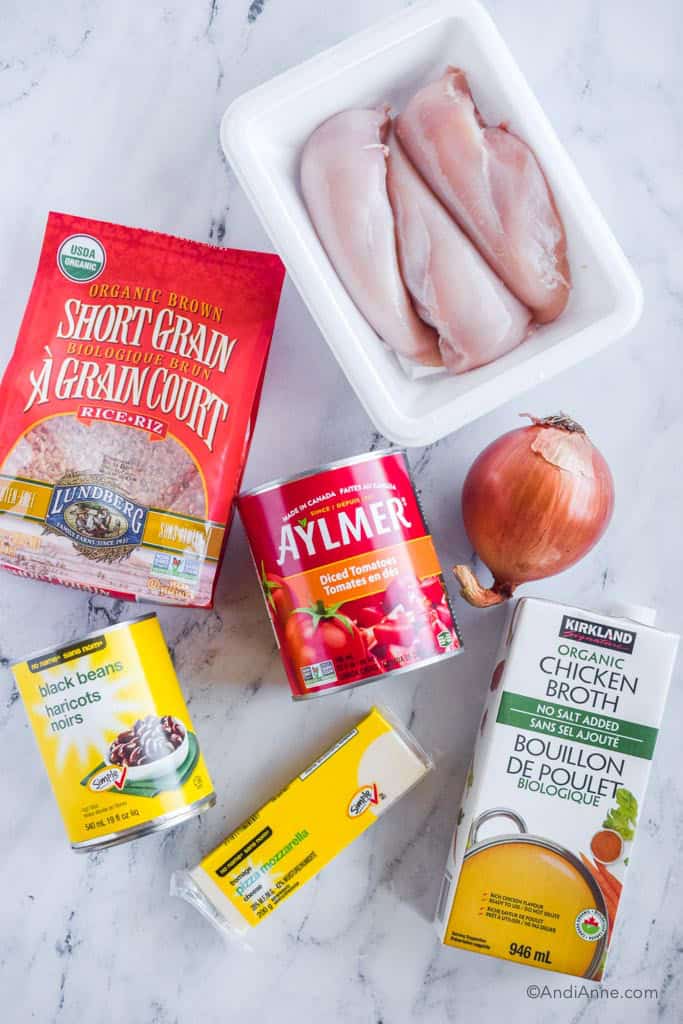 One Pan Chicken Burrito Bowl Ingredients
Chicken Breasts – I used 1.4 lbs of small chicken breasts (about 0.63 kg).
Rice – I used short grain brown rice. You can also use long grain white rice or brown rice.
Black Beans – You'll need one 14 oz can of black beans, drained and rinsed.
Diced Tomatoes – You can use canned diced tomatoes or chopped fresh tomato.
Spices – A combination of onion powder, garlic powder, cumin, chili powder, paprika, salt and pepper.
Mozzarella Cheese – Use freshly grated mozzarella cheese. You can also use cheddar, marble, or monterey jack.
Let's keep things as simple and easy as possible here. Use a can of diced tomatoes and black beans. If you don't have an ingredient that I used, swap it for something else. Before heading to the grocery store look in your fridge first… anything there you need to use up? What about some frozen corn or peas? If you have some bell peppers, those would work great too.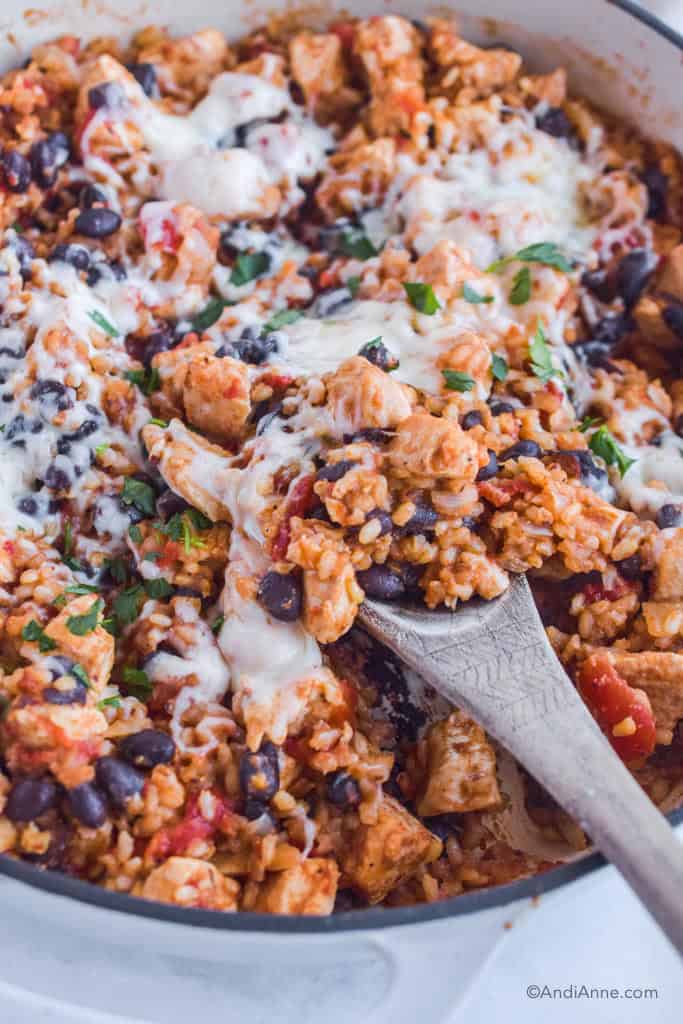 How To Make Burrito Bowls In One Pot
Everything is cooked together in one pot or frying pan. I don't think it could be any easier! I LOVE one pot / one pan meals because I don't like added fuss. The most work you'll be doing here is grating cheese and chopping chicken.
Prep – Grate cheese, chop onion, drain black beans and diced tomatoes. Chop chicken and season with salt and pepper.
Cook – Add oil to a pan over medium heat. Toast the rice. Add onions and garlic. Sear the chicken. Add broth, black beans, diced tomatoes and spices. Let simmer 20-30 minutes, or until liquid cooks down completely.
Serve – Sprinkle with cheese and serve while still warm.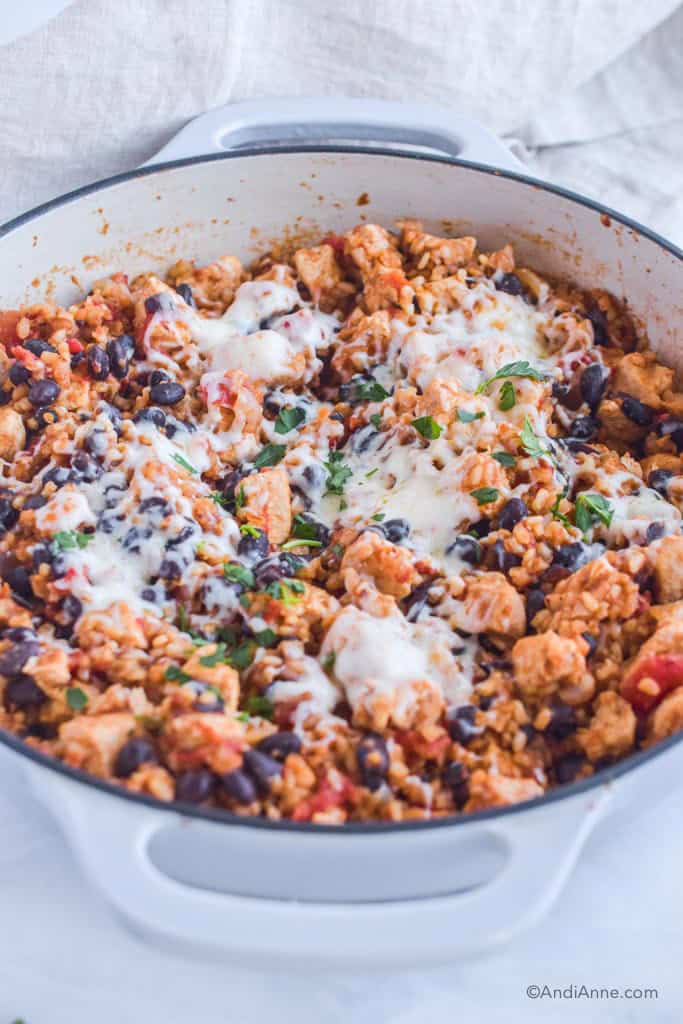 Recipe Quick Tips
It's easier to prep ingredients before you begin the recipe. There are a few small steps to cooking but each require only 1-2 minutes before moving onto the next. That's not enough time to chop and prep between each one.
Keep cooking oil near by. You'll need to add it as you go – before toasting rice, before adding chicken and and before onions. Use any cooking oil you regularly use in your kitchen.
Toasting the rice adds flavor to the meal and creates more even cooking. Add a bit of oil to the pot then mix in the rice. It will only take a minute or two before you start to see the rice turning brown.
Sear the Chicken quickly for only 1-2 minutes before moving on to the next step. This helps to seal in more flavor.
Add other vegetables if you have them. Frozen corn or peas, chopped bell pepper and olives would all be delicious! Make sure to use softer vegetables – hard vegetables such as carrots and sweet potatoes will take longer to cook.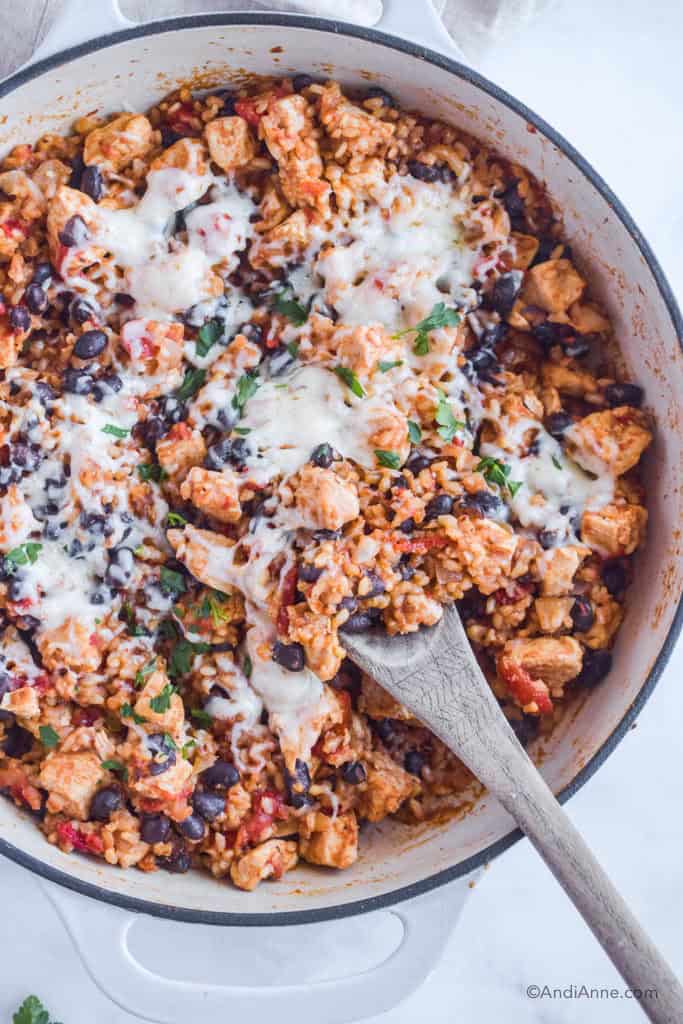 More Easy Recipes Using Chicken Breast
Did you love this chicken burrito bowl? Be sure to leave a rating below!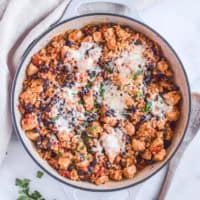 Instructions
Prep the ingredients: Grate the cheese, chop the yellow onion, drain and rinse the canned black beans, drain the diced tomatoes.

Chop the chicken breast into bite-size pieces. Season with salt and pepper. Set aside for now.

Add a bit of cooking oil to a large pot or frying pan over medium heat. Toast the rice for 1-2 minutes.

Add a bit more cooking oil and the chopped onion and minced garlic. Cook until onion turns translucent, about 1-2 minutes.

Add a bit more oil and the chopped chicken. Sear on all sides for only 1-2 minutes.

Add in the chicken broth, black beans, diced tomatoes, onion powder, garlic powder, cumin, chili powder, paprika, salt and ground pepper.

Mix together and bring to a boil, then reduce and let simmer for 20-30 minutes, or until liquid has disappeared. Stir occasionally during the process.

Remove from heat, sprinkle the cheese overtop. Cover with a lid for 1-2 minutes to help the cheese melt. Serve and enjoy!
Nutrition
Calories:
335
kcal
|
Carbohydrates:
40
g
|
Protein:
27
g
|
Fat:
7
g
|
Sodium:
672
mg
|
Sugar:
2
g
|
Calcium:
152
mg
Please note these nutritional values provided above are just an estimate. Actual numbers will vary based on brands and ingredients you choose, and your preferred portion sizes.
Get The Free AndiAnne Newsletter
Subcribe To My Newsletter For New Recipes Delivered To Your Inbox Weekly.