One pot taco pasta is the perfect easy weeknight dinner. Ground beef, tender pasta noodles, black beans and corn all cook together in one pot for quick and fast clean up.
So easy to prep and dinner is served in 30 minutes. There's not a lot of fuss here and kids usually love this recipe.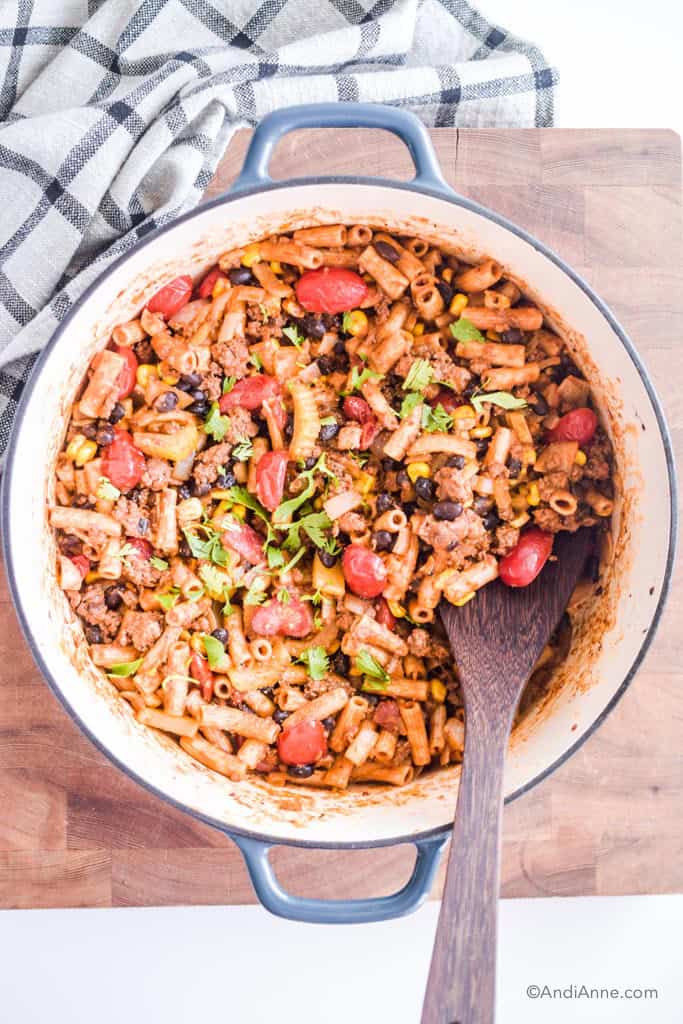 One Pot Taco Pasta
Let's talk about weeknight dinners for a sec. If you're anything like me, you want to feed your family something that is healthy, easy to make, and cheap on the budget.
Can all of these things exist together!? You betcha they can – and today I'm showing you how to make a recipe that is one of my family's all-time favorites.
Like, when I say favorite, I mean "your husband eats almost all of the pot in one day because he loves it so much" kind of good.
I used my 7 qt Cast Iron Dutch Oven for this recipe because it's basically my favorite pot in the kitchen for a variety of amazing reasons. But if you don't have one, a regular pot will also do the trick!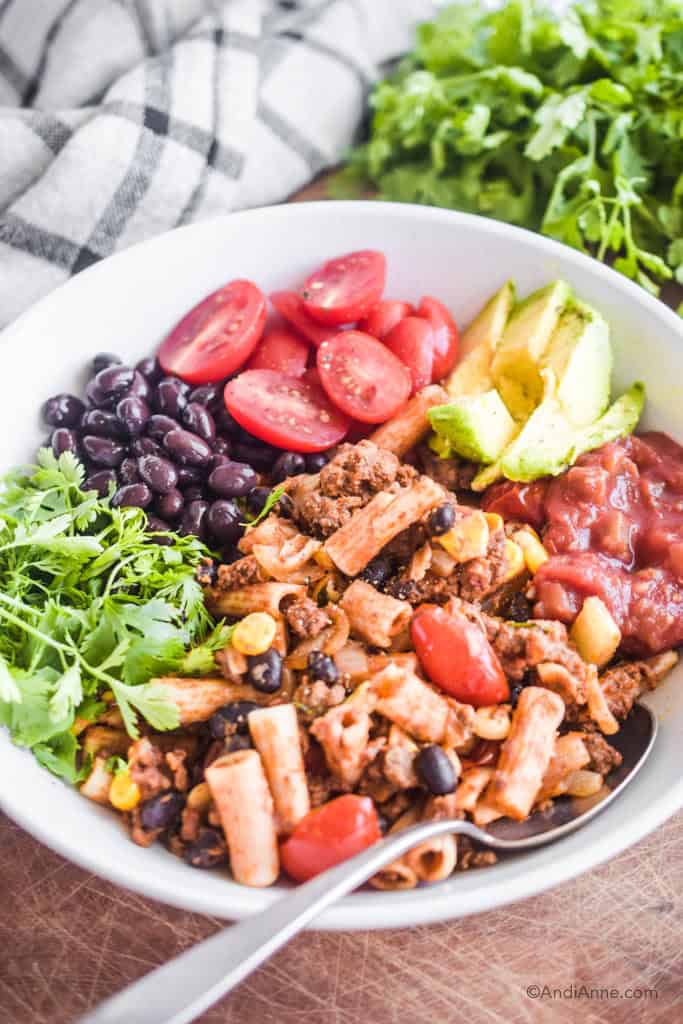 Ingredients For The One Pot Taco Pasta
GROUND BEEF – I used lean ground beef for this recipe. You could also use ground turkey or ground chicken.
SPICES – This recipe uses my homemade taco seasoning. You could also use a store-bought taco seasoning if you're in a pinch.
BEANS AND CORN – You'll need canned black beans and frozen corn.
PENNE PASTA – I used brown rice penne pasta noodles. You can also use regular pasta noodles in any shape.
How To Make One Pot Taco Pasta
This entire recipe is prepared in one pot.
BROWN THE BEEF – Add the ground beef with cooking oil to the pot over medium-high heat. Cook until it's no longer pink.
SIMMER INGREDIENTS – Add in onions, celery, taco seasoniong, salsa, corn, black beans, broth, and pasta noodles. Bring to boil and let simmer for 20 minutes – until pasta is cooked.
SERVE – Add to serving bowls and sprinkle with cheese.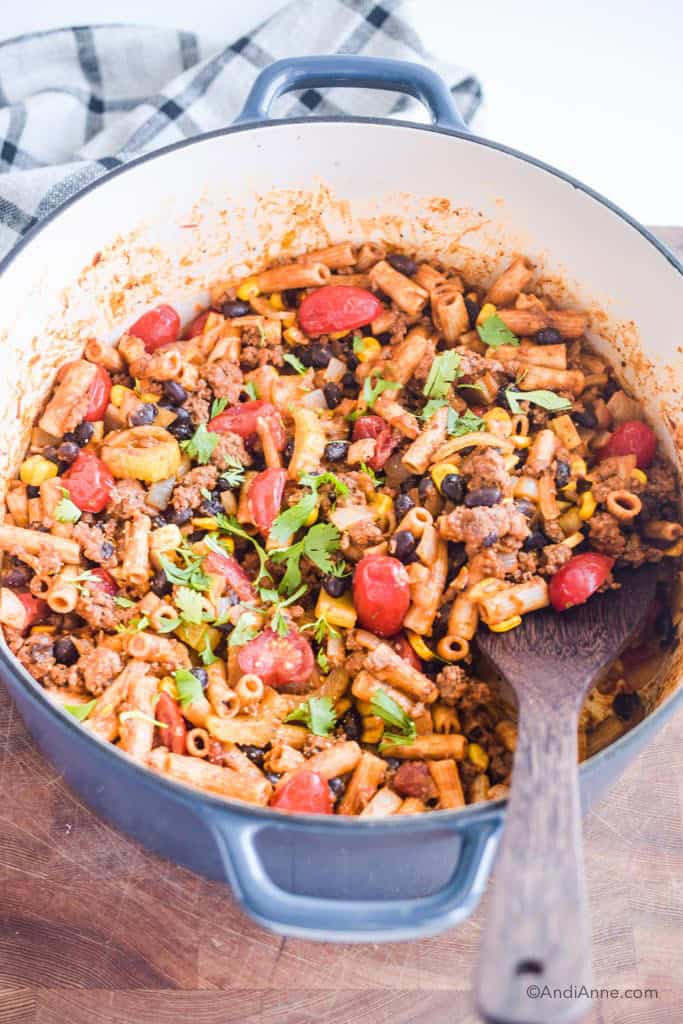 Just A Bit Of Cheese
We are a family that doesn't eat a lot of cheese.
My husband is lactose intolerant, my daughter will only eat cheese strings, and I could eat a whole brick of marble cheese if you'd let me.
But cheese is quite high in calories, so I try to keep my cheese to a minimum. That's why sprinkling a little on top at the end is a much better idea than dousing this dish with loads of it. Plus, you won't even notice the difference because this taco pasta really is that good.
Brown Rice Pasta Noodles
One last thing I should mention in case you're new here to my site – I rarely use regular pasta and almost always use brown rice pasta noodles or chickpea pasta noodles.
Guys, the difference in nutrition is like night and day when compared to regular wheat durum pasta. Both chickpea and brown rice noodles are a good source of fiber and protein.
I highly recommend you at least give them a try because they are a much healthier alternative to the regular pasta. But, if you've got a box of regular noodles already in your cupboard, then you can use those too.
I don't want you to waste any food you've already purchased. Just consider this alternative on your next grocery shopping trip.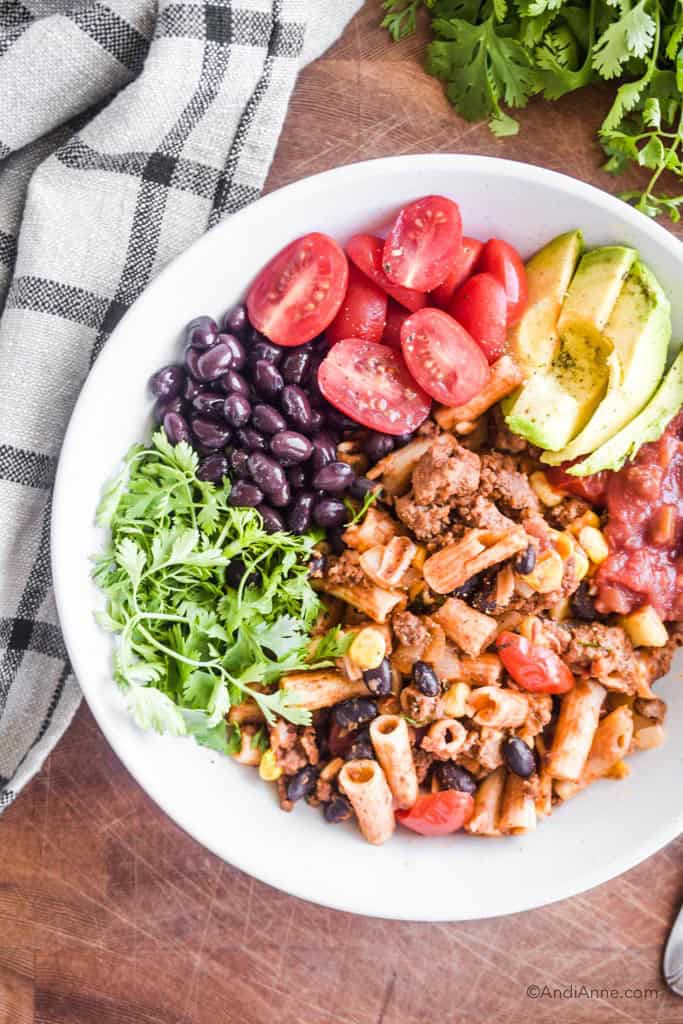 More Easy Dinner Recipes:
If you like this recipe, please rate it using the stars below.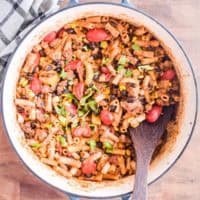 Taco Pasta Skillet
An easy 30 minute dinner with ground beef, pasta noodles, tomatoes and cheese. Everything is cooked together in one pot for easy clean up.
Print
Pin Recipe
Instructions
In a large pot over medium high heat, add cooking oil and brown the ground beef until it's no longer pink. Drain any excess fat.

Add in onions, celery, taco seasoning mix, salsa, and broth (or water), corn, black beans and mix together. Bring the pot to a simmer, then add in pasta noodles and stir. Place lid on the pot and let cook for 15 to 20 minutes, or until pasta is cooked. Add sliced cherry tomatoes right before serving.

Add taco pasta to serving bowls and sprinkle with your favorite toppings, such as grated cheese, sour cream, salsa, and cilantro. Serve and enjoy!
Nutrition
Sodium:
1091
mg
|
Calcium:
70
mg
|
Vitamin C:
15
mg
|
Vitamin A:
621
IU
|
Sugar:
6
g
|
Fiber:
8
g
|
Potassium:
1134
mg
|
Cholesterol:
70
mg
|
Calories:
487
kcal
|
Trans Fat:
1
g
|
Saturated Fat:
3
g
|
Fat:
11
g
|
Protein:
38
g
|
Carbohydrates:
61
g
|
Iron:
5
mg
Please note these nutritional values provided above are just an estimate. Actual numbers will vary based on brands and ingredients you choose, and your preferred portion sizes.
Get The Free AndiAnne Newsletter
Subcribe To My Newsletter For New Recipes Delivered To Your Inbox Weekly.