Raspberry coconut energy balls are the perfect snack to give your body a burst of energy. They're made with fresh raspberries, shredded coconut, coconut flour, sunflower seeds, rolled oats, and protein powder.
They're a great snack to keep stored in your bag to avoid purchasing unhealthy foods when you're out and that hunger feeling strikes.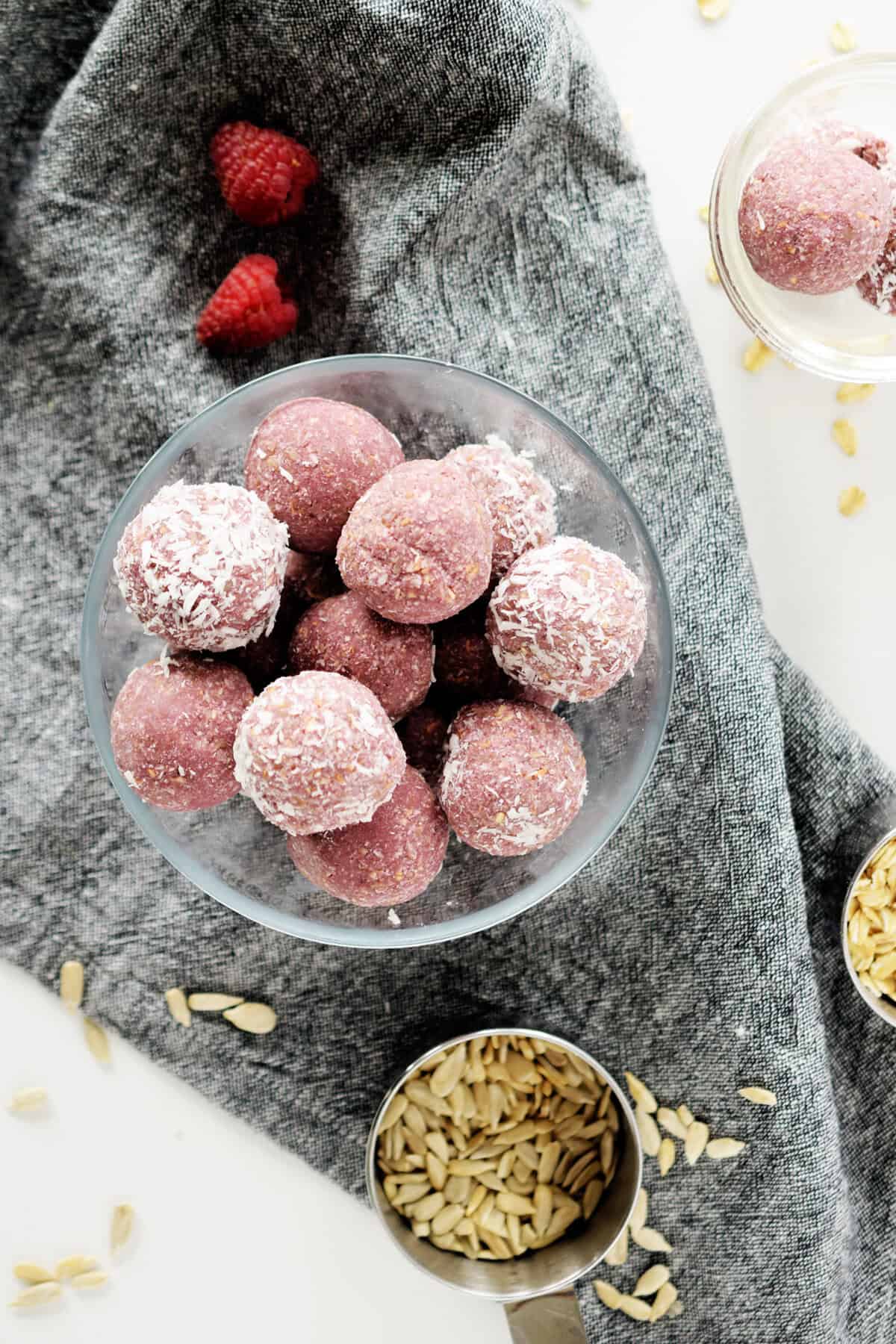 Raspberry Coconut Energy Balls
If you've never tried making energy balls before, they're a whole recipe category in themselves. Energy balls can be made in a variety of ways, like my chocolate quinoa energy balls recipe for example.
Energy balls are like the perfect healthy alternative to cookies and sugary baked goods. Their specific goal is to load your body up with healthy ingredients that will give you a burst of energy, hence the name.
So if you're looking for a superfood snack that's loaded with protein, then this is it! The protein from these energy bites comes from sunflower seeds, rolled oats and protein powder. And the shredded coconut is full of healthy fat. What's so great about a snack that's high in protein and healthy fats? It will give your body long-lasting energy. So yes, these little energy bites might be small, but they're mighty!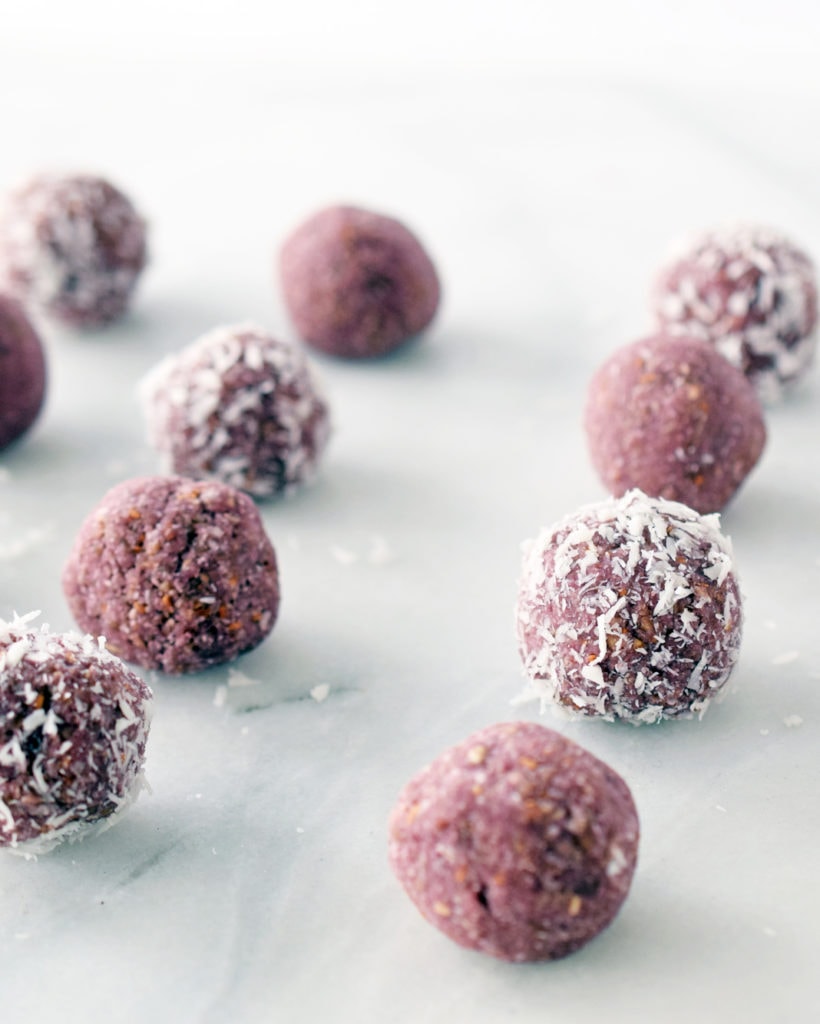 Raspberry coconut energy balls are high in protein.
As I was making these, I decided to coat some of the energy balls with shredded coconut and some without. When you're rolling the energy balls in the shredded coconut, you will have to press the coconut into the ball. This will help it stick much easier. Either way, these are really delicious and so easy to make.
Throughout the week I had one of these as an afternoon pick-me-up. They're not overly sweet, and the raspberries taste like they have infused the energy balls. The texture is almost like a cookie dough or cake ball, but healthier.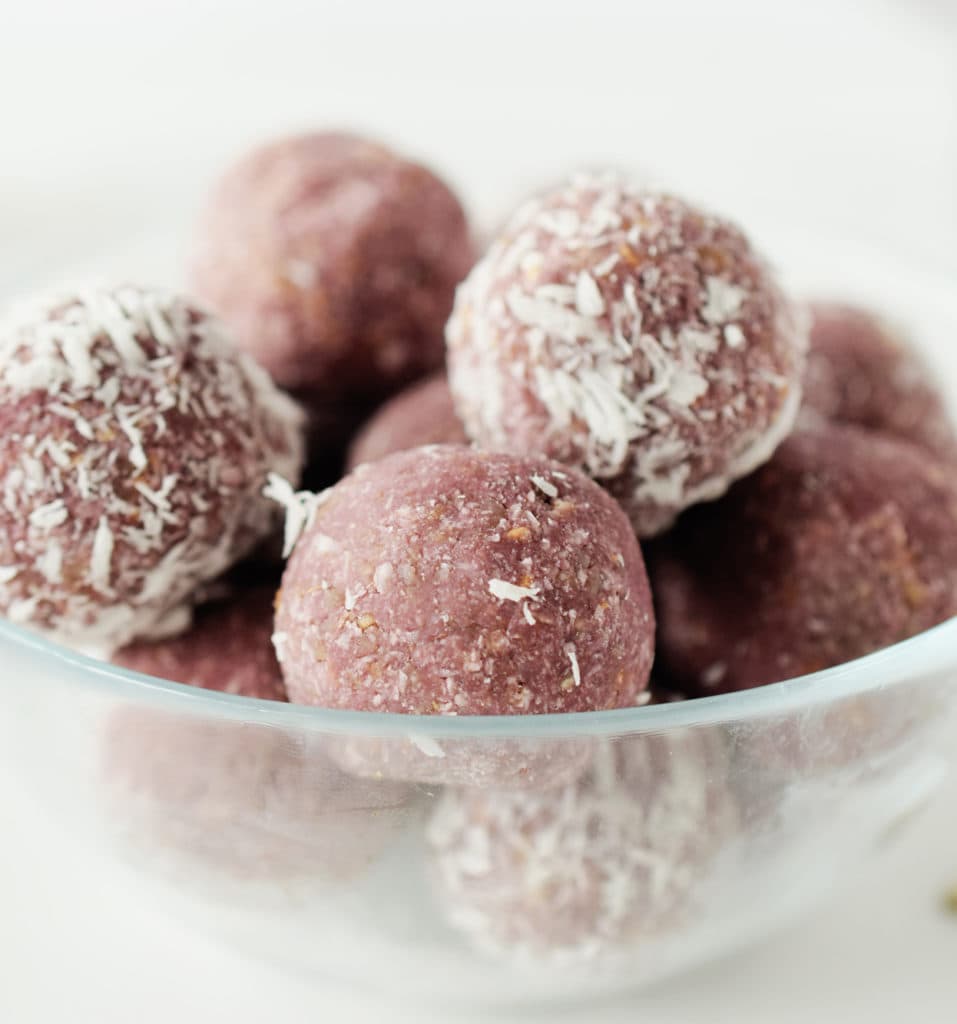 How To Make Raspberry Coconut Energy Balls
I love a no-fuss healthy snack, don't you!? Here are the quick steps to make them:
Add all ingredients to a food processor and blend until everything comes together. The batter will stick together when you press it.
Spoon out the batter using a cookie scoop and roll it into round balls.
Place extra shredded coconut on a plate, then roll the energy balls in the shredded coconut.
Let energy balls chill in the fridge on a plate for at least 30 minutes.
Store in fridge in an airtight container for up to one week. Enjoy 1 or 2 as an afternoon snack.
Do you need a new food processor to make all your healthy recipes? This is the one I use and love.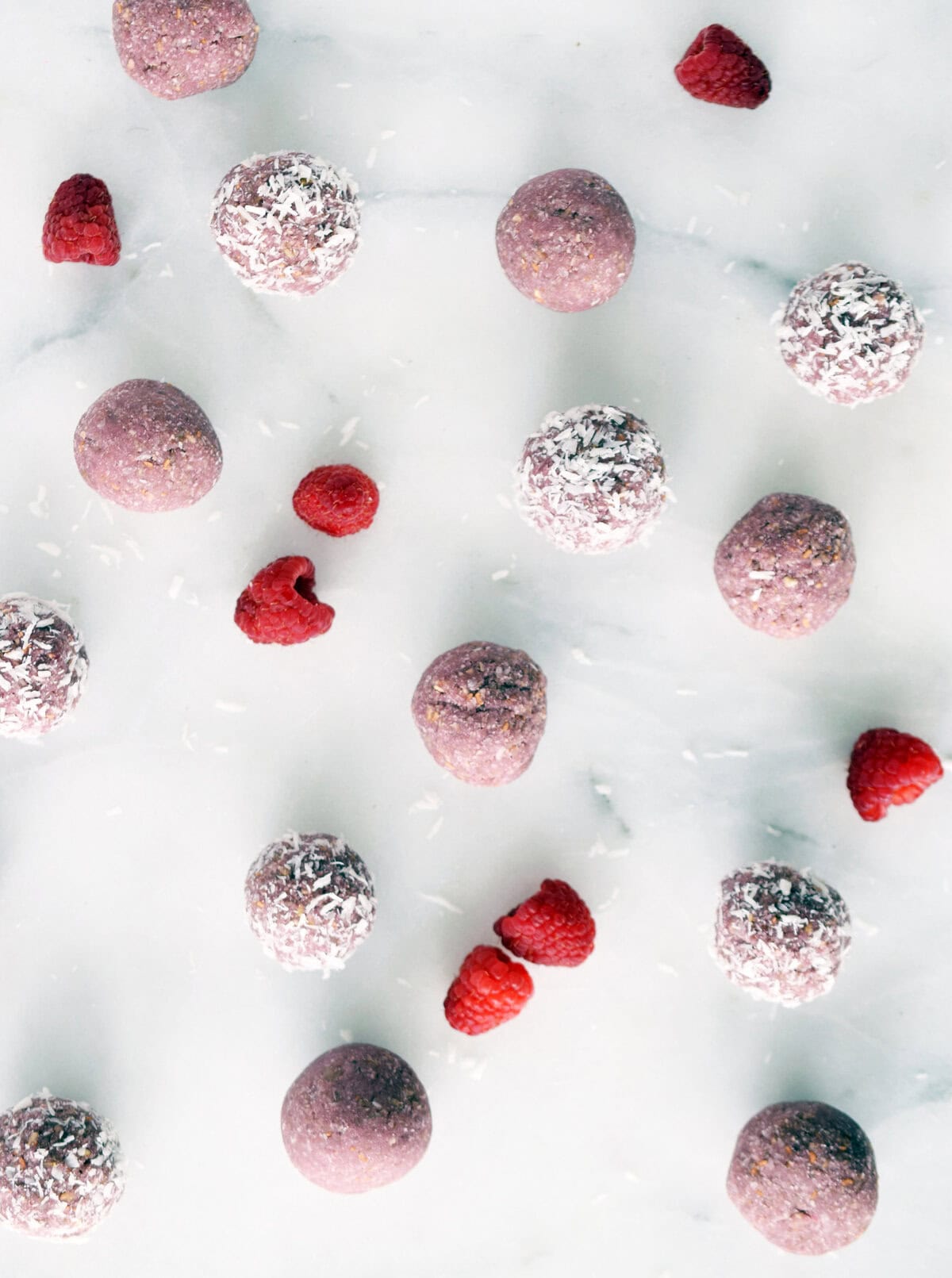 More Healthy Snack Recipes: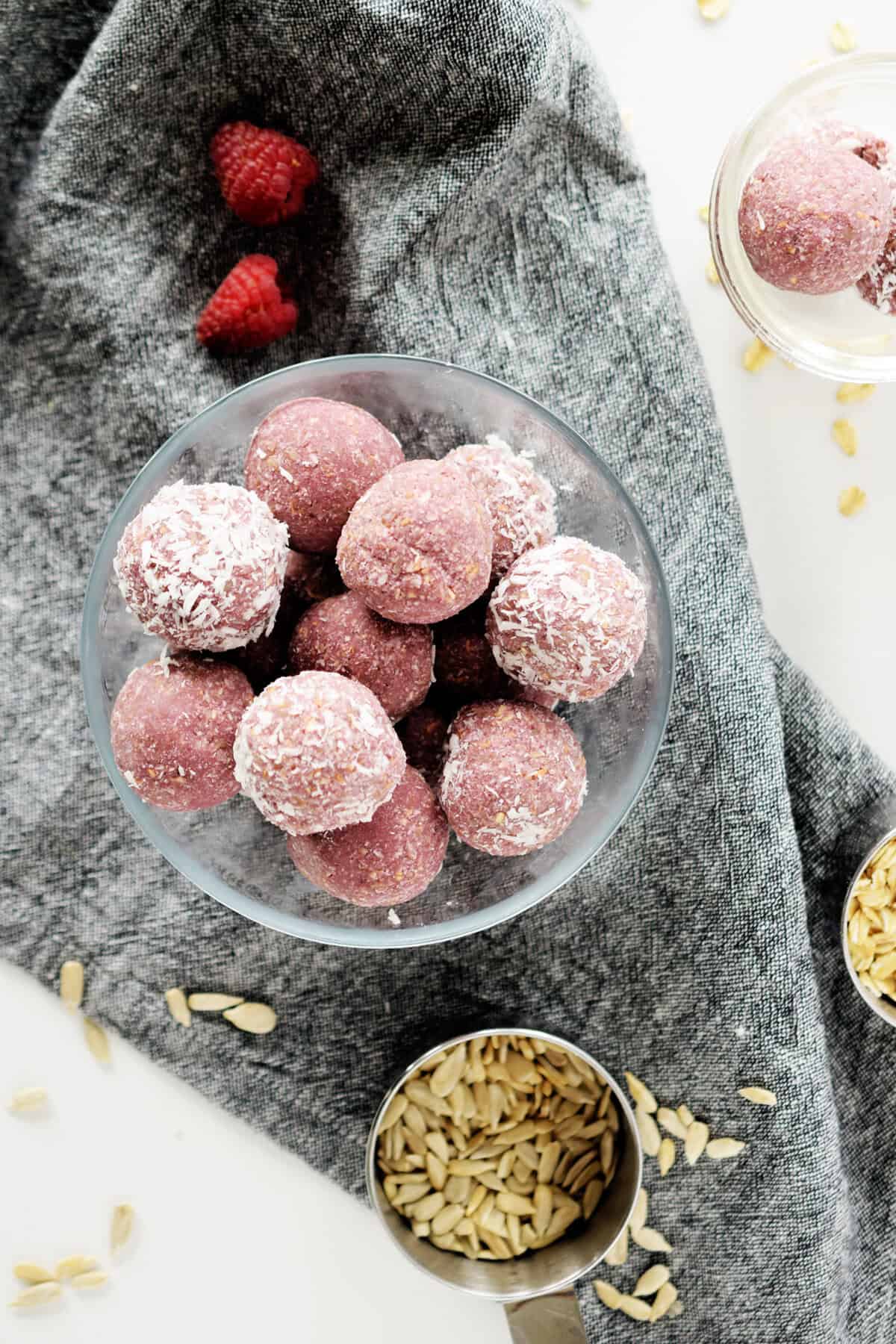 Instructions
Add 1 cup shredded coconut, raspberries, rolled oats, sunflower seeds, coconut flour, coconut oil and protein powder (optional) to a food processor and blend until smooth.

Using a cookie scoop or spoon, scoop out the mixture and roll into a ball in your hand.

Add ⅓ cup shredded coconut to a bowl, then roll the balls around in the shredded coconut. Press in to the sides if needed.

Place the energy balls on a plate and chill in the fridge for 30 minutes. Store in an air tight container in the fridge for up to one week.
Recipe Notes:
These energy balls are unsweetened. If you want them to taste sweeter you can add 1-2 Tbsp of maple syrup or honey.
Nutrition
Calories:
110
kcal
|
Protein:
2
g
|
Fat:
8
g
|
Sodium:
24
mg
|
Fiber:
3
g
|
Sugar:
3
g
Please note these nutritional values provided above are just an estimate. Actual numbers will vary based on brands and ingredients you choose, and your preferred portion sizes.
Join Our FREE MEMBERS LIBRARY!!
Get exclusive access to all our FREE PDF recipe guides!! Must sign up on our website to gain free access – Join Free Members Library Here.