Once you know that you have to put on your detective hat in the grocery store, you can start to look for the best healthy bargains. Here are my favorite ways that I cut down on that weekly grocery budget.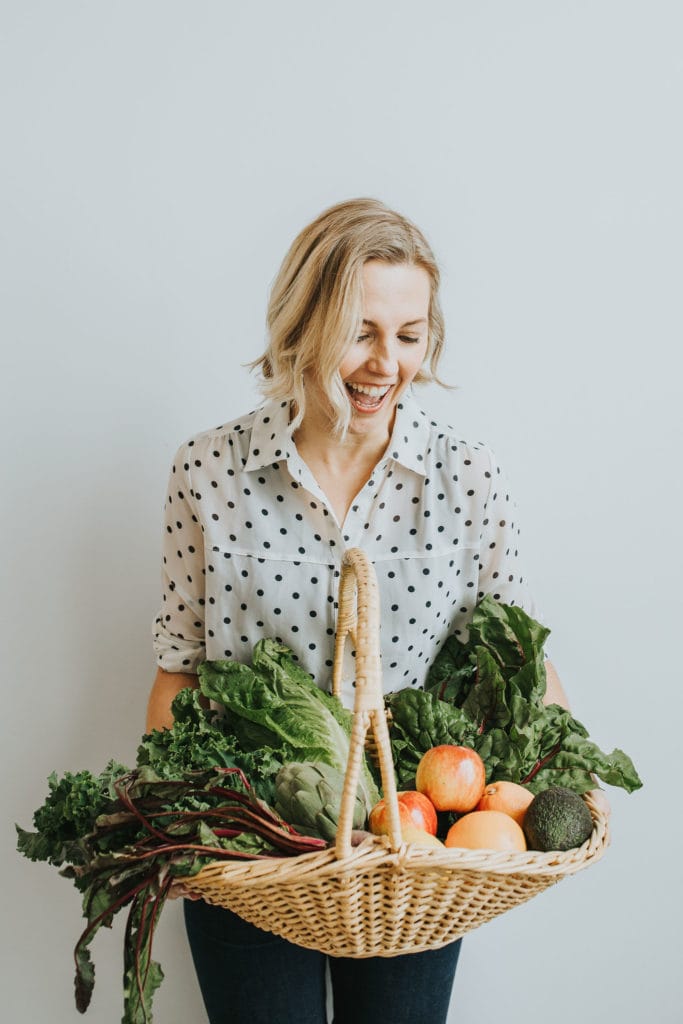 How To Save Money On Your Grocery Bill
Anyone else a bargain shopper? I love a good bargain. I love to hunt through thrift stores, find deals on Facebook marketplace, and I LOVE saving money at the grocery store!!
But saving money on groceries isn't the only thing that matters… I've seen many Pinterest posts sharing "40 meals for a family of 4 for under $100″… yah right. Most of these recipes are made with low-quality ingredients like high-sodium canned soup, too much dairy, pre-packaged cheap foods with little nutrition, and not a whole lot else. Those blog posts are super misleading.
Eating healthy and saving money is all about creative problem-solving. There are some tricks you need to know in order to save money at the grocery store and also feed your family nutritious, quality meals.
So I wanted to share those with you today because I know that many women out there are struggling with this same problem. These are the hacks I use to feed my family but also to save money for recipes here on the blog. Yes, my cost of groceries is higher than the normal person's because I'm always picking up new ingredients for AndiAnne recipes.
After years of pricing, budgeting, and creating new healthy recipes each and every week, I have learned a thing or two about how to shop for healthy groceries on a budget.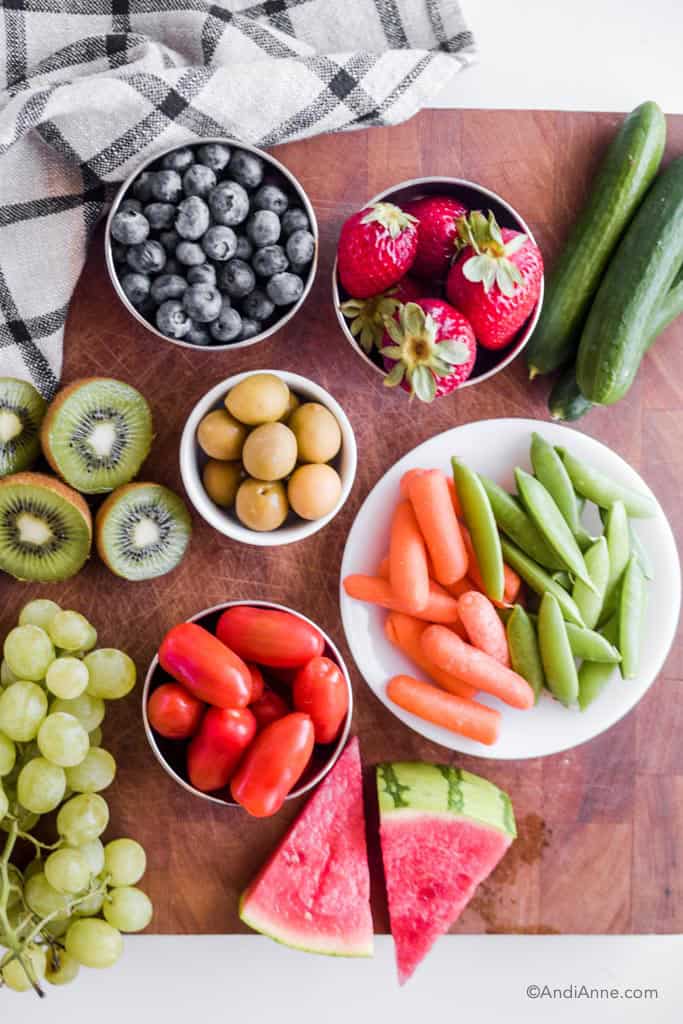 Healthy Food Doesn't Have To Be More Expensive
Before we get started on my money-saving tips I want to point out one big thing… Many people think that shopping for healthy foods is expensive. Well, the truth is that it definitely can be.
But it doesn't have to be expensive if you know what to look for and what to avoid.
Many food manufacturing companies have caught on to the healthy eating revolution and are cashing in big time. All the pre-packaged foods you see at the grocery store that contain buzz words like "low fat, gluten-free, organic cane sugar, no artificial dyes, keto, made with all-natural ingredients"... so on and so on.
But basically, these are all just words that the marketing company put together to try and make us buy that product. NONE OF IT means that the food inside is actually healthy or good for you.
So what do you do? Well, you need to approach the grocery store like a detective. Instead of trusting that everything in the store is okay to eat, you need to do further investigation first…
I do this all the time when I'm grocery shopping. It's how I've learned what the healthiest crackers are for my daughter (seriously – there's not many good quality crackers out there). It's also why I avoid all store-bought snacks for her because they're so full of refined white sugar that I prefer to just make them myself.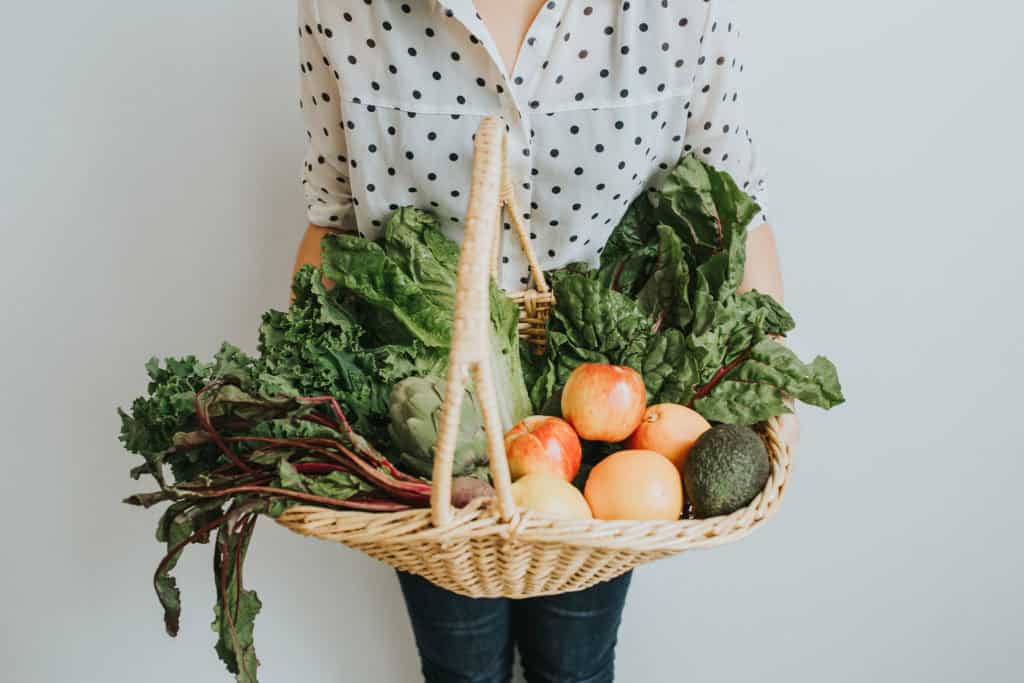 My Top 7 Ways To Save Money On Your Grocery Bill
Once you know that you have to put on your detective hat in the grocery store, you can start to look for the best healthy bargains. Here are my favorite ways that I cut down on that weekly grocery budget:
1. Have a Plan
Probably the most important step of the whole process is one that happens before you even go to the grocery store.
Having a meal plan will help you in a variety of ways. It will decrease impulse purchases as you focus solely on the things on your shopping list. It will help you save time at home as you learn to cook similar things together that can be spread out into a variety of meals. And it will reduce overwhelm and stress of not knowing what to cook.
Creating a meal plan can also be one of the hardest parts. How do you create a meal plan that's healthy? What if you have picky eaters in your house? How can you make a meal plan but also save money? And how do you stay motivated?
If you're someone that struggles with meal planning then I'd love for you to check out my new program, Master Your Meal Plan where you'll learn all these steps through guided videos, coaching, and done-for-you plans.
2. Read Ingredients Labels
The truth is in the ingredients list. It's not in the buzz words or the pretty design on the front. If you're going to buy something from a package you have to read the ingredients label first to see if it's actually a product that you would consider healthy.
The answer to this will be different for all of us which is totally okay. What might be "healthy" to me might feel different for you.
Here's what I usually look for especially when it comes to snacks and any food for my daughter… Focus on real, whole food ingredients only. I teach a concept called the real food spectrum inside Master Your Meal Plan.
Basically what that means is there is a wide spectrum where foods can lie when it comes to healthy versus unhealthy. For example, an apple would be considered the healthiest purest form. It would fall on the far left of the spectrum. Dehydrated apple chips are still healthy, but not as much as eating a fresh apple – they would be on the left somewhere. Apple sauce would also be somewhere on the left (if unsweetened). But apple-flavored candy would be on the far right because there's nothing that's actually nutritious about it.
Here's a simple trick you can use next time you're at the grocery store: Read the ingredients label and see if you can pronounce 90% of the words and understand if they actually sound like food (example, salt, coconut oil, sweet potatoes, etc.) If they do, great! Now focus on how long the ingredients list is – is it short? That's usually a good sign as the fewer ingredients the more it will be on the left of that food spectrum. Lastly, look at the grams of sugar. Is it a lot? The World Health Organization recommends no more than 25 grams (6 tsp) of sugar a day. I still think that's too much. But if a snack takes up more than 20% of that, then I like to skip it and make a healthier version at home.
3. Stock Up On Healthy Pantry Staples
Pantry staples are the main way you can focus on eating healthy and saving money. In particular, focus on whole grains and beans. These can become the base of almost any meal. They can be added to power bowls, soups, casseroles, or just a simple side dish. They're high in protein and fiber, which will leave you feeling fuller longer.
To start, look for quinoa, brown rice, buckwheat groats, chickpeas, lentils, black beans, and navy beans. More pantry staples include canned tomatoes which are easy to add to a variety of dishes. Also stock up on spices – skip the jars of pre-made sauces and mixes and make your own instead. Spices are cheaper and you'll be cutting out the extra sodium and preservatives.
4. Buy From The Bulk Section
This is one of the best ways to save money, especially on whole grains. It can be a little hilarious what the price difference is from bulk versus a pre-packaged version. This is especially true for baking ingredients like quinoa flour, oat flour, coconut flour, and chickpea flour.
If you can, buy whole grains in the bulk section. There's a wide variety here, but I like to start with quinoa and rice. Sometimes you can buy your spices, baking ingredients, and even cleaners in bulk! It's worth investigating and comparing prices. Some cities have bulk stores that are solely dedicated to buying in bulk. These are definitely worth checking out. Some things won't necessarily be cheaper so be sure to compare prices.
5. There Is No One-Stop Shop
*Sigh* It would be nice, but the truth is that there is no one-stop shop for healthy eating on a budget. Although I do love Costco, it would be impossible for me to exclusively shop there if I wanted to save money. I never leave that store without spending at least $150! Lately, I've learned that I can only go there for very specific things. Here's what I like to buy from Costco: 3-pack salami, fermented organic sauerkraut, RW Garcia crackers, Boom Chicka popcorn, Organic chicken broth, sea salt and cinnamon.
You might be able to find better quality versions of some of your favorite foods at a cheaper price at different stores. I do the rest of my shopping at a lower-priced grocery store, and farmers markets. I also love going directly to the farm for u-pick and CSA boxes. This is a weekly subscription box of fresh fruits and veggies that you pay for in advance.
Occasionally I'll buy a few things from our local organic grocery store, but it's only for specialty items like supplements and protein powder. The truth is that most organic grocery stores are higher priced for things you can find elsewhere.
6. Wash and Chop It Yourself
Many stores offer products that are marketed to help you save time. These are things like pre-cooked meals and pre-cut fruits and vegetables. They're also marked up in price for that "convenience". So skip the pre-cut watermelon, honeydew melon, and sliced veggie platters. If you make it from scratch yourself, you will almost always save money that adds up.
7. Use The Flash Food app
Last but not least is my favorite app to save money at the grocery store. The flash food app helps cut down on food waste by allowing customers to buy near-expiring products at a discount. Usually, it's 50% off the original price. That's pretty huge! This is how I buy most of our meats. I'm able to buy organic chicken, pork and beef that is about to expire soon for 50% off! I immediately bring it home and package it in the freezer for future meals. Pretty amazing right!?
All discounted food is purchased directly through the app from your local grocery store (if they participate). Then you go and pick it up from the store in a special fridge that's usually near the checkout. The Flash Food app is available in a variety of grocery store chains across the US and Canada. To see if it works near you, download the app from the app store then search for grocery stores near you inside the app. They should automatically pop up if there are any available.
---