Shredded barbecue chicken casserole is made with chicken, wild rice, beans, corn, cheese and crushed tortilla chips. The casserole is then mixed with barbecue sauce to create an easy and flavorful meal.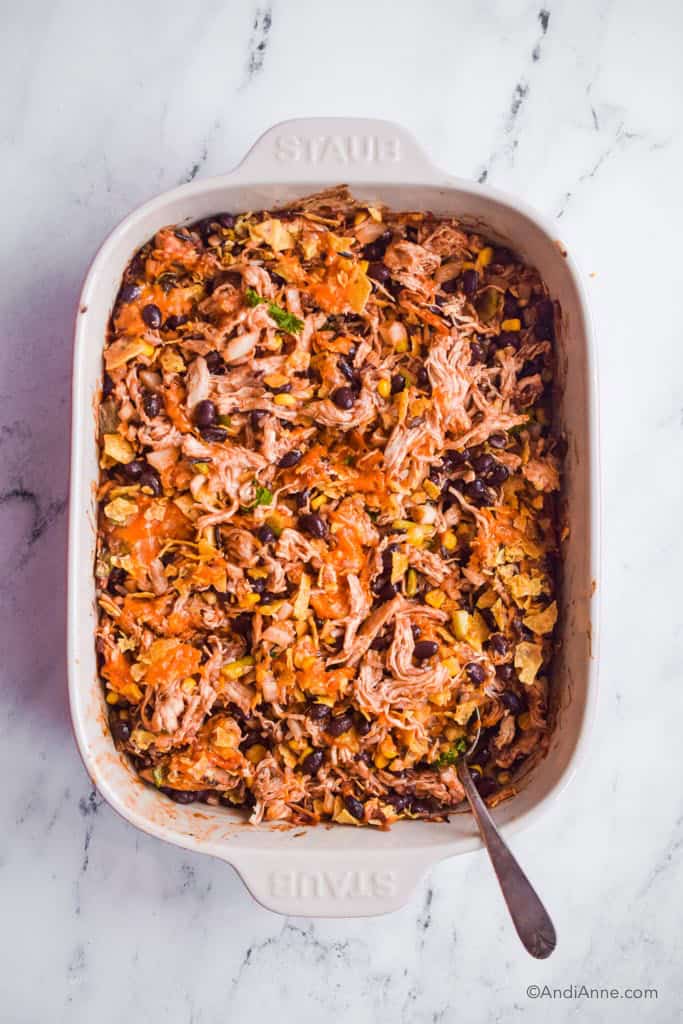 Shredded Barbecue Chicken Casserole
I love this recipe because it's uncomplicated and makes a large serving – enough to feed most families for two nights.
For this recipe, you'll need shredded chicken and cooked wild rice. You can cook your own chicken breasts and shred them yourself (I have instructions below), or use a store-bought rotisserie chicken. Wild rice can be made in a rice cooker the night before to save time.
All ingredients are mixed together with barbecue sauce and baked in a casserole dish. My husband loved this recipe, I did too! Leftovers make a great lunch.
>> Need more inspiration? Grab my Easy Healthy Meals Success Kit! Includes 12 healthy eating guides, done-for-you meal plans, and recipes.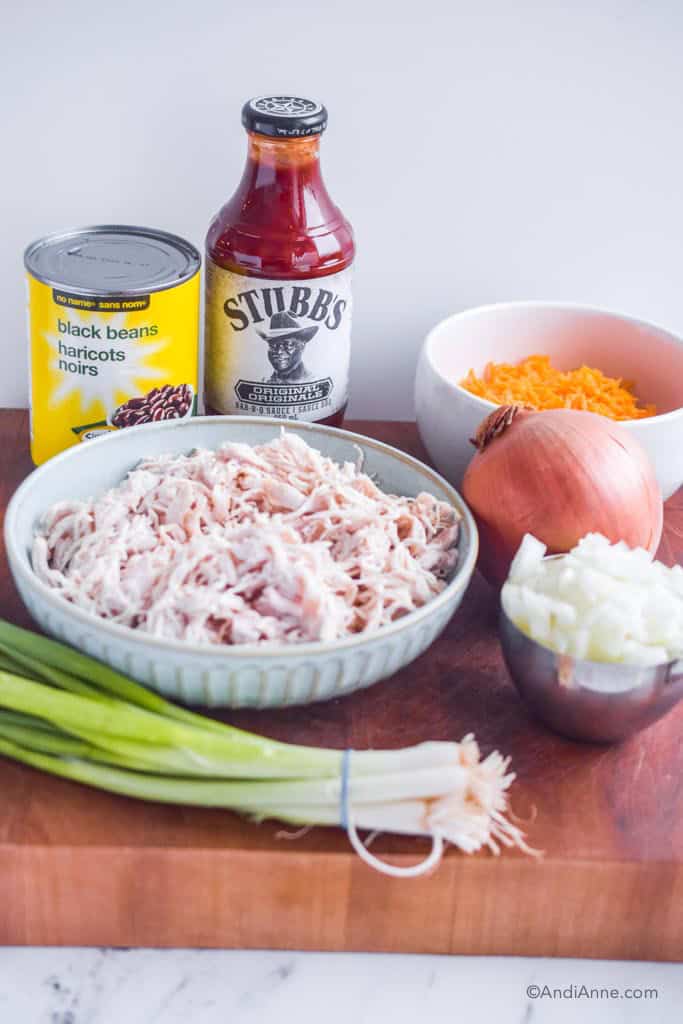 Ingredients Shopping List
Here's what you'll need to make this casserole:
3 Chicken Breasts – I used 3 large chicken breasts which equalled about 5 cups of shredded chicken. You can also use a rotisserie chicken, or store-bought shredded chicken to help save time.
1 ½ cups Barbecue Sauce – Use your favorite barbecue sauce for this recipe! I love Stubbs. > Buy Stubbs Barbecue Sauce Here.
1 cup Black Beans – I used canned black beans, drained and rinsed. > Buy Organic Black Beans Here.
1 cup Frozen Corn – You can use canned corn or frozen corn for the recipe.
½ Yellow Onion – I used a medium-sized yellow onion. White onions will also work.
4 Green Onions – Use kitchen scissors to cut the green onions into small pieces.
1 cup Shredded Cheddar Cheese – You can use cheddar cheese, mozzarella, marble or any other cheese you'd like.
1 cup Crushed Tortilla Chips – These add the perfect crunch. I love the Que Pasa brand. > Buy Que Pasa Tortilla Chips Here.
GET MY KITCHEN FAVORITES LIST – Get my full kitchen shopping list here including how I stock my pantry, fill my fridge, and what equipment I prefer to use in the kitchen.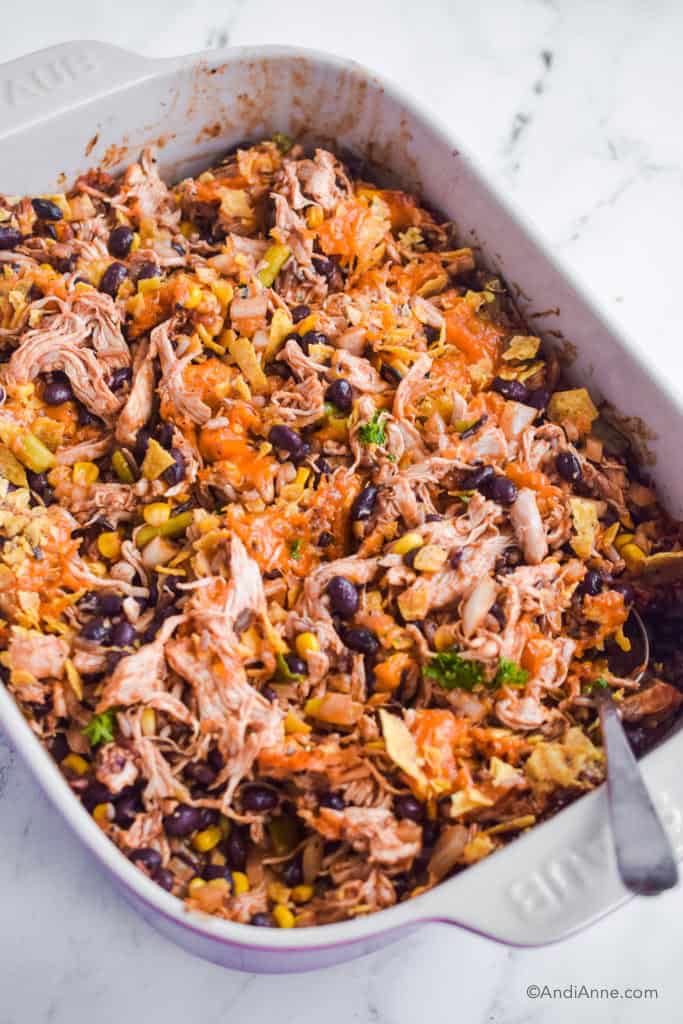 Recipe Cost = $15
The chicken breasts cost me $11, and the rest of the meal cost about $4, only costing about $1.50 per serving. This is certainly a cheap and affordable meal to make for your family (these prices will vary slightly depending on where you live).
Grocery Shopping Tip: If you like to save money at the store, here are my 7 ways to save money on your grocery bill and still eat healthily.
Kitchen Equipment I Used
Here's the equipment I used to make this casserole:
>> Need more inspiration? Grab my Easy Healthy Meals Success Kit! A highly successful meal system filled to the brim with healthy eating resources that will teach you how to make easy healthy meals throughout the week, plan your breakfasts, lunches, dinners, and so much more!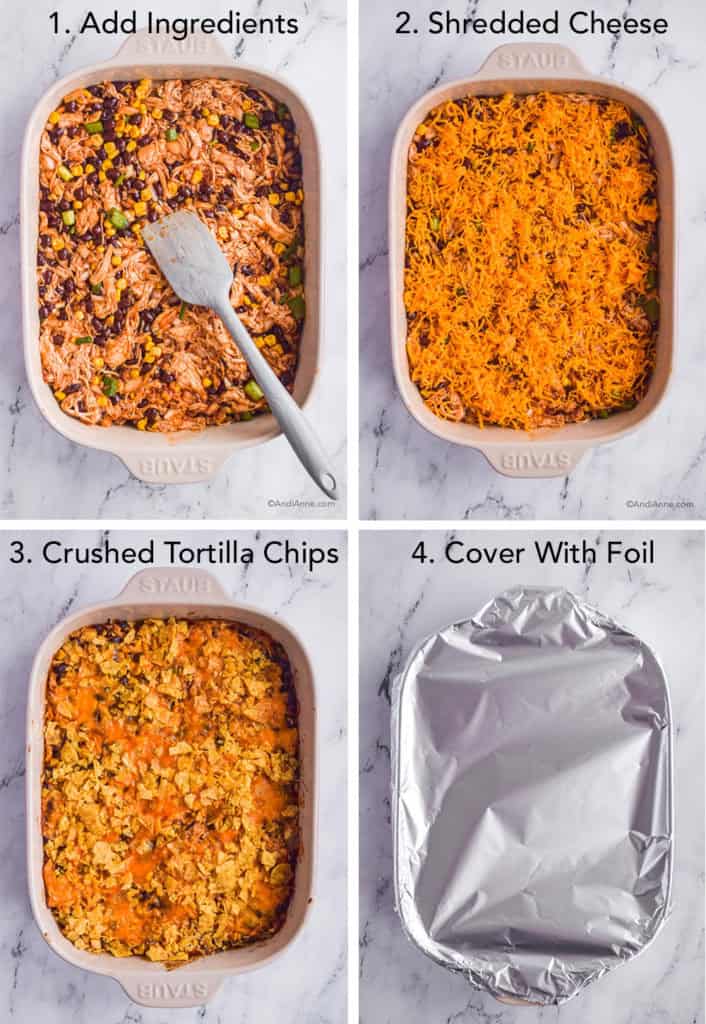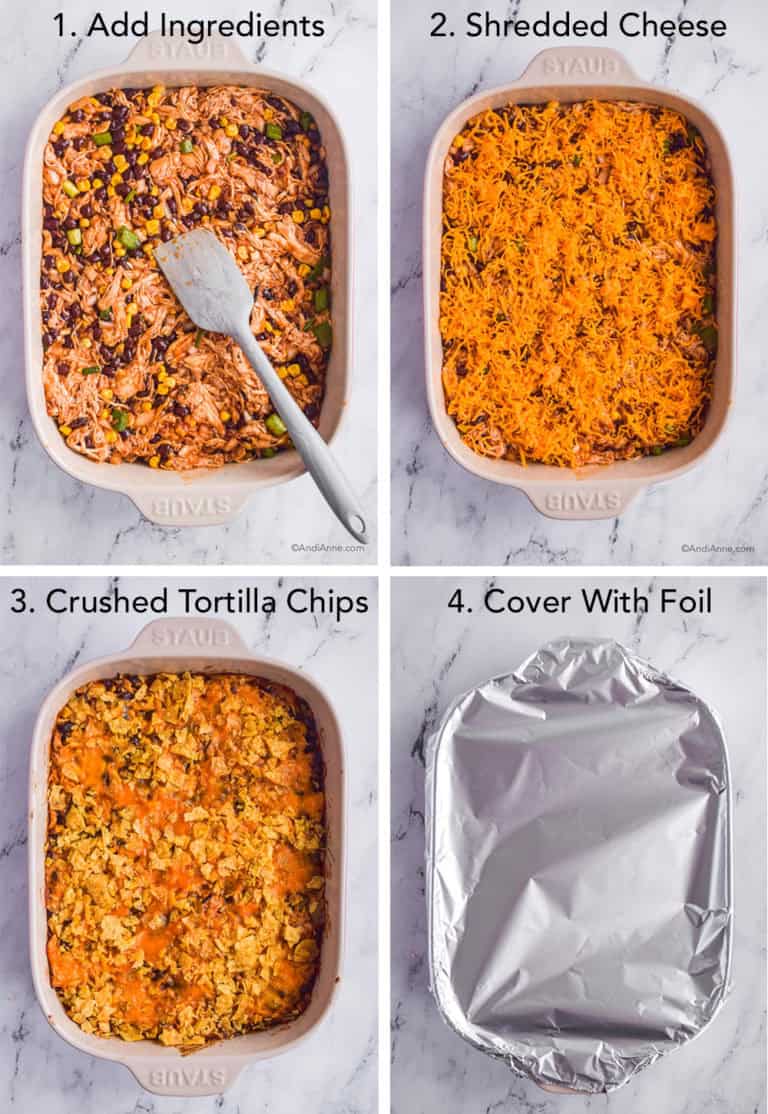 How To Make Shredded Barbecue Chicken Casserole
First, the chicken and rice are cooked. Then the casserole is assembled and baked.
Here's an overview of how to make it with the full recipe instructions at the bottom of this post.
Shredded Chicken – You can use store-bought shredded chicken, a rotisserie chicken, or cook chicken breasts and then shred them yourself. See my easy tutorial in the recipe card below.
Cook The Rice – Use a rice cooker or stovetop to cook the wild rice.
Mix Together – Add chicken, rice, black beans, onion, corn and green onions to a large bowl. Drizzle barbecue sauce overtop and mix everything together.
Assemble The Casserole – Pour the chicken mixture into a casserole dish. Spread shredded cheese and crush tortilla chips over top. Cover with aluminum foil and bake at 375°F for 25-30 minutes, removing foil in last 10 minutes.
Serving – Let the casserole cool, then use a spoon to break up piecs and toss everything together. Serve and enjoy!
How To Store Shredded Barbecue Chicken Casserole
This casserole can be stored in an airtight container in the fridge for up to 4-5 days, or frozen for up to 6 months. To thaw, defrost the casserole in the fridge overnight, then reheat in oven or microwave.
Chicken Casserole Tips and Tricks
Use a Rotisserie Chicken To Save Time – If you're short on time, grabbing a rotisserie chicken with minimal seasonings from the grocery store is a great solution. These only cost $10 and are easy to shred.
Poach The Chicken – If you're cooking the chicken yourself, one of the easiest ways is to poach it. You can cook it in a frying pan with 2 inches of water, flipping halfway through.
Use Hand Mixer To Shred The Chicken – This is an easy hack to shred a large amount of chicken. First, place the chicken in a large bowl and cut into smaller chunks. Next, turn your hand mixer on the lowest setting and mix the chicken. This will shred your chicken as you go!
Substitute Wild Rice For Regular Rice – It's easy to use any kind of cooked rice you want in this casserole dish. I'm a big fan of Lundberg wild rice for my recipes, but using brown or white rice will also work great.
>> Need more inspiration? Grab my Easy Healthy Meals Success Kit! This kit includes 12 healthy eating guides, including meal plans and recipes done for you!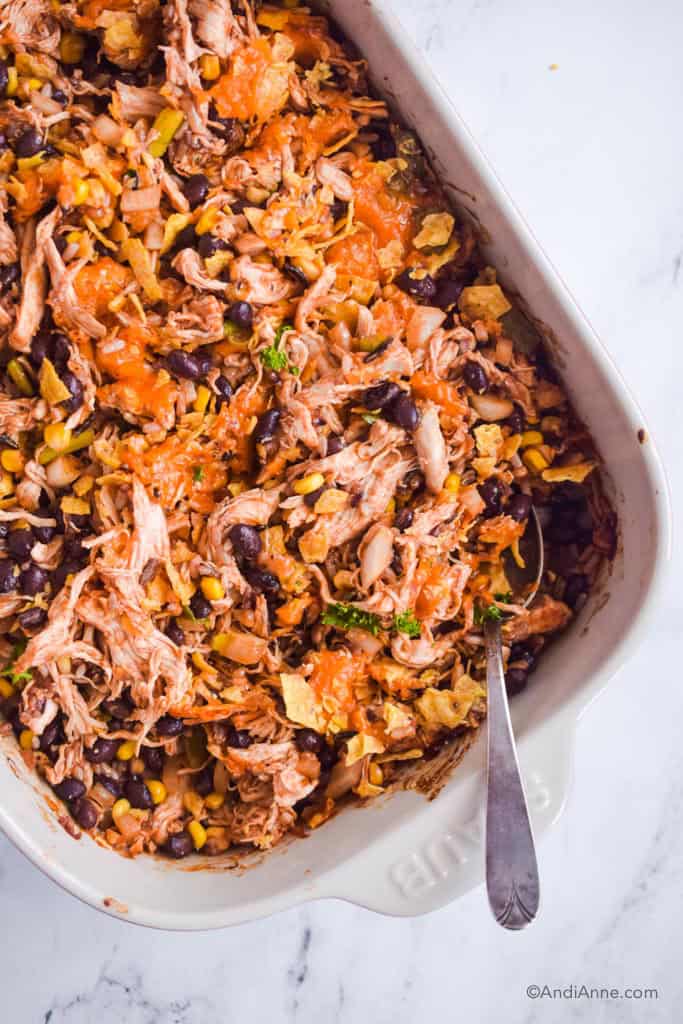 More Casserole Recipes
Did you love this shredded barbecue chicken casserole? Be sure to leave a rating below!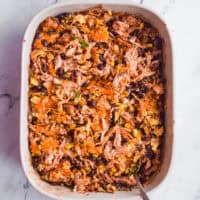 Instructions
How To Make Shredded Chicken:
Add 3 chicken breasts to a frying pan along with 2 inches of water. Bring the water to a boil then reduce to let simmer for 10-20 minutes, flipping chicken halfway through. Season with salt and pepper.

Chicken will be done when it reaches 165°F internal temperature when poked with a meat thermometer.

Add the cooked chicken to a large bowl. Rip into a few smaller pieces. Use a hand mixer on lowest setting to help shred the chicken.

Alternatively, you can shred the chicken with your fingers, or use two forks.
Casserole Assembly:
Cook 1 cup of uncooked rice according to package instructions. I used a rice cooker. You can also cook on the stove.

Crush 1 cup worth of tortilla chips with the back of a spoon or masher.

Preheat the oven to 375°F. Add cooked shredded chicken, 2 cups cooked rice, black beans, frozen corn, yellow onion, and green onions to a large bowl.

Drizzle the barbecue sauce over top.

Mix together throughly with a large spoon.

Pour the shredded chicken mixture into a casserole dish. Sprinkle the cheddar cheese on top, followed by crushed tortilla chips. Cover loosely with foil.

Bake for 25-30 minutes, removing foil during the last 10 minutes. Remove from oven and let cool 5 minutes.

Use a spoon to toss and mix the casserole together (this part is optional), or just serve as-is with taco cheese topping on top.
Recipe Notes:
Leftovers can be stored in the fridge in airtight container for up to 1 week or freezer for up to 3 months.
Shredded rotisserie chicken or pre-cooked chicken can be used in replacement. You will need about 4-5 cups worth to make the casserole.
Nutrition
Calories:
239
kcal
|
Carbohydrates:
30
g
|
Protein:
18
g
|
Fat:
6
g
|
Saturated Fat:
2
g
|
Polyunsaturated Fat:
1
g
|
Monounsaturated Fat:
2
g
|
Trans Fat:
1
g
|
Cholesterol:
46
mg
|
Sodium:
533
mg
|
Potassium:
436
mg
|
Fiber:
3
g
|
Sugar:
12
g
|
Vitamin A:
243
IU
|
Vitamin C:
3
mg
|
Calcium:
106
mg
|
Iron:
1
mg
Please note these nutritional values provided above are just an estimate. Actual numbers will vary based on brands and ingredients you choose, and your preferred portion sizes.
Get The Free AndiAnne Newsletter
Subcribe To My Newsletter For New Recipes Delivered To Your Inbox Weekly.