Snowball cookies are a Christmas classic that is a favorite around our house. These cookies are buttery and airy and will melt in your mouth.
This is a snowball cookie without nuts. Instead, delicious Christmas M&Ms plus red and green sprinkles are hidden inside the snowballs. Feel free to substitute for Smarties if there's a nut allergy in your house.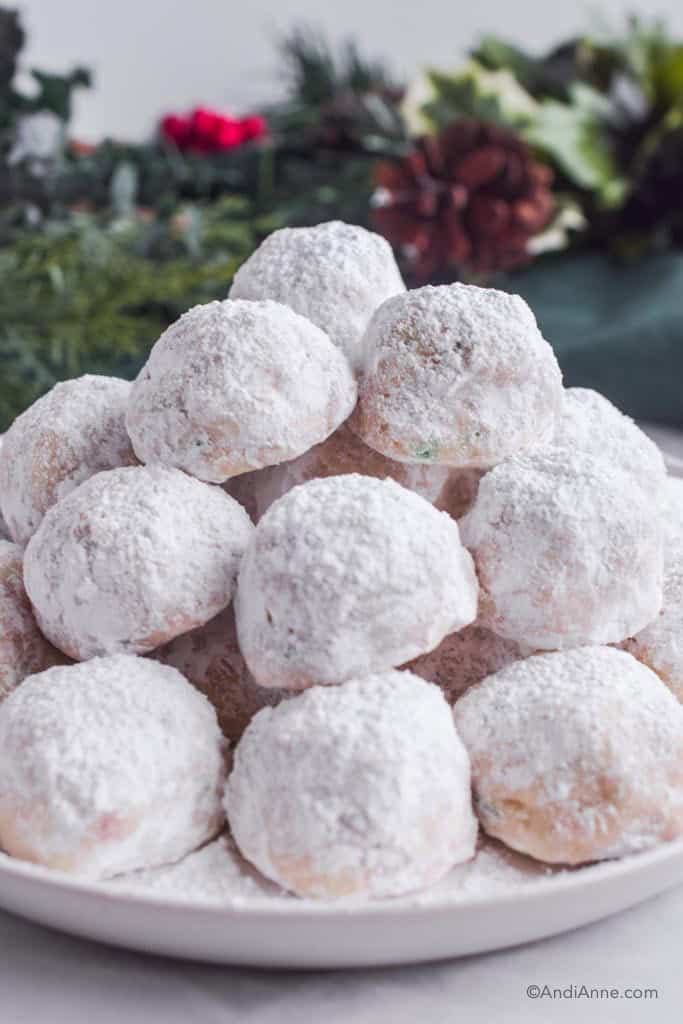 Easy Snowball Cookies Recipe
Snowball cookies are round buttery cookies that feel like they melt in your mouth when you take a bite. They're rolled in powdered sugar to give a festive snowball effect. Traditionally, snowball cookies use chopped nuts. This recipe skips the nuts and uses Christmas sprinkles and M&Ms hidden inside for a delightful surprise.
These cookies tend to win everyone over. They're made with staple ingredients you probably already have in your pantry, and are pretty simple to put together. I love serving these cookies at holiday parties, especially if there are kids around.
These snowball cookies are a similar process to my whipped shortbread cookie recipe. They're made with similar ingredients and are great to batch prep together on the same day.
What Do Snowball Cookies Taste Like?
These cookies are not too sweet, buttery, airy, and will melt in your mouth. They're light and crumbly. When you take a bite you're delightfully surprised by the chocolate candies and sprinkles hidden inside.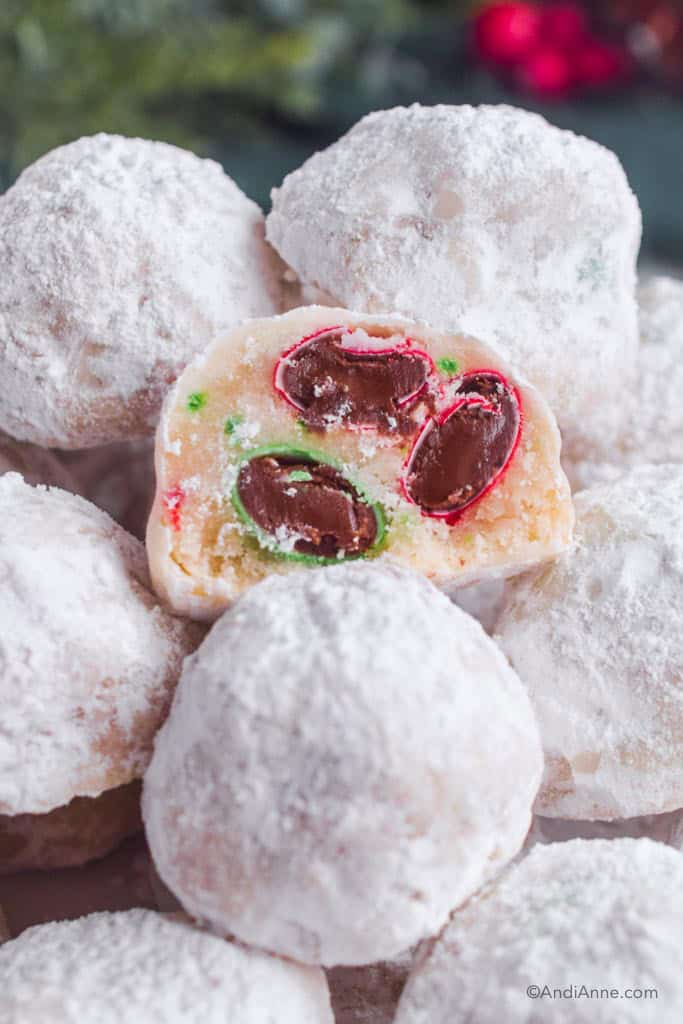 Christmas Snowball Cookie Ingredients
Here's what you'll need to make these delicious snowball cookies:
Confectioners Powdered Sugar – Used in making the cookie and on the outside for the snowy texture. For diabetics, you can use lakanto powdered monkfruit sweetener as a substitution.
Butter – 1 cup of room temperature unsalted butter is needed. A good quality butter truly makes a big difference in the taste and texture of the cookies. Margarine will not work as a substitution.
Flour – You'll need 2 cups of all purpose flour.
Candies – This recipe uses M&Ms candy plus red and green jimmies (sprinkles) inside the cookies. Smarties will also work (they're made in a nut-free facility for anyone with nut allergies).
You'll also need vanilla extract and salt.
These are snowball cookies without nuts. However, you can easily add them using the snowball cookie variations below.
Snowball Cookie Variations
Nuts: You can use walnuts, pecans or other chopped nuts inside these. Use ½ cup chopped nuts in substitution.
Seeds: Pumpkin seeds or sunflower seeds would also work.
Shredded Coconut: Instead of rolling in powdered sugar you could use finely shredded coconut.
Candies: Crushed candy canes, hidden Hersheys kisses, chocolate chips or other holiday candies would all be fun inside these snowball cookies.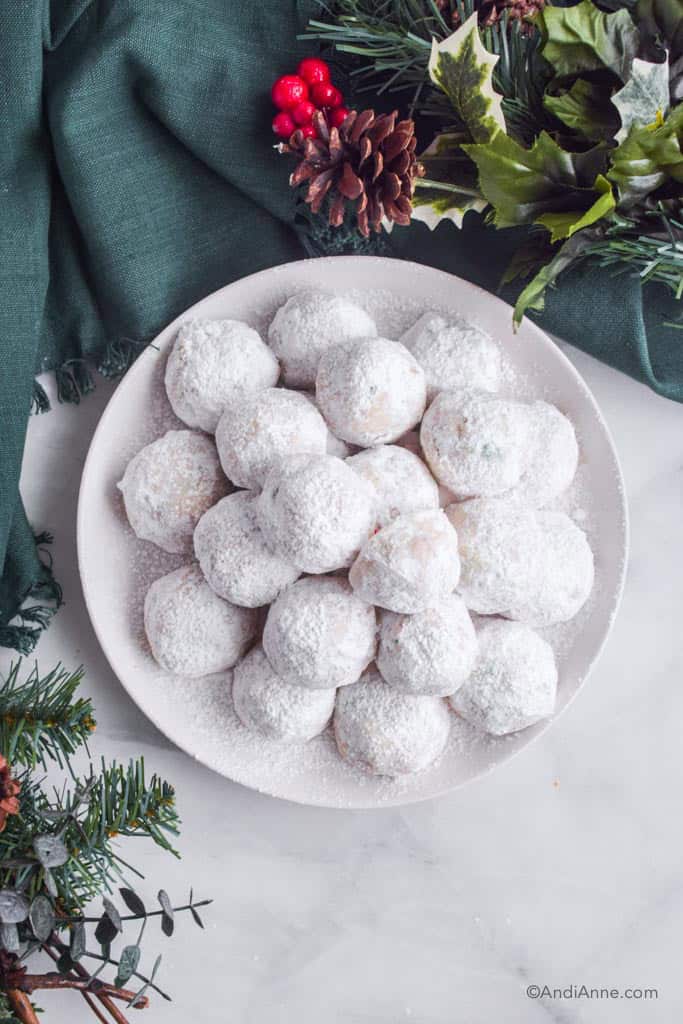 How To Make Snowball Cookies
Cream Butter And Sugar – Beat softened (room temperature) butter and confectioners sugar together with a hand mixer.
Add Flour – Add in the flour and salt and mix again.
Use Your Hands – The dough will get thick and too hard to use handmixer with. Use a spatula to scrape down the sides then get your hands in there to finish the job. You don't want to over mix – just enough so that the dough comes together.
Fold In Candies – Add the M&Ms and sprinkles to the bowl. Use your hands to knead them into the dough.
Roll Into Cookies – Measure 1 Tbsp of dough and roll into balls. Bake for 10-12 minutes. Remove from oven and leave on the baking sheet for another 10 minutes. Once slightly cooled, roll each one in powdered sugar and place on a rack to cool completely. Once cool, roll in powdered sugar again.
Can Snowball Cookies Be Frozen?
Yes, these cookies freeze well. You can store them in an airtight container for up to 6 months. These cookies can be fragile while frozen, which is why it's best to keep them in a container versus a bag.
I like to thaw my cookies overnight in the fridge, then re-roll the outsides in powdered sugar before serving.
Can I Freeze The Dough Ahead Of Time?
You can also freeze the uncooked dough. First, roll into balls and place on a baking sheet. Place the baking sheet in the freezer for 1 hour. Once the dough is firm, add the raw cookies to a container for up to 6 months.
I like to write instructions on the front of the container so I don't forget. You can bake from frozen adding 2-4 minutes on the baking time.
Why Did My Snowball Cookies Flatten?
Naturally, the bottoms will flatten slightly. But if your cookies flatten a lot it's probably because they weren't chilled enough before baking and the butter melted too much.
This can be fixed by chilling the rolled balls on the baking sheet for 10 minutes in the fridge before baking.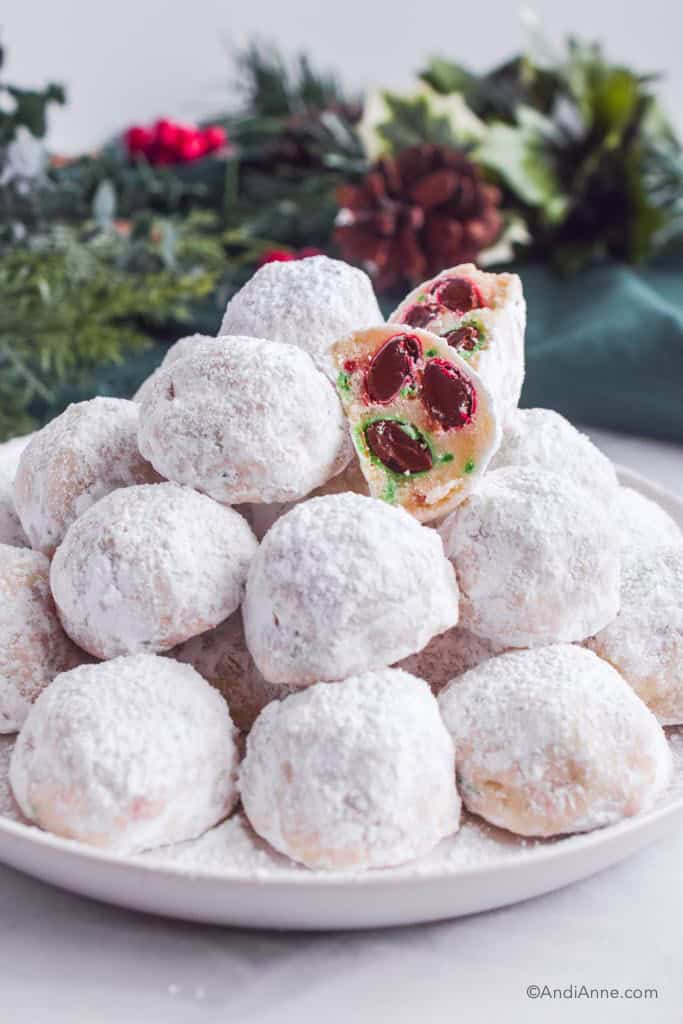 More Christmas Baking Recipes
Christmas Cracker Candy – One of the easiest treats to make and highly addictive.
Dipped Pretzel Sticks – Sooo easy, makes a beautiful gift too!
Christmas Jello Balls – Made with only three ingredients – they're so easy and really yummy.
Whipped Shortbread Christmas Cookies – Incredibly delicious and festive. One of my favorite cookies to make at Christmas.
Gingerbread House Cake – The cutest gingerbread house cakes made with a nordic ware gingerbread pan.
Did you love this snowball cookie recipe? Be sure to leave a rating below!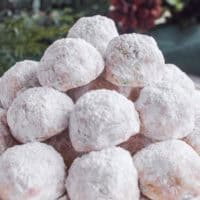 Christmas Snowball Cookies
Snowball cookies with Christmas M&Ms plus red and green sprinkles hidden inside. These are melt-in-your-mouth cookies! Made without nuts.
Print
Pin Recipe
Instructions
Preheat the oven to 375°F. Line a baking sheet with parchment paper and lightly spray the top of parchment.

In a large bowl, cream the butter and confectioners powdered sugar together until smooth and creamy.

Add in the flour and salt.

Use a spatula to finish mixing the dough together.

Use hands to gently knead the dough just enough to form a ball.

Add the M&Ms and sprinkles.

Use hands to mix them into the batter.

Measure 1 Tbsp of cookie dough and roll into a ball between your hands. Place on the baking sheet.

Bake for 10-12 minutes. Remove from oven and let cool on baking sheet for another 10 minutes.

Roll each ball into powdered sugar.

Place on a rack to cool completely.

Once completely cooled, roll in powdered sugar again for an even coating.

Store in an airtight container on the counter or in fridge for up to 1 week.

These cookies store well in the freezer. After thawing, roll in more powdered sugar before serving.
Nutrition
Calories:
122
kcal
|
Carbohydrates:
13
g
|
Protein:
1
g
|
Fat:
7
g
|
Saturated Fat:
4
g
|
Polyunsaturated Fat:
1
g
|
Monounsaturated Fat:
2
g
|
Trans Fat:
1
g
|
Cholesterol:
17
mg
|
Sodium:
23
mg
|
Potassium:
11
mg
|
Fiber:
1
g
|
Sugar:
7
g
|
Vitamin A:
197
IU
|
Vitamin C:
1
mg
|
Calcium:
7
mg
|
Iron:
1
mg
Please note these nutritional values provided above are just an estimate. Actual numbers will vary based on brands and ingredients you choose, and your preferred portion sizes.
Join Our FREE MEMBERS LIBRARY!!
Get exclusive access to all our FREE PDF recipe guides!! Must sign up on our website to gain free access – Join Free Members Library Here.