Whole wheat zucchini bread is a great loaf recipe. Hints of warming spices are added for fragrance and flavor. This bread comes together fast (hence why it's called quick bread) without any yeast or rising.
Grated zucchini, flour, sugar, spices, applesauce, eggs, oil and seeds are all mixed together and baked in a loaf pan.
Serve with a cup of coffee as a snack with cream cheese, butter or our strawberry chia seed jam. This loaf can also be served with a cup of warm soup like our pureed turmeric ginger carrot soup or creamy carrot rutabaga soup for an easy meal.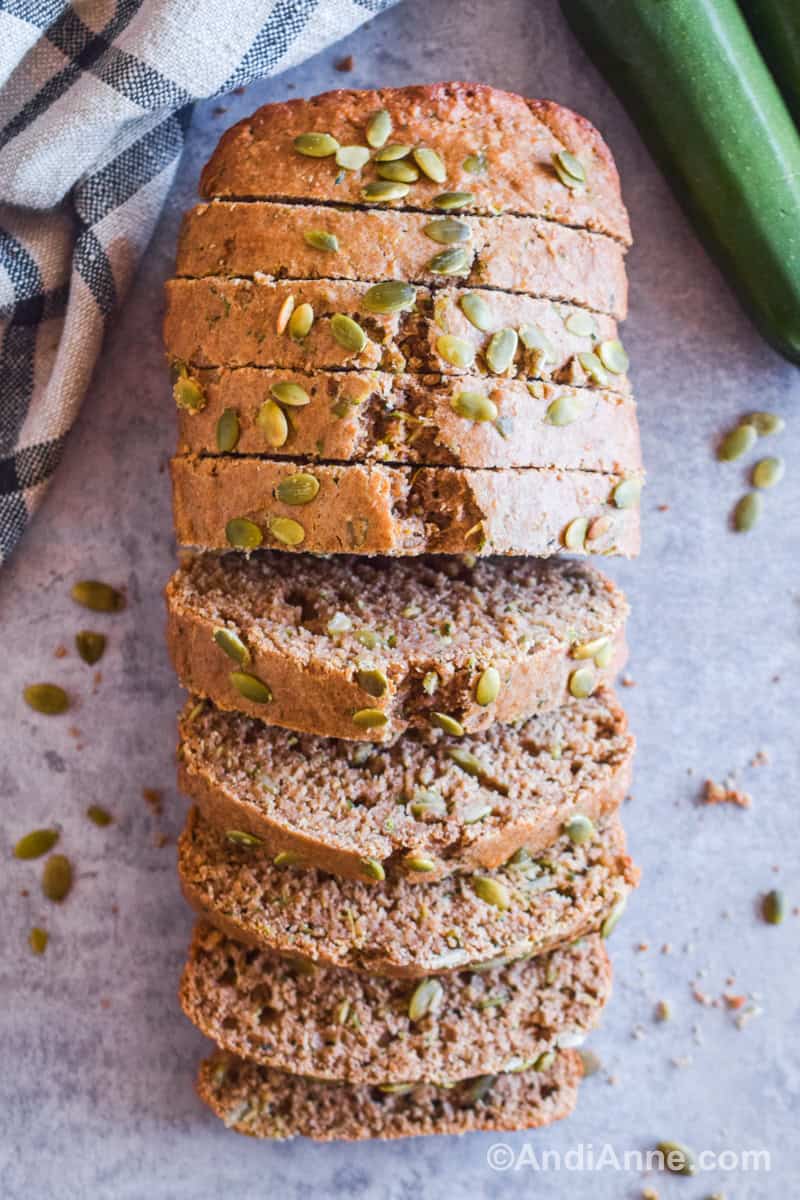 Easy Whole Wheat Quick Bread
Quick breads are so much easier to make than traditional yeast bread. This recipe is dairy-free. No milk is required.
Everything comes together in less than 10 minutes in a large bowl, then baked in a loaf pan for 1 hour.
This easy recipe is wholesome, high in fiber, and has a hint of warming spices from cinnamon, nutmeg, and allspice.
Zucchini adds extra moisture, similar to banana bread.
You can slice and freeze it for future recipes or use it as sandwich bread.
Pumpkin seeds are optional and can be replaced with chopped nuts, sunflower seeds or sesame seeds.
For a more savory loaf, try our herbed quick bread which goes great with pork stew.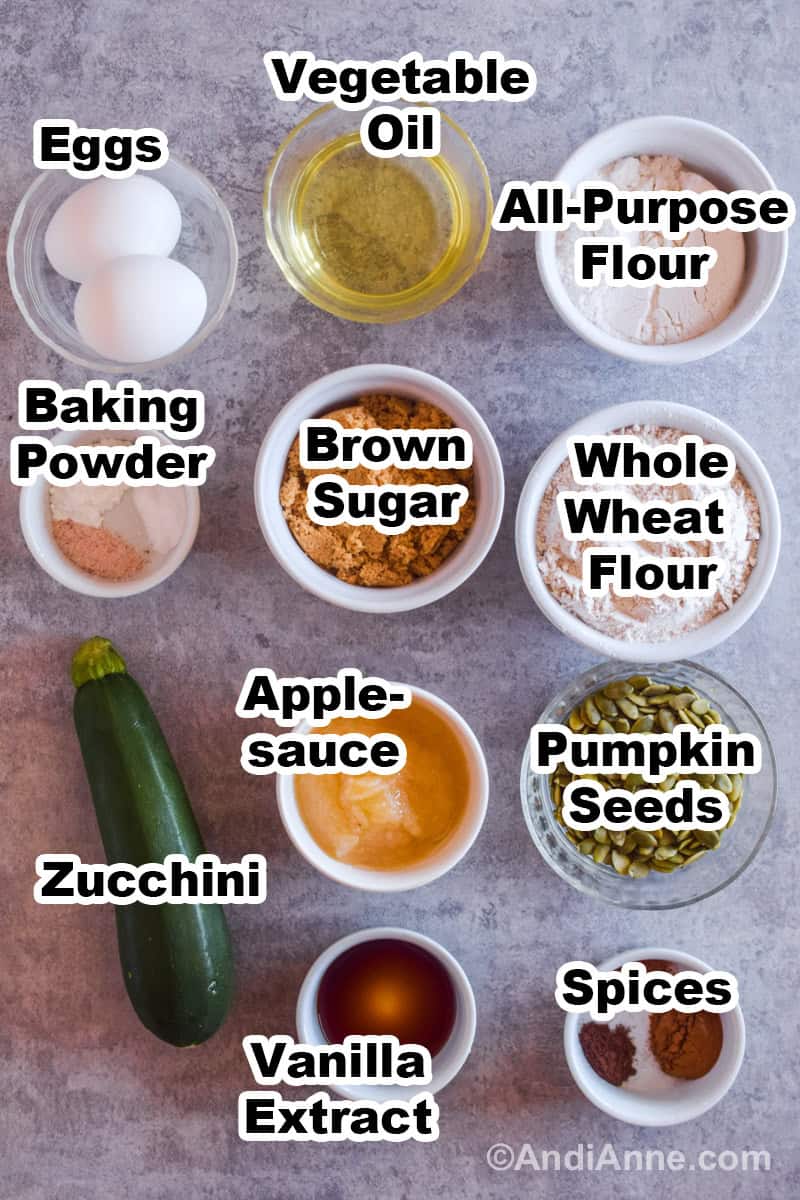 Recipe Ingredients
ZUCCHINI: A small zucchini that is peeled and grated should equal 1 cup worth. The zucchini adds moisture to the loaf but should be squeezed to remove excess liquid before adding to the recipe.
DRY INGREDIENTS: A combination of whole-wheat flour, all-purpose flour, brown sugar (or white sugar), cinnamon, nutmeg, allspice, baking soda, and salt are all mixed together.
WET INGREDIENTS: Applesauce, eggs, vegetable oil, and vanilla extract are mixed in with the dry ingredients.
NUTS OR SEEDS: These are optional. You don't need to add any chopped nut or seeds at all if you don't want to. But they do add a nice texture to the zucchini loaf. I added raw pumpkin seeds to the recipe in the photos.
VARIATIONS: Add chocolate chips for extra sweetness! Use less spices for a simpler whole wheat taste.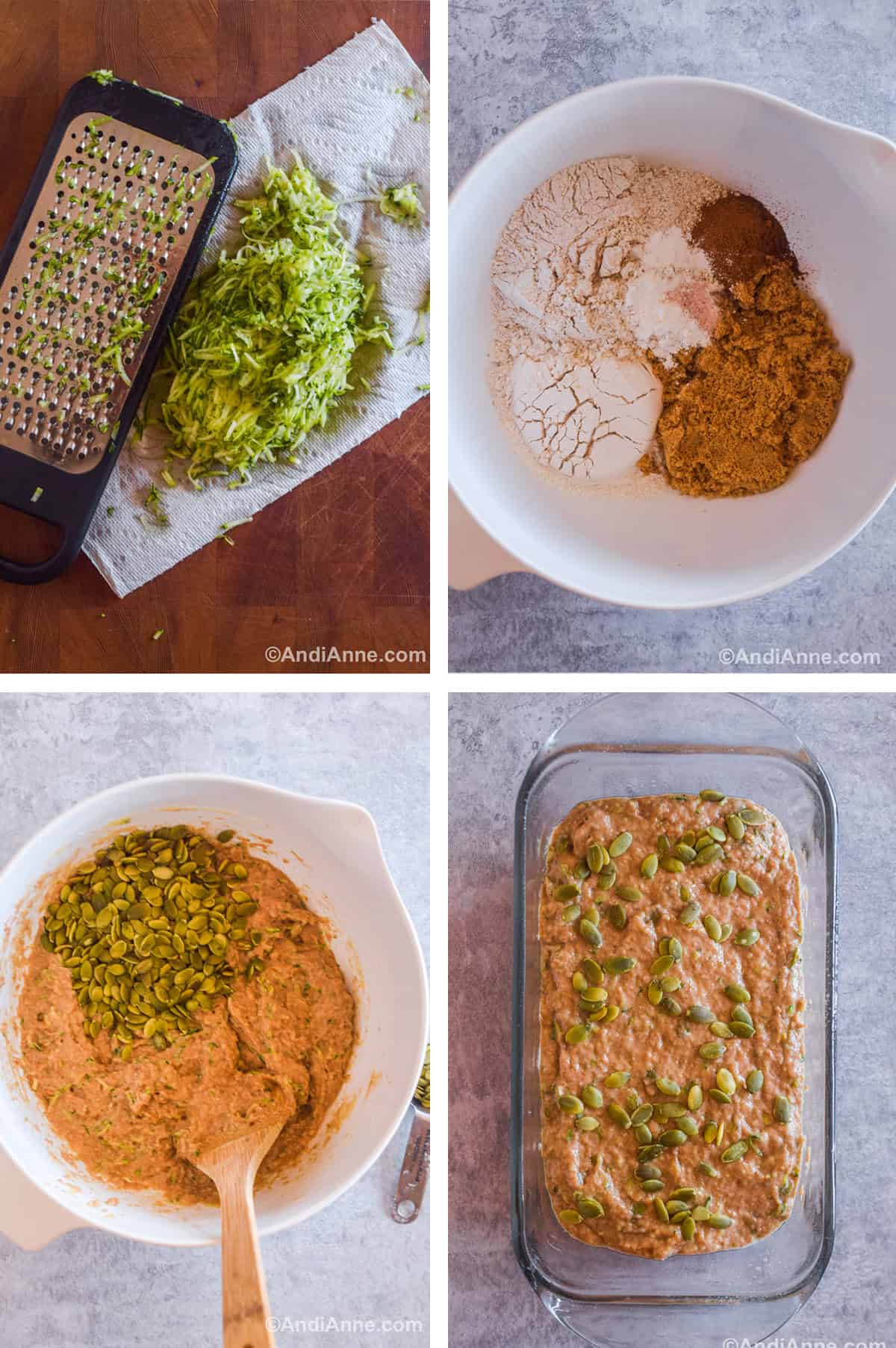 How To Make Whole Wheat Zucchini Bread
Grate the zucchini and squeeze out excess liquid through a towel.
Mix dry ingredients in a large mixing bowl according to full instructions in the recipe card below.
Beat the eggs in a separate bowl. Add in the applesauce, vegetable oil, and vanilla.
Mix the wet ingredients into the dry ingredients. Fold in the nuts or seeds.
Pour batter into a greased loaf pan. Sprinkle the top with nuts or seeds. Bake until golden brown and a toothpick comes out clean.
The leftover loaf can be stored in an airtight container or bag in the fridge or on the counter for up to 3-4 days. I prefer to store my baking in the refrigerator to maximize freshness. Loaf slices can be served at room temperature, warmed in the microwave, or toasted in an oven or toaster.
This loaf can also be frozen. Add to an airtight freezer bag and freeze for up to 3-4 months.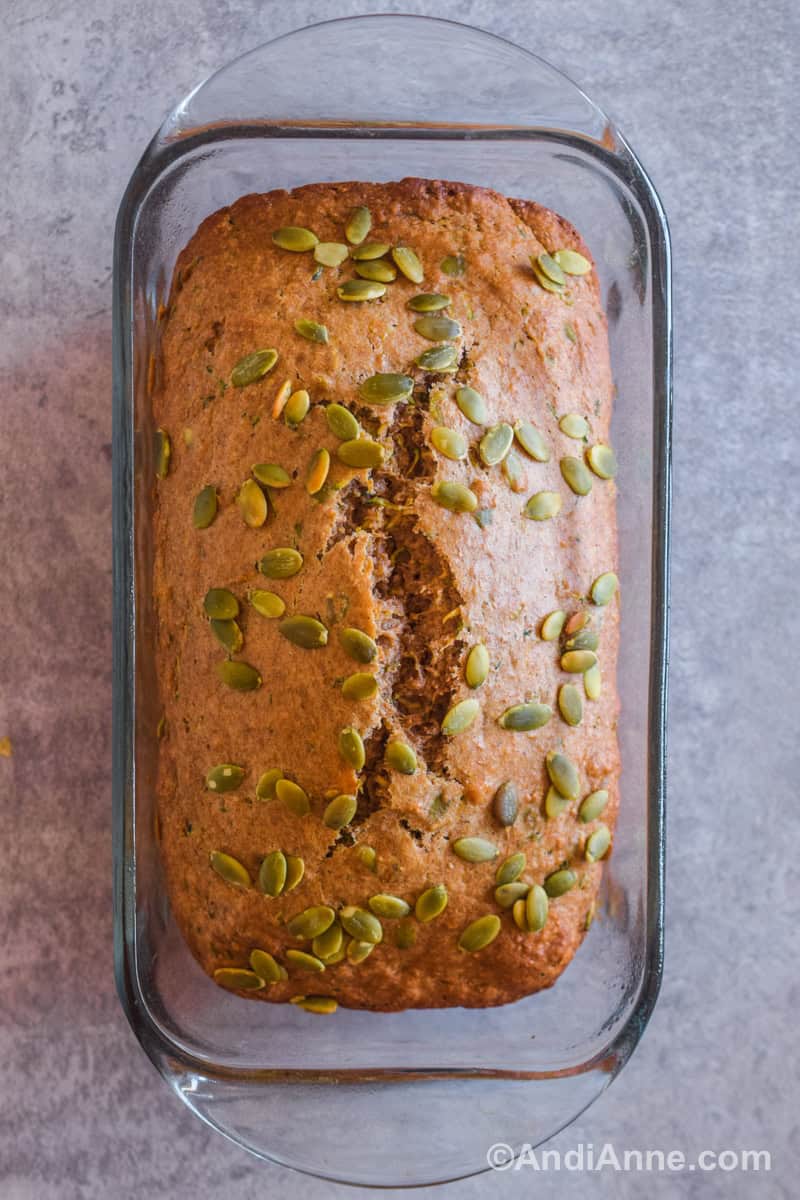 Recipe Tips
Zucchini produces a lot of extra liquid. Squeeze as much excess moisture out of the shredded zucchini through a kitchen cloth or paper towels. Too much liquid will change the consistency of the bread.
Don't forget to spray the loaf pan with nonstick cooking spray or wipe a bit of softened butter over the surface. This will make it much easier to remove the bread after baking.
Use a bread knife to slice the loaf into thin pieces. Bread knives have a serrated edge that will produce a cleaner slice.
Use a smaller loaf pan to get a taller loaf. I used a 5″ x 9″ loaf pan that is 1.5 qt. If the loaf pan is too big, the loaf will be much smaller and flatter.
My loaf took 55 minutes to bake. The edges turned a darker brown. Check your loaf after 50 minutes by poking the center with a toothpick to see if it comes out clean.
If edges are turning too dark, loosely cover the top of the loaf with foil.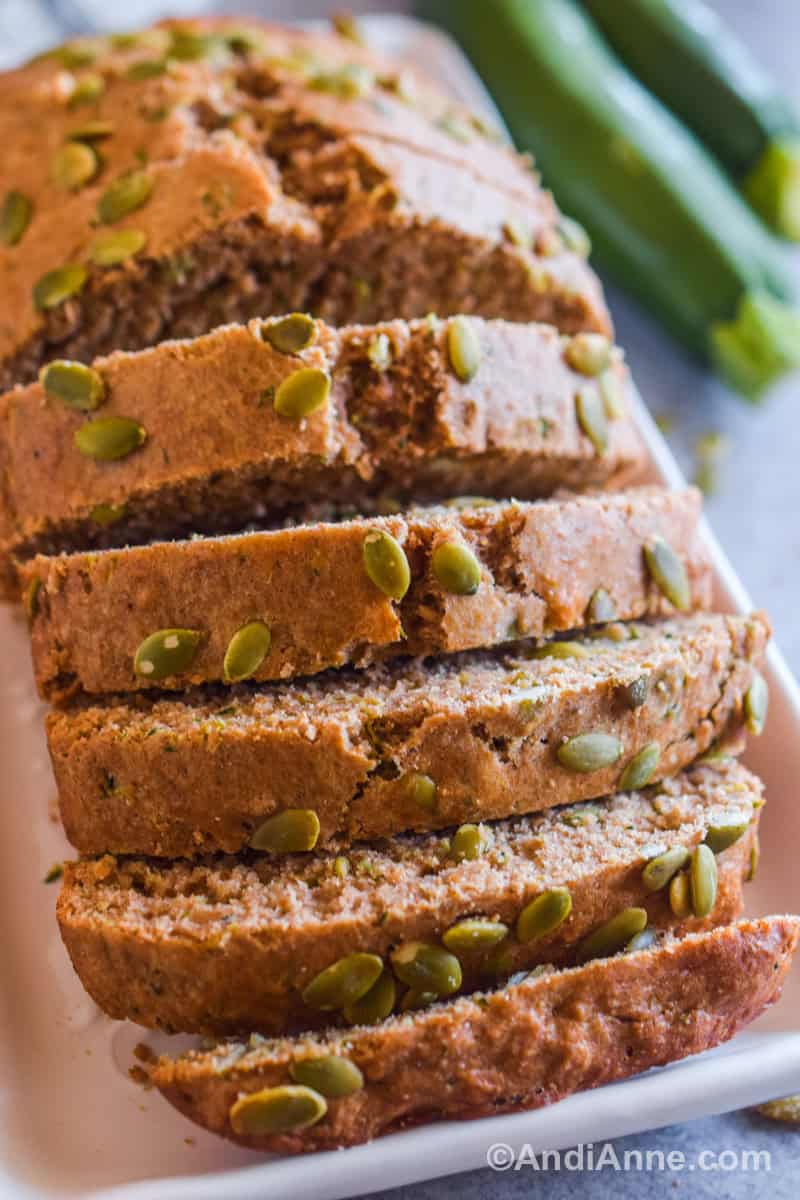 More Whole Wheat Recipes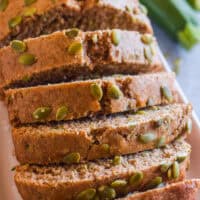 Whole Wheat Zucchini Bread Recipe
An easy quick bread recipe with grated zucchini and warming spices.
Print
Pin Recipe
Instructions
Preheat the oven to 325°F. Lightly grease a loaf pan with nonstick cooking spray or butter.

Peel then grate one medium zucchini. Wrap in a towel and squeeze out as much excess liquid as possible. Measure out 1 cup of grated zucchini and set aside.

In a large bowl, mix together the whole wheat flour, all purpose flour, brown sugar, cinnamon, nutmeg, allspice, baking soda and salt.

In a separate medium bowl, beat the eggs with a fork. Stir in the grated zucchini, applesauce, vegetable oil, and vanilla extract.

Pour the wet ingredients into the dry ingredients and mix together.

Reserve 1 Tbsp of chopped nuts or seeds and set aside.

Add the rest of the nuts or seeds to the batter and mix together.

Pour the batter into the greased loaf pan. Sprikle the top of batter with 1 Tbsp of nuts or seeds.

Bake for 50-60 minutes, until top is golden brown and a toothpick comes out clean when poked through the center (mine took 55 mins). Remove from oven and let cool 10 minutes.

Gently invert pan and transfer loaf to a wire rack to let bread cool. Run a knife or spatula along sides if needed to help loosen the loaf.

Once cooled, use a bread knife to slice into thin pieces. Serve and enjoy!
Nutrition
Calories:
106
kcal
|
Carbohydrates:
22
g
|
Protein:
3
g
|
Fat:
1
g
|
Saturated Fat:
1
g
|
Polyunsaturated Fat:
1
g
|
Monounsaturated Fat:
1
g
|
Trans Fat:
1
g
|
Cholesterol:
27
mg
|
Sodium:
103
mg
|
Potassium:
101
mg
|
Fiber:
2
g
|
Sugar:
10
g
|
Vitamin A:
65
IU
|
Vitamin C:
2
mg
|
Calcium:
30
mg
|
Iron:
1
mg
Please note these nutritional values provided above are just an estimate. Actual numbers will vary based on brands and ingredients you choose, and your preferred portion sizes.
Join Our FREE MEMBERS LIBRARY!!
Get exclusive access to all our FREE PDF recipe guides!! Must sign up on our website to gain free access – Join Free Members Library Here.