Zucchini parmesan frittata is a savory recipe made from a few simple ingredients. It can be served for breakfast, brunch or slices can be stored in the fridge for easy meal prep throughout the week. This recipe low carb and keto-friendly.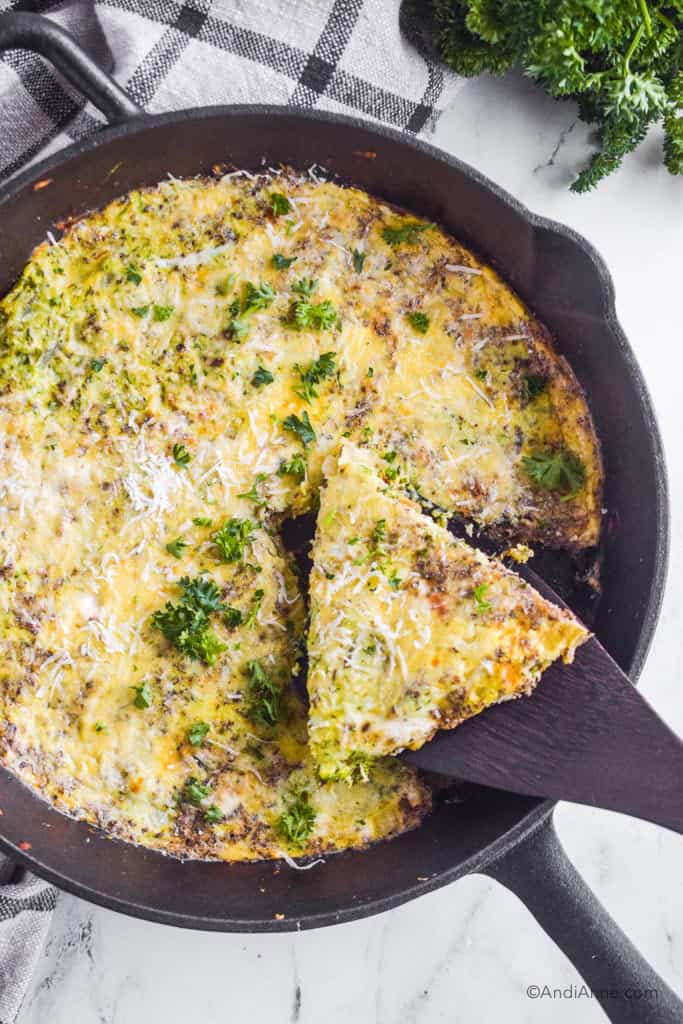 Zucchini Parmesan Frittata
This zucchini parmesan frittata is incredibly easy to make and an excellent meal prep recipe for breakfast or lunch. It's healthy too – eggs are a great source of protein and will provide long-lasting energy.
This recipe is perfect for brunch but also for meal prep! I love this recipe because I can easily meal prep a batch and save the rest in the fridge or freezer for later.
>> Need more inspiration? Grab my Easy Healthy Meals Success Kit! Includes 12 healthy eating guides, done-for-you meal plans, and recipes.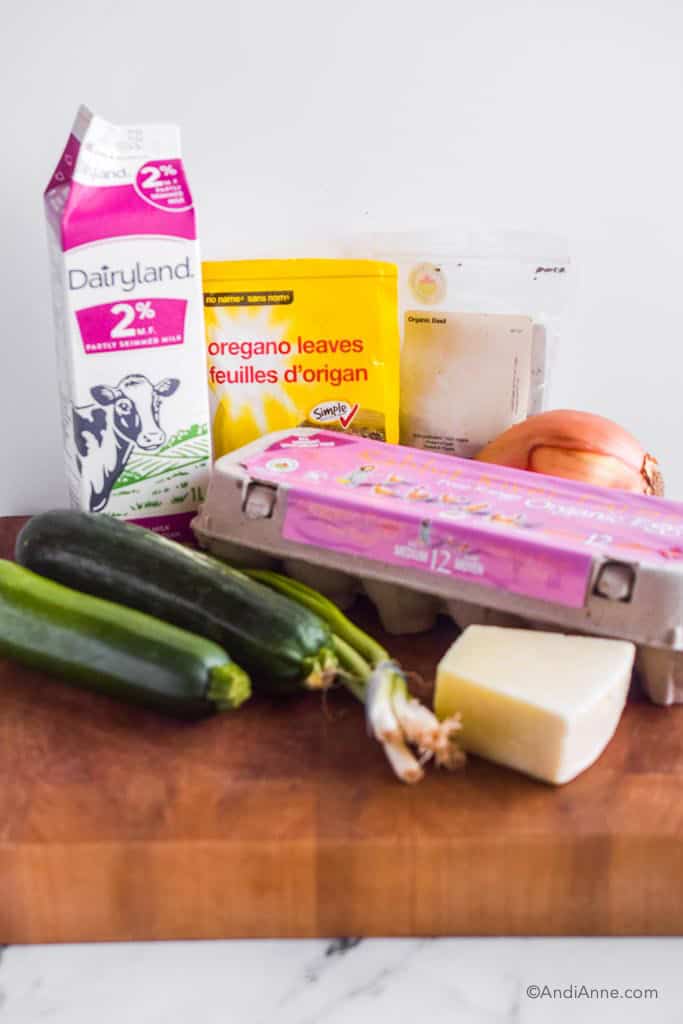 Zucchini Parmesan Frittata Ingredients List
Here's what you'll need to make this delicious frittata:
4 cups Grated Zucchini – I used two medium zucchini with a cheese grater.
¼ cup Grated Parmesan – Adds a lot of flavor to the recipe! I highly recommend using freshly grated parmesan.
½ cup Yellow Onion – You can also use red onion or white onion.
¼ cup Milk – Any kind of dairy or dairy-free (almond milk, oat milk, coconut milk etc) will work.
2 Garlic Cloves – Can be minced or finely chopped.
Spices – This recipe uses 1 tsp oregano leaves, 1 tsp basil leaves, ¼ tsp salt and ¼ tsp ground pepper.
GET MY KITCHEN FAVORITES LIST – Get my full kitchen shopping list here including how I stock my pantry, fill my fridge, and what equipment I prefer to use in the kitchen.
Recipe Cost = $3
All ingredients together cost only $3 making this a really affordable meal! I love using eggs in family recipes because they're affordable and a great source of protein. (prices will vary slightly depending on where you live).
Grocery Shopping Tip: If you like to save money at the store, here are my 7 ways to save money on your grocery bill and still eat healthily.
Kitchen Equipment I Used
Here's the equipment I used to make this recipe:
Cast Iron Skillet – The perfect pan to use for even heat and cooking. It's versatile too – can be used on the stove and in the oven. > Buy Cast Iron Frying Pan Here.
Grater – Used to grate the zucchini and parmesan cheese. > Buy Grater Here.
Wood Spatula – A flat tipped wood spatula is great for mixing ingredients without scratching the cast iron pan. > Buy Wood Spatula Here.
>> Grab my Easy Healthy Meals Success Kit! A highly successful meal system filled to the brim with healthy eating resources that will teach you how to make easy healthy meals throughout the week, plan your breakfasts, lunches, dinners, and so much more!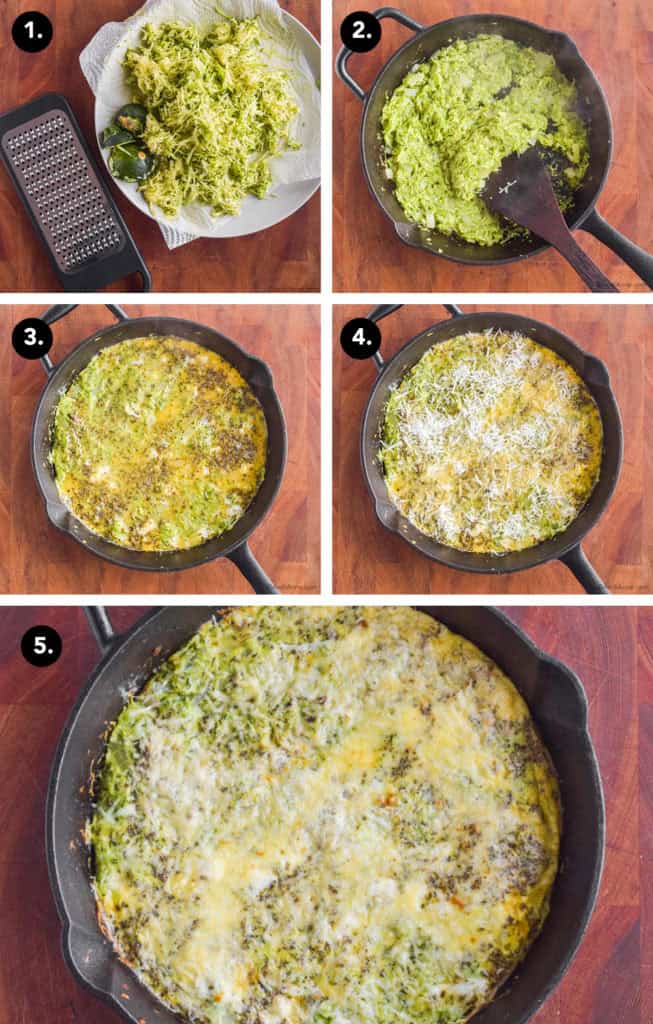 How To Make Zucchini Parmesan Frittata
Here's an overview of how to make it with the full recipe instructions at the bottom of this blog post.
Prep Ingredients – Grate the zucchini with a cheese grater. Squeeze out the excess moisture from zucchini into paper towels. Whisk together eggs, milk and spices.
Saute – Cook garlic, onion and zucchini in cast iron skillet for 8-10 minutes, or until juices have cooked down from zucchini.
Add Eggs – Pour the egg mixture into the pan, stirring everything together. Let cook 2 minutes or until edges begin to golden.
Broil – Sprinkle parmesan cheese on top of eggs. Broil for 2-5 minutes or until top is set and slightly browning.
Serve – Slice and serve while still warm. This tastes great on its own or with salsa, sour cream, plain yogurt, hot sauce etc.
Storage: Leftovers should be stored in an airtight container in the fridge for 3-4 days or frozen for up to 3 months (Yes, you can freeze eggs!) Just reheat in the oven or microwave to serve.
Tips and Tricks
Squeeze Zucchini Before Cooking – Grated zucchini contains a lot of excess moisture. Add it to paper towels or a clean kitchen towel and squeeze out as much liquid as you can before cooking.
Use Fresh Parmesan – It really adds incredible flavor! I highly recommend using it instead of the jar version.
Eggs Cook Fast – The eggs only take a few minutes to cook so there's no need to sautee them too long.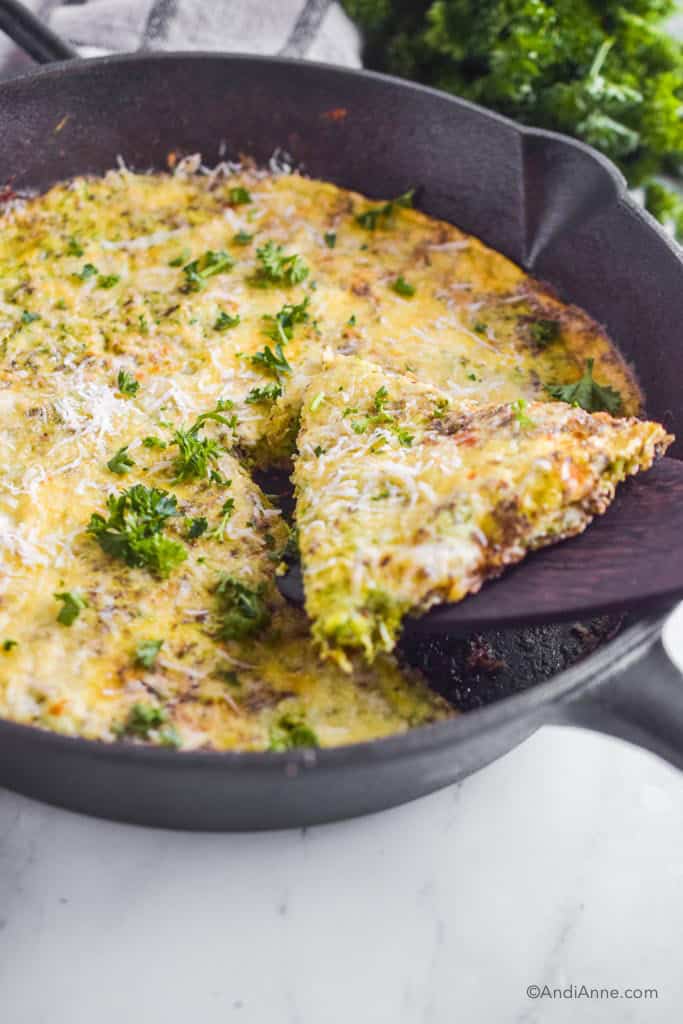 More Egg Recipes
Here are some more breakfast recipes using eggs:
Did you love this zucchini parmesan frittata? Be sure to leave a rating below!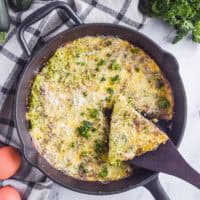 Ingredients
½

cup

chopped yellow onion

2

garlic cloves

-

minced

4

cups

grated zucchini

-

squeezed and drained

¼

cup

milk

1

tsp

dried oregano

1

tsp

dried basil

¼

tsp

salt and ground pepper

-

¼ tsp salt, ¼ tsp pepper

¼

cup

grated parmesan
Instructions
Grate 2 medium-sized zucchinis and measure out 4 cups worth. Squeeze the zucchini in paper towel to drain out excess moisture.

In a medium bowl, whisk together the eggs, milk, oregano, basil, salt and pepper. Set aside for now.

Turn on the broiler and move the oven rack to the second top position.

Heat a cast iron skillet with a bit of cooking oil. Add the onion, garlic and zucchini. Saute for 10 minutes, or until most moisture is gone from the zucchini.

Pour the egg mixture in and gently stir together. Cook for about 1-2 minutes, or until eggs begin to set slightly and golden on the edges.

Now sprinkle the parmesan on top of the eggs. Remove from heat.

Broil for 2-5 minutes or until top is set and slightly browning. Keep an eye on eggs during this time as they can burn easily.

Use a spatula to slice into pieces, serve and enjoy!
Nutrition
Calories:
69
kcal
|
Carbohydrates:
8
g
|
Protein:
5
g
|
Fat:
3
g
|
Sodium:
259
mg
|
Sugar:
5
g
Please note these nutritional values provided above are just an estimate. Actual numbers will vary based on brands and ingredients you choose, and your preferred portion sizes.
Get The Free AndiAnne Newsletter
Subcribe To My Newsletter For New Recipes Delivered To Your Inbox Weekly.